Tea factory owners support RPCs' views on enhancing productivity
Other industry stakeholders have joined the Regional Plantations Companies (RPCs) in calling for an output-linked remuneration mechanism, to put the country's estate sector, plagued by a number of issues, on a more sustainable footing through much-needed productivity improvements.

In response to demands from plantation labour unions to increase the present archaic attendance-based wage – which has led to escalating costs and mounting losses and does not provide sufficient incentive for workers to enhance productivity – the RPCs have suggested two win-win alternatives. These proposals – pertaining to productivity-based wages and revenue sharing – represent a complete overhaul of the current system and transformation of workers to entrepreneurs functioning as part of an autonomous social business enterprise.

The sentiments of the Regional Plantation Companies with regard to productivity improvements have been endorsed by certain key industry stakeholders including tea factory owners – reflecting the widespread support for output-linked remuneration among those familiar with the estate sector's woes.

"It is now increasingly clear that linking worker wages with output offers the only sustainable solution which can even partially mitigate the severe downturn of Sri Lanka's plantation industry," Planters' Association of Ceylon Chairman Roshan Rajadurai said.

The Planters' Association of Ceylon represents the Regional Plantation Companies.

"In a highly labour intensive sector, improving labour productivity clearly plays a critical role in enhancing overall productivity. Therefore it is essential to move to a more sustainable model which incentivises productivity and which transforms workers to entrepreneurs. This would enable workers to function with greater dignity, thus reducing the outflow of workers to other sectors. Thereby the workers would be an integral industry stakeholder," Rajadurai added.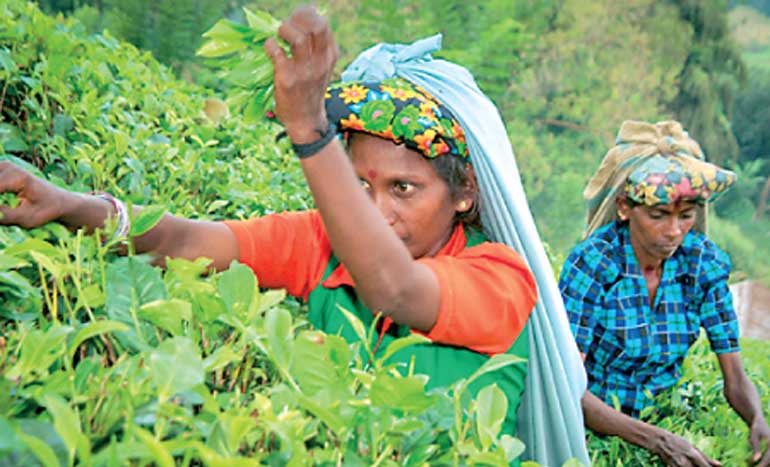 "This type of inclusive partnership arrangement will clearly demonstrate to the workers that they themselves determine their future earning and their level of quality of life. The numerous experiences in other Tea plantation economies that have followed this system clearly indicate the benefits to the workers arising from such a remuneration model," he further stated.

"Linking worker remuneration to output offers a mutually-beneficial and sustainable solution to overcome the woes of the plantation industry, as demonstrated by experiments," Kahawatte Plantations PLC CEO Viren Ruberu said.

Kahawatte Plantations has successfully implemented a similar mechanism to the proposed revenue sharing model in a number of its estates. In Endane – the company's first estate to implement the model – around 30% of overall plucking of tea is now being done via the system.

"While some are of the misguided impression that the RPCs are unwilling to provide a wage increase, it should be noted that the RPCs are unable to do so via the present structure due to severe financial constraints," Ruberu noted. "However, we will be able to provide a higher income to workers provided that productivity too increases sufficiently – to reduce the massive gap with competitor nations."

"Observing the figures over many years across RPCs, it is abundantly clear that the traditional daily wage structure cannot address the industry's issues," Watawala Plantations PLC Deputy CEO Binesh Pananwala said. "The new wage proposals presented by the RPCs enable productivity to be increased without compromising on the requirements of the workers and thereby present a win-win. Implementation of the proposals can contribute significantly towards putting the sector on a stronger footing and has the potential to enable RPCs to increase their investments – thereby benefiting all in the long run."

Some other industry stakeholders too have expressed similar sentiments to that of the RPCs, indicating their support for substantial productivity improvements in the sector.

"The country's leadership and all stakeholders of the plantation sector should recognise that there is a need for a radical mindset change," Sri Lanka Tea Factory Owners Association (SLTFOA) Chairman Anil Alwis said.

"As cost of production of Ceylon Tea is high and increasing, we must all realise that we have no option but to concentrate on high end of the market. Old archaic systems are not relevant to sustainability of the sector. A productivity based/revenue share model is the only resolve to the prevailing predicament of the tea industry. In the long term, this wage model will be mutually beneficial to the workers as well as the Companies – a win-win situation for all."

The productivity-based wage system proposes an 11% increase in the basic wage to Rs. 500 (from Rs. 450 at present) for a minimum daily plucking average of 15kg of tea leaves. Each additional kilogram plucked will be paid for at Rs. 40 (an increase from the Rs. 23 paid at present), thus enabling a worker who plucks 25kg of tea leaves to earn Rs. 1,000 a day (including EPF and ETF). This paves the way for productive workers to earn their desired daily income of Rs. 1,000.

According to the revenue sharing mechanism (similar to the manner in which the smallholders operate) the workers engaged in harvesting will be paid a predetermined value as already done in the Bought Leaf Formula, based on the prices realised at the Auction. An agreement will be signed between each registered worker and the company for six months and each worker shall be allocated to pluck a specific number of tea bushes from all categories/yields.