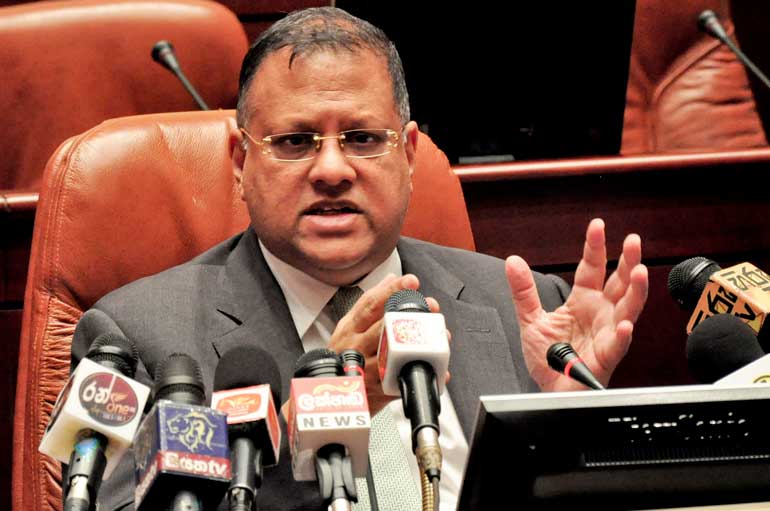 Central Bank Governor Arjuna Mahendran – Pic by Lasantha Kumara
By Uditha Jayasinghe

Central Bank Governor Arjuna Mahendran yesterday dialled down the likelihood of further policy tightening after the New Year, insisting it would not be needed if the economy manages a "soft landing" with core inflation in check.

Wrapping up an evaluation visit this week, the International Monetary Fund (IMF) on Monday warned the Central Bank of Sri Lanka (CBSL) should be prepared to tighten policies further ahead of a three-year Extended Fund Facility being finalised. Mahendran told reporters an amount would possibly be finalised within the next two weeks in Washington with his and the Finance Minister's participation.

"This (policy tightening) will not be necessary if the country continues to achieve a soft landing as we have planned. So we are hopeful there will not be need to further hike interest rates, but of course the Central Bank reserves the right to tighten monetary policy if necessary," he told reporters.

The Governor also acknowledged core inflation, which has hit 5.7%, was a concern as the Central Bank aimed to keep it at 5% or less. Decreasing of the trade deficit because of import reduction and the end of election-driven salary increments to the public sector would likely assist the core inflation rate to stabilise, he opined.

"With a core inflation level of 5.7% we can't take things for granted. Going forward we are looking at this. Inflation targeting is something that we are looking at as a serious policy objective in Sri Lanka.

I must mention that we don't have a perfect transmission mechanism…

Our Economic Research Department has now built up economic research models, which do some basic forecasting. But we still have to develop our capital markets in order to see that this transmission mechanism works.

"There are lots of imperfections in our markets; for example, the Government borrowings is a very large segment of overall bank lending to the extent that the Government does not have significant constraint on its ability to borrow, those numbers can move in a direction opposite to what is required."

Mahendran predicted that growth for 2016 would remain in the 5%-5.5% category but stressed that the restart of key investment projects such as the Port City could boost growth in the second half. The resumption of fish exports to the European Union could also give respite to the unimpressive export numbers.

"On a positive note the growth numbers are looking strong. If a lot of the Chinese investments see fruition in the second half of the year we could even see higher growth. An IMF arrangement will also give a lot of confidence to investors.

"Bank lending last year was very strong. Total bank lending tripled over the previous year to Rs.600billion and this money must be going into some form of productive activity. Tourism returns have also been high. So there are glimmers of what could be a strong outlook for the rest of the year."

The return of expensive infrastructure projects would not be from public spending, insisted the Governor, recalling the high levels of loans from the previous Government that has tapped out borrowing, though borrowing would happen to fund loan repayments.

"Remember, the economic policy directive of the Government has now changed; there is less emphasis on Government investment based on borrowing but the thrust of the economic activity going forward is going to be private investment. Even infrastructure will be done on a public-private partnership basis, where equity is used for the funding rather than loans."
Sri Lanka aims to raise $ 1 b in Chinese bonds
Within the next three months, the Central Bank will begin issuing bonds in China in a bid to raise up to $ 1 billion, the Central Bank Governor said yesterday, as it increases options to repay debt.

"This is very exciting," he told a news conference. "We can now start raising renminbi finance much cheaper than in US dollars," Mahendran said.

Funds raised in China would be used to pay Chinese firms coming to build infrastructure in the island or as Government counterparty funds in projects, he said.

"We can, on my assessment, get renminbi financing below 5% rate of interest on an annual basis. This is typically much cheaper than US dollar financing in the current market," Mahendran said.

The Government's "funding gap" was around 2.5 billion dollars which it would have to borrow this year, Mahendran said with an estimated $ 1 billion to $ 1.5 billion coming from the International Monetary Fund (IMF).

The People's Bank of China has given Sri Lanka approval to issue bonds in China in renminbi. The next stage is to advertise for lead managers, either Chinese investment banks or international ones.

"Then we have to do due diligence measures and get a rating by a Chinese rating agency in the domestic renminbi market," Mahendran said. "All that will take about three months."

After coming to power in January 2015, the Government halted work on all Chinese-funded projects commissioned by previous President Mahinda Rajapaksa, pending probes into corruption and environmental concerns.

But earlier this year the Government gave the go-ahead to a massive land reclamation project known as Port City in Colombo, which is being built by the Chinese. After his visit to Beijing, Wickremesinghe said the $ 1.4 billion project "is not a threat to anyone" and called for restructuring of the loans obtained from China.