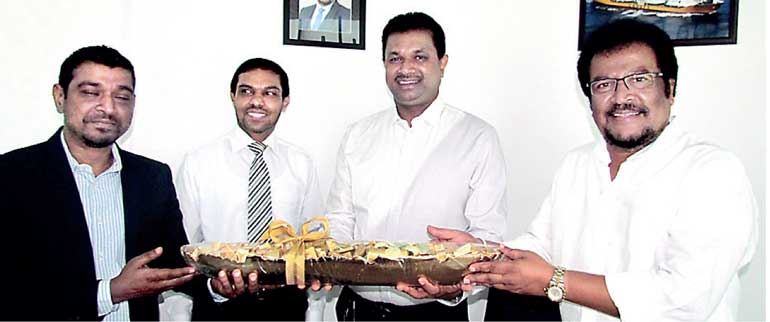 In support of its regional expansion strategy, LAUGFS Gas PLC announced the incorporation of a new business venture in Dubai Multi Commodity Center (DMCC), located at one of the free trade zone areas. Named as SLOGAL Energy DMCC, this fully owned trading arm of LAUGFS Gas PLC, commenced operations from Dubai as a fully-fledged international energy trading business.

The opening of its Dubai trading operation marked another important milestone in LAUGFS's global expansion strategy, further strengthening its Power and Energy portfolio. Primarily engaged in trading of energy products, SLOGAL Energy DMCC will also offer a broad portfolio of maritime services focusing upon acquiring, managing, operating and chartering of LPG vessels. This is expected to assist with LAUGFS's international operations, while also catering to requirements of its international clients.

"We have been aggressively focused on expanding our geographical presence and to diversify our portfolio as an energy conglomerate. Setting up our Dubai operations with SLOGAL would further reinforce LAUGFS's position as a truly global player," remarked LAUGFS Holdings Chairman W.K.H. Wegapitiya.

"Dubai is a lucrative strategic location ideal for creating a global trading hub due to its advantageous geographic position, connecting some of the world's fastest growing economies. Its convenient location on the new Southern Silk Road connecting Asia, Africa, Latin America as well as Europe makes it a crucial trans-continental commercial hub with optimum trading conditions. The new trading arm will also serve as a vehicle for our future investments in the energy sector, helping to further strengthen our position as a global energy conglomerate."

"We commenced our operations 20 years ago with the pioneering Auto Gas conversion business, and since then we've always worked with a firm vision to take our LAUGFS brand to a global platform in building a 'Sri Lankan multinational'. Our Dubai operation with SLOGAL represents another significant milestone in this journey as we expand our global presence providing a transparent, low cost and an efficient trading platform," commented LAUGFS Holdings Group Managing Director Thilak De Silva.

"In addition to the services offered to its global client base, SLOGAL will further bring in multiple benefits for LAUGFS businesses, by helping us to expand our diverse product portfolio to the Middle Eastern market, which presents a fast growing economy with tremendous potential. SLOGAL will also engage in sourcing materials for our LAUGFS businesses and our customers," he elaborated.

LAUGFS's power and energy portfolio has today extended into LPG downstream activities, petroleum retailing, manufacturing and distribution of lubricants, renewable energy solutions as well as international LPG logistics services. Over the years, it has aggressively focused on expanding its presence as an energy conglomerate in Sri Lanka and overseas with a number of strategic investments, including the recent acquisition of the third largest LPG player in Bangladesh by LAUGFS Gas, the setting up of one of the largest LPG terminals in South Asia at the Hambantota Port by LAUGFS Terminals and the acquisition of the second LPG vessel Gas Success by LAUGFS Maritime.

LAUGFS is one of the largest diversified business conglomerates and a trusted name in Sri Lanka. Founded in 1995, LAUGFS has expanded across 20 industries, both local and overseas, establishing a strong presence as a leader and pioneer in the power and energy, retail, industrial, services, leisure, logistics and real estate sectors. With over 4,000 employees and an annual turnover exceeding Rs.28 billion, LAUGFS continues to expand and empower millions as a trusted Sri Lankan brand.