The first woman CEO of the Chamber
Assumes duties today
The Ceylon Chamber of Commerce, the country's premier business chamber, announced the appointment of Dhara Wijayatilake, Attorney-at-Law, as its new CEO with effect from 1 March.

Her appointment to the 176-year-old institution comes following the resignation of Mangala P. B. Yapa, who served as the CEO of the Ceylon Chamber of Commerce since November 2014, to take up the position as the Head of the proposed Agency For Development under the Ministry of Development Strategies and International Trade.

Wijayatilake, who functioned as the CEO of The Hotels Association of Sri Lanka, an affiliate body of the Ceylon Chamber of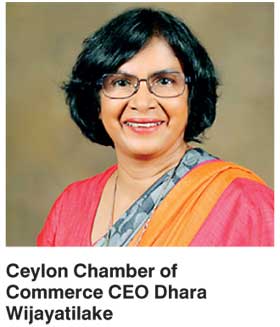 Commerce, (Oct. '15-Feb. '16), counts over four decades of extensive experience in several senior positions in the public sector.

An Attorney-At-Law by profession and a graduate in law LL.B (Ceylon), Wijayatilake holds the distinction of being the first woman to be appointed as Secretary to a Cabinet Ministry in the Country with her appointment as the Secretary to the Ministry of Justice in 1994.

During her career in the Public Service (1974-2015), Wijayatilake also functioned as the Secretary to the Ministry of External Trade, Justice and Constitutional Affairs, the Ministry of Plan Implementation and the Ministry of Technology and Research. Her experience in these positions included active involvement in law reform initiatives in diverse areas including anti-corruption, anti-money laundering, cyber-crime and the protection of women and children, as well as monitoring the implementation of national development projects, introducing the concept of Managing for Development Results (MfDR) in Government, and the implementation of a public private partnership relating to scientific research. Her last appointment in the Public Service was as Advisor to the Minister of Higher Education and Research (2015).

Wijayatilake has authored many of Sri Lanka's Reports to the U. N. Commission for the Elimination of All Forms of Discrimination Against Women (CEDAW) and has led the Government delegation to the UN CEDAW sessions to defend Sri Lanka's Report. She has also functioned as the Editor-in-Chief of "Justice," a monthly publication of the Ministry of Justice (1985-1989) and was an Editor of the Sri Lanka Law Reports.

In the private sector she serves as a Director of Sampath Bank PLC, and a Director of the Centre for Poverty Analysis (CEPA). She is also a member of the Public Service Commission and a member of the Law Commission of Sri Lanka.

The newly-appointed CEO of the Ceylon Chamber of Commerce, who is an old girl of Ladies' College, Colombo is expected to bring in a new dimension to the 176-year institution, with her mix of experience in the public sector as well as the private sector.