Nestlé delivered Rs. 35.9 billion in sales and a growth of 9% for the full year ending 31 December 2015, with sales of Rs. 8.8 billion and a growth of 10.1% for Q4.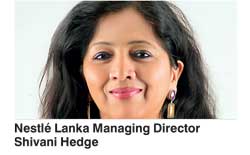 The company posted a full year profit after tax of Rs. 4.1 billion, supported by strategic portfolio optimisation and focus on driving efficiencies across the value chain.

The Board approved an interim dividend of Rs. 34.50 per share on 23 February and has proposed a final dividend of Rs. 30 per share for the full year, to be approved at the company's Annual General Meeting on 5 May.

Nestlé strengthened its position in the market and continued to build its credentials as a leading Nutrition, Health and Wellness company.

Commenting on the results, Nestlé Lanka CEO Shivani Hegde said: "These are strong results for what has been a challenging year. They demonstrate the intrinsic strengths of Nestlé - the commitment of our people, the strength of our portfolio, the quality of our products and the trust of our consumers. While delivering in the short term, we remain focused on strengthening the foundations of future growth through investments in innovation and renovation, manufacturing capacity, building brands, and our people."

Nestomalt, one of Sri Lanka's most loved brands, was a key growth driver for the company. The brand increased its market share, deepening its engagement with rural consumers.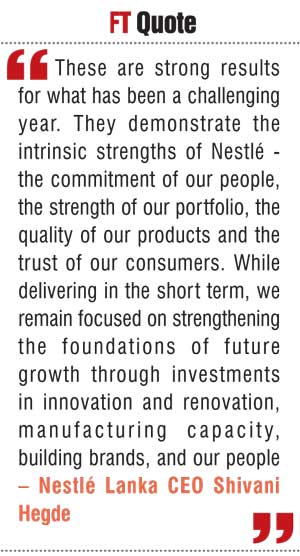 Milo maintained a strong momentum, partnering with the Ministry of Education to empower hundreds of thousands of athletes across the island with national school sports events. It also launched a new campaign, 'Mom, Me and My Milo', to encourage mothers and kids to partner together in leading a healthy and active lifestyle.

Nespray, which comes to consumers with the goodness of Sri Lankan milk and Nestlé's global expertise in child nutrition, strengthened its portfolio with the launch of Nespray Nutri-Up, a Ready-To-Drink product fortified with micronutrients.

Maggi launched Maggi Devilled X-Tra Green Chilli Noodles and ended the year on a steady note, signifying the strong trust consumers have in the quality and safety of the brand.

The Nestlé Healthy Kids Programme was expanded to educate over 45,000 school children on nutrition and the importance of physical activity. Nestlé also launched a number of public awareness campaigns to encourage adults to 'Choose Wellness' through a healthy diet and lifestyle.

The company continued to invest in Sri Lanka's rural economy, contributing more than Rs. 6 billion to over 24,000 local farming families for the purchase of fresh milk and coconuts.

Nestlé continued to be recognised for its financial performance and contribution to the economy.

The company received an award for 'Empowering Dairy Development in Sri Lanka' from the Minister of Public Administration, in recognition of its work in developing the dairy industry.

This was followed by more wins at the Presidential Export Awards, where Nestlé was awarded 'Best Exporter of the Coconut & Coconut Based Product Sector' and 'Best Exporter of the Food & Other Beverages Product Sector' for its contribution to Sri Lanka's exports.

Maggi was also voted 'Food Brand of the Year' and 'Youth Food Brand of the Year' by consumers at the SLIM - Nielsen People's Awards. This marks the third consecutive year the brand has won both titles.