In talks with Govt. on 2017-2018 Country
Partnership Strategy Plans to expand into new sectors including railway and expressways
ADB president in Sri Lanka next week for talks, organisation prepared to lend more but fiscal management critical
By Uditha Jayasinghe

The Asian Development Bank (ADB) is expecting to increase its funding portfolio by more than $1.2 billion in the next three years to increase Sri Lanka's chances of avoiding the middle-income trap, a top official said yesterday.

ADB Senior Country Economist Tadateru Hayashi told reporters while launching the latest 'Development Effectiveness Brief' report that discussion would take place in the coming months with the National Government to earmark specific projects in a range of sectors for investment.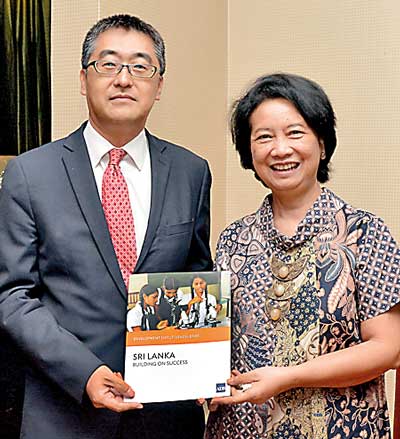 "As Sri Lanka continues its economic growth ADB will look to introduce new products and services. Tourism, logistics, renewable energy and human capital development are some of the areas that we are looking at. Since the internal road network is almost completed, the ADB will look into partnership opportunities in expressways and railway under the new Country Partnership Strategy," he said.

ADB funded the first phase of the Southern expressway and the Colombo port expansion project over the last five years. Currently $500 million has been allocated to projects in 2016 with the amount increasing to $750million next year and hitting $1 billion in 2018. The new Country Partnership Strategy being worked out between the Government and the ADB will cover the period 2017-2021 with increasing funding opportunities on the horizon. Proposed highway projects such as the northern expressway could see funding from the ADB if discussions between the institution and the Government work out.
Further discussions are expected when ADB President Takehiko Nakao arrives in Sri Lanka for a visit next week. Prime Minister Ranil Wickremesinghe met Nakao on the sidelines of the World Economic Forum in Davos where the two sides discussed future avenues for stronger collaboration. However, analysts have indicated more funding from the ADB could be dependent on the Government reducing its fiscal deficit burden. The Government is also in talks for a loan from the International Monetary Fund (IMF) as it looks for ways to repay an estimated $5 billion in debt this year.

As of July 2015, ADB approved a total of 194 loans, both sovereign and non sovereign, to Sri Lanka with cumulative lending of $7.06billion. ADB also provided $358 million in grant assistance and $127.78 million in technical assistance projects. ADB supports the development of energy, security, roads, education and training, the finance sector, and water supply among others.

The active sovereign portfolio includes 50 ongoing loans and grants for 27 projects with a net loan amount of $2.63 billion, with cumulative contract awards of $1.56 billion and disbursements of $1.07billion. As of 31 December 2014, ADB has a 70% success rate for projects in Sri Lanka, the report noted.

"If Sri Lanka is not able to adequately develop the expertise and innovation of its people and industries it could be stuck in what economists call the "middle income trap" where the country breaks out of poverty but cannot move to the next level of prosperity," the Development Effectiveness Brief said.

For Sri Lanka to achieve a higher- income status the country needs to invest heavily in physical and financial infrastructure as well as in skills and education. These two factors play an important role in other Asian nations to push them into upper-middle and high-income status. An additional challenge is that Sri Lanka is vulnerable to extreme weather events such as floods and droughts. Climate change worsens the impact of these events. To address these challenges the government pursing policies that support disaster risk management, climate change and adaptation.