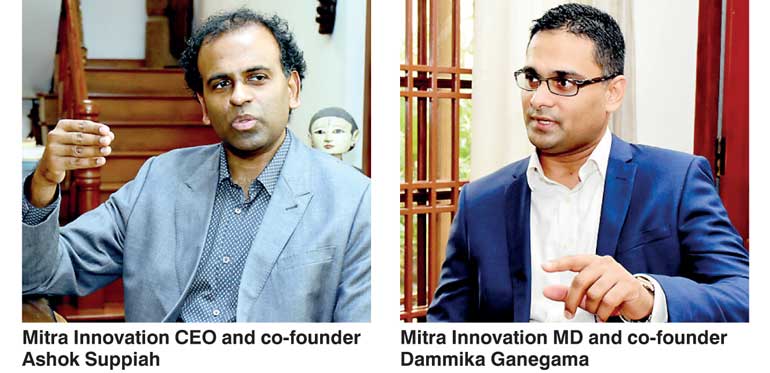 Dammika Ganegama, Ashok Suppiah and Derek Bell are co-founders of London-based Mitra Innovation with an R&D centre next to the Moratuwa University. Mitra's mission is to help smart entrepreneurs, investors and enterprises to accelerate innovative ideas into successful business ventures. Having started in 2013, they have already built over 15 global products and executed digital transformation to a number large enterprises and public sector clients.

Ashok Suppiah – CEO and co-founder – is a serial entrepreneur who has successfully started several tech companies over his 20-year career. With a passion to innovate using pioneering technology, he has helped over 40 startup clients, including edocs Inc (part of Oracle), grow to multi-million dollar businesses.

Dammika Ganegama – MD and co-founder – is an inspirational leader with over 15 years of experience in running large mission-critical software engineering projects, quality assurance teams and knowledge and business process outsourcing operations. Dammika leads Mitra's talented and creative product engineering team.

"Expertise and execution are critical when it comes to achievement, and we provide a unique and valuable mixture of hands-on operational assistance, technological support, networking and mentoring to help make you shine," the duo said.
Derek Bell – COO and co-founder – is an experienced and accomplished business leader with a proven track record of success, managing very large programmes, big five SI management and enterprise -wide IT initiatives. He is also an Agile expert and has mastered the art of outsourcing. Derek spent a majority of his career at British Telecom (ADR) as COO for BT Rich Media, head of Portfolio Strategy for BT Wholesale and founded BT's Corporate Venture with annual revenues of c. £3.7Bn.
Following are excerpts of an interview: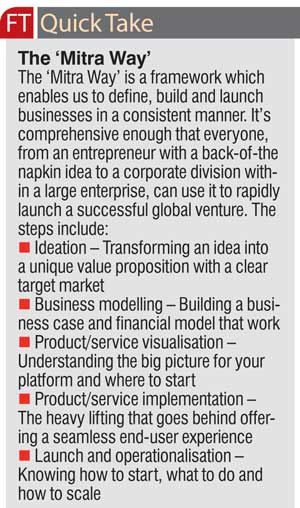 Q: Tell us about the origins of Mitra Innovation. How did the company start?

A: Four years ago, three founders with a single vision came together to help entrepreneurs and enterprises build and launch disruptive technology solutions. Having worked with Fortune 500 enterprises and helped over a hundred tech startups in the US, we wanted to accelerate innovation by building end-to-end capabilities. Our goal was to help launch as many successful products and ventures as possible. To date, we have helped companies build 15+ products and launched six ventures globally.


Q: How can innovation create value?

A: Innovation is the corner stone for human life improvement, with technology revolutions clearly demonstrating major value to end-users by eliminating complex processes. For example, Uber simplified taxi booking, Spotify enabled everyone to play music at the tap of a button and Amazon made it easy to buy stuff. Each of these examples of innovation have complex "back office" processes and procedures underpinning their offerings, but the clever thing is that the complexity is all invisible to the user.

At Mitra, we're focused on solving complex problems with simple solutions and apply design thinking principles to everything we do.


Q: What is the five-step 'Mitra Way' and how does it help businesses to launch new products and services?

A: The 'Mitra Way' is a framework which enables us to define, build and launch businesses in a consistent manner. It's comprehensive enough that everyone, from an entrepreneur with a back-of-the napkin idea to a corporate division within a large enterprise, can use it to rapidly launch a successful global venture. The steps include:
Ideation – Transforming an idea into a unique value proposition with a clear target market
Business modelling – Building a business case and financial model that work
Product/service visualisation – Understanding the big picture for your platform and where to start
Product/service implementation – The heavy lifting that goes behind offering a seamless end-user experience
Launch and operationalisation – Knowing how to start, what to do and how to scale
Q: In what way has Mitra been able to create and popularise innovation systems as a way of problem solving, increasing profitability and streamlining operations?

A: Whether it is to automate a Deli's food handling process, use digital devices to vote for presidential elections, or leverage IoT to automatically analyse and reroute distribution trucks in the field. We love to solve problems, increase profitability and streamline processes for entrepreneurs and enterprises. We think this is why we've been successful with entrepreneurs, enterprises and investors, who appreciate this practical approach to innovation.


Q: Explain how you have used WSO2's open-source middleware to build some of your products.

A: Put simply, WSO2 helps entrepreneurs incubate products faster and cheaper, with minimal development. This also enables simple embedding of important capabilities such as security, performance and scalability. That's why major global organisations have placed their faith in WS02.

We believe that after a relatively long gestation period, Opensource solutions are now coming of age. We expect this sector to expand rapidly over the next few years, with many new market entrants appearing. Many large enterprises have had enough of being held ransom by software vendors locking up client data in proprietary systems.


Q: Explain BiMaaS and its successes?

A: BIM as a Service (BIMaaS.UK) is the only enterprise grade open source platform for asset data integration. This offers a potential breakthrough for construction and infrastructure enterprises who wish to migrate their asset data to an environment where it can be accessed by multiple organisations who all work on the same project. BIM is the key that unlocks improvements in asset data management. This platform was launched late 2015 and we have two pilots at present.


Q: Why do many companies find innovation to be a frustrating pursuit?

A: Especially in enterprises and SME organisations, people are reluctant to change what isn't broken. In some cases, innovation is seen as a threat and not pushed by leadership. Many stakeholders are unaware of the latest technology or industry trends, which can easily solve their own problems.

However, without innovation, large organisations become prone to takeover from newly-emerging organisations with disruptive business models. At one stage Kodak dominated the photography market, now they no longer exist, even though more photos are taken now than ever before. That's because they didn't spot the trends that were changing their core market.


Q: How can businesses build innovation capabilities in order to enter new markets?

A: Our clients and partners have given executive sponsorship for Mitra to innovate and own business transformation. Small ideas, tweaks to current products/processes and service delivery and new technology integration (such as IoT, mobility and cloud operations) open doors for new solutions. We also help them with massive technological and operational leaps to enable them to stay ahead of their competition.


Q: Do you find it difficult to sell innovation solutions to the private sector?

A: Not really. With Cloud becoming popular, we find private sector clients like Capital Alliance and Eagle Boys Australia embracing innovative products. Innovation and digital transformation goals are in the strategic plans of most large organisations, whether they are in the public or private sector. The economic reality is that it's cheaper, easier and faster to do many things online, in real time these days, especially with the emergence of high quality Cloud-hosted environments.


Q: What is the current state of Sri Lanka's innovation culture?

A: Entrepreneurship is spreading in Sri Lanka. Many business leaders see innovation as the way forward to retain their market share. While we have plenty to catch up, foundation is laid through new awareness programs, accelerator programs and incubators like us. We encourage innovation by working with university students, start-ups and large corporates, and challenge them to think outside the box. At present, we are mentoring about 25 university students and three entrepreneurs.


Q: What is the scope for innovation outfits like Mitra to transform state services i.e. health, transport, etc.?

A: We are actively involved in the public sector. We run strategic programs for Network Rail UK and East of England LGA (51 local councils). We are building tomorrow's digital election platform that is already used by some UK councils for local elections. Our election platform clients help organise elections internationally, including the recent elections in Saudi Arabia. Healthcare is another sector where we're active, having helped launch Hooheals.com, a healthcare startup in Singapore. We are incubating a new healthcare startup in the UK that can be a game-changer for care of the elderly.


Q: How does 'Modern Democracy' work as a digital platform and have you considered introducing it to Sri Lanka?

A: 'Modern Democracy' aims to provide a 'digital election platform' to run polling stations efficiently and offer a better customer experience to people like you and me. Emerging countries like Sri Lanka can benefit greatly from this new technology and we hope to demo the platform to the Election Commission of Sri Lanka.


Q: What is Mitra's involvement with the University of Moratuwa? Do you recruit from the university? Do you fund any courses on innovation?

A: We are strategically located in Moratuwa, close to one of our best universities in the country. We have permanent staff, interns and project teams frequently engaged working on R&D, project work and on career grooming initiatives. Many of our senior staff, representing many disciplines, spend considerable time with our smart talent pool.


Q: How do you see the innovation landscape playing out in the future?

A: We think this space will accelerate even faster, producing more products that can simplify our lives, remove complex steps and give back our time. We will see smarter cars, smarter homes, 'Spotify' like subscriptions to airlines, digital cure to health issues, and so on. Exciting times.


Q: Dammika has your father-in-law Dr. A.T. Ariyaratne influenced you in any way?

A: He is a great inspiration. All of us in the family immensely benefit from his simple lifestyle, ideas, guidance, visionary thinking, ability to withstand external pressure and challenges to do the right thing to achieve his passion to serve the community. We at Mitra find ways to help our students, talent in Sri Lanka and create an echo system to do the right thing through a giving culture. Our global team carry the same DNA. Mitra will find ways to use technology and innovation to help better lifestyles of our communities representing all religions and ethnic groups.


Q: Ashok, what made you leave an assured career with Virtusa and strike out on your own?

A: I was always passionate to build multiple companies, innovate great products, and mentor as many people as I possibly can. As a founding member of Virtusa, I had the privilege to work with the co-founders, Kris and Tushara Canekeratne, from inception until after IPO. At Mitra, I meet many smart entrepreneurs and investors, and I have a great team. This is my journey.


Q: Who are your role models in life?

Ashok: My role model is my dad. He had a humble beginning, but with hard work and dedication, rose to build one of the largest steel distribution enterprises in Sri Lanka. He had a passion for his work and deep empathy for people. He mentored and helped many people from poorer background, which influenced my desire to mentor future entrepreneurs and university graduates.


Dammika: Purely from a professional and career grooming viewpoint, Steve Jobs for his creativity, striving for perfection and disrupting through innovation; Richard Branson – strong progressive thinker, adopting to change and taking calculated risks; Obama – purely looking at from his public speaking skill and ability to instil confidence.

Many others I met in my lifetime have helped shaped the way I think and operate. We at Mitra created a unique culture to learn from each other to shape up our careers while enjoying work-life balance.


Q: Name three books that have influenced you?

Ashok: 'Good to Great' by Jim Collins was one of my favourite books. Jim's findings changed corporate cultures and showed consistent performance is more important than magical moments.


Dammika: 'First 90 Days' – Michael Watkins; 'The Lean Startup' – Eric Ries; 'Screw it, Let's do it' – Richard Branson.