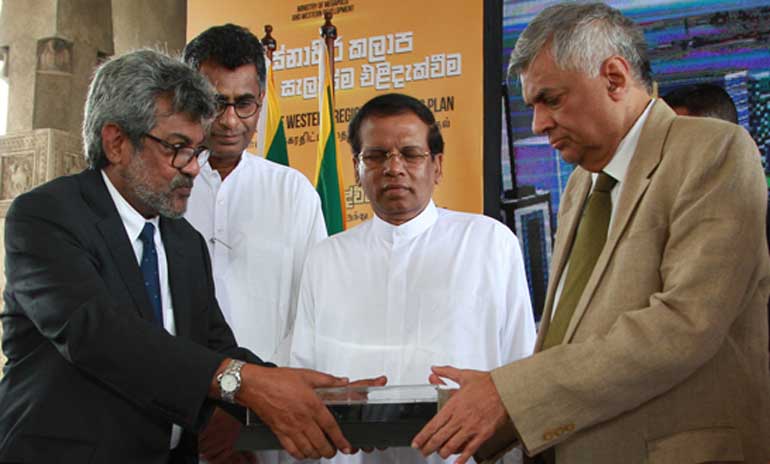 Prime Minister Ranil Wickremesinghe says the $ 40 billion mega development plan launched to develop the capital Colombo and the Western Province will transform the capital city into one of the most economically powerful cities in the world.

He said the aim of the Megapolis project is to allow Sri Lankans to enjoy all facilities that people in developed cities such as London, Dubai, Singapore and Tokyo enjoy.

The project is designed to improve the housing, education and hospitals facilities on par with those in world-class cities.

The development plan which will be carried out throughout 15 years will come into operation in three phases.

Speaking at the launch of the Western Province Megapolis Development Plan at Independence Square Friday, the Prime Minister said the Megapolis concept came up in the world towards the end of the 20th Century and Beijing, Shanghai, Los Angeles, London and Manchester were developed as large scale economic hubs.

"In 2002, we wanted to do that in Sri Lanka too. Sri Lanka is located in the middle of the Indian Ocean and it fills the gap between Singapore and Dubai. Therefore, a city like this can bring in good income ," he pointed out.

The PM said the then government completed the plan in 2004 with the advice of former Singapore Prime Minister Lee Kuan Yew, but had no opportunity to implement it.

"We now have a chance to do it. We have planned a series of projects to develop the country's economy and the Megapolis is the first out of them. Today, the world is supporting us. We have to utilise the foreign aid and attract more investments by grabbing this opportunity. Do not miss this chance, because we would never get another chance like this. We are marking the start of the project today and will enjoy the economic benefits in another 2-3 years," said the Prime Minister.
The Prime Minister said the Singaporean Company which supported in the design of the Megapolis plan is also helping Sri Lanka develop a massive zone surrounding Trincomalee town. He said a project to expand the Kandy city would be carried out with the Japanese assistance.

"While we develop the Western region, we will not forget other areas of the country," he added.

He said that although some of the stakeholders may not be around to enjoy the fruits of this venture, as it takes about 15 to 20 years to materialise, he is confident that it will reach its successful completion.