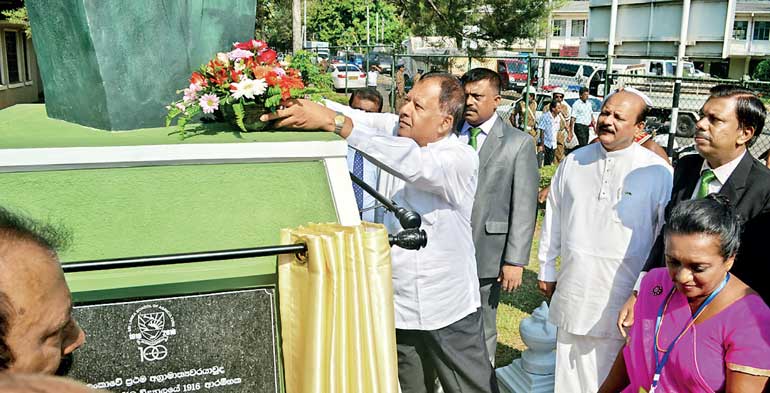 It is the Government's policy to bring rural agriculture up to international level, said Minister of Special Assignments Dr. Sarath Amunugama who participated as Chief Guest at the centenary celebrations of the Sri Lanka Agricultural College. The centenary celebrations were held recently at the Agricultural Research Centre at Gannorowa, Peradeniya and the Minister participated at this function representing the President. Concurrently a D.S. Senanayake statue was also unveiled by Dr. Amunugama on behalf of the President. A large gathering which included Central Province Chief Minister Sarath Ekanayake and Secretary to the President P.B. Abeykoon was present.

Following are excerpts of his address:
Sri Lanka's agriculture can be resurrected only through the formulation and implementation of a proper agricultural policy. We cannot improve our agriculture by just following the traditional methods. Therefore research, subject knowledge and practical teaching methods have to change.

The challenge we face is to effect these changes to meet the requirements of the new trends. Agriculture is our heritage. It is our culture. If we are to safeguard it, the agro-economic pattern must be refashioned according to a proper plan. One of the main plans our party's policy has is to raise rural agriculture to international standards. That is the government's policy. That is what our objective should be, the President has emphasised. It is also necessary to make ours a model country in the field of agriculture.

After D.S. Senanayake, the first Prime Minister of Sri Lanka and an old boy of this college, the present President should receive acclaim as a Head of Government who has made agriculture his main theme. After he assumed office as President, he proclaimed the improvement of agriculture in this country as a prime objective.

The main feature of our government and our party led by the President is giving pride of place to indigenousness and to agriculture which symbolises that indigenousness.Today agriculture and particularly paddy cultivation has undergone a complete change. As you know 20 years ago the shortage of rice was the big question in this country. A major problem for governments at that time was the importation of the balance requirement of rice for local consumption, over and above what was produced domestically. An important task of governments at the time was to import that requirement of rice from Burma, India, Thailand or China.

At one time we even set up diplomatic missions for that purpose. Therefore what existed then was rice centred politics. However today paddy production has exceeded consumption.Actually the question that we face today is what to do with the paddy harvest. Anyway, today rice has ceased to be a political issue and we are now self-sufficient in rice which is a big victory. However if we now produce 35 bushels from a bushel of paddy it must be increased to 75 bushels.

With the amount we spend to produce a bushel in Thailand or Burma we can get two bushels. In this manner we too should enhance our harvests. We should increase the 70 bushels of paddy that we get in the dry zone to 120 bushels. It is essential that we make good use of modern technology in paddy cultivation.By adapting appropriately the scientific technologies used in developed agricultural countries, in the preparation of land, transplanting, bundling, harvesting etc it will be possible to enhance our harvests.

Over the last twenty years the share of agriculture in the Gross Domestic Product has declined rapidly. The share of the Services sector is going up on one hand. Industry is also going up slowly. Agriculture however is going down statistically. I do not mean that production has declined but the proportionate share is going down.

There are several problems here. Sometimes political problems have arisen. We have to face the question as to how the different political parties look at domestic agriculture. When we compare with other countries our proportionate expenditure on agricultural production is excessive.When we compare with other Asian countries which produce the same things as ourselves, like rice, vegetablesand cereals our costs of production are seen to be relatively high. If that is the situation what is the solution?

The only solution to this crisis in agriculture, the riddle of the cost of production, is to increase production by adopting modern technology. At the same time paddy cultivation must be turned in to a long term investment. Production in agriculture must be doubled. Day by day the youth are leaving agriculture and the reality is that they look for employment outside agriculture. The benefits accruing from agriculture must be enhanced.

At a time when we are approaching the formulation of a national agricultural policy it is fortunate for the country that we have a scientific community like you. You are the people who can raise the level of production in agriculture. There are two sides to that. One is research. The other is extension work and the expansion of the area cropped. Both of these come under the Ministry of Agriculture.

I am one who has served a long period as a Government Agent. At the time of Dudley Senanayake's green revolution, I served as Government Agent in Matale and increasedby a large amount the paddy production in that district. The relevantstatistics will bear witness to that. When I increased paddy production within one year I was given a transfer to Colombo as a Head of a Department at the age of 27.

All our research institutions must be modernised. At one time Mahailluppallama and Bathalagoda were renowned in the scientific world. Today that situation does not exist. I can remember Hector Weeraratna developed new strains of paddy. Those research institutions solved a number of problems in paddy culture. It was Bathalagoda and Mahailluppallama which helped to establish Asia's biggest research institution in rice. That institution is located in the Philippines. Today, where are they and where are we?

I intend to convene a meeting of all research scientists and have a discussion.I intend to discuss with them the existing problems and with external assistance restore our research institutions to the position of international eminence they enjoyed earlier. That is the aspiration of the President and the Government.

A farmer will not work if he has no land, a title to a piece of land and if he has no water. It is the President's intention to give these things to the farmer. The Government has decided to give freehold title deeds to state land that farmers have enjoyed for a minimum of ten years.

The other thing is that we must produce for the market. Today the world over, production is for the market. Even countries like Vietnam, Thailand and Burma who were behind us at one time produce only marketable rice.

The next season we will be reaping a historic paddy harvest. Are we ready for that? We have to arrange for the Government purchase of this paddy without delay, store it and sell the surplus. These are the real questions we have to face.

It is essential in future that we produce the special varieties of rice required by the world market. For example if we produce varieties like Basmati it can be sold anywhere. Therefore we must produce rice that can enter the market.

A million and a half tourists visited Sri Lanka last year. It is anticipated that it will become 2.5 million this year. What a fortunate country Sri Lanka is. Countries in the world which are tourist attractions have become victims of terrorism. In Egypt which was in the forefront of tourism today tourism has ceased to operate. Terrorist attacks took place recently in Indonesia which is another favourite tourist destination. Therefore tourist traffic to those countries will stop. Even in Thailand which is competing with us bombs explode.

Therefore tourist traffic to Sri Lanka where peace prevails will increase. Therefore we must produce the food to cater to these tourists. We can raise our incomes by that means.

Recently an economic conference was held in Colombo. The most eminent economists in the world attended this event. Joe Stiglitz, a very radical economist, also participated at this conference. He is one who severely criticises and attacks prevailing economic ideologies. The JVP accepts his views.

In Colombo he said that in the whole of Asia there is development taking place. The Asian middle class is coming up. A big market is evolving in Asia. Around Sri Lanka there are India, China, Indonesia and the Middle East. Stiglitz questioned as to why Sri Lanka does not produce the agricultural products required by the big market developing anew in these countries.

Demand is increasing in Asia. It is not a small demand. The demand that will come from the markets in China, India and Indonesia will be huge. It is essential to change the nature of domestic agriculture to cater to this emerging international market.
---

Minister

Amunugama

meets heads of Sri Lanka Agriculture Research Institutes
Minister for Special Assignments Dr. Sarath Amunugama met recently (19) at his ministry at Sethsiripaya, the heads of the Sri Lanka Agriculture Research Institutes to discuss the present situation of the agriculture research sector in Sri Lanka.

Heads of Bathalagoda Rice Research and Development Institute, Bombuwala Regional Agriculture Research and Development Centre, Ambalantota Rice Research Stations, Samanthurai Rice Research Stations, Benthota Agriculture research Station, Labuduwa Agriculture Research Station, Mahailuppallama Seed and Planting Material Development Center, Dr. H. Hemal Fonseka, Dr. W.M.W. Weerakoon, Dr. S.H.A. de Silva, Dr. P.N. Alahakoon, Dr. Amitha Benthota, Dr. Shiromani Edirimanna, A.M.S.K. Herath, M.G. Senevirathne, Special Assignment Ministry Secretary Douglas Nanayakkara and Additional Secretary Neelamani Aberathne participated at this discussion.