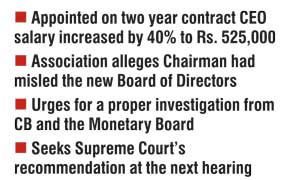 By Charumini de Silva

The Golden Key Depositors Association will seek recommendations from Central Bank Governor Arjuna Mahendran as well as the Monetary Board to conduct a proper investigation into the increasing of the salary of the Golden Key Credit Card Ltd (GKCCL) CEO, to Rs. 525,000, misleading the new Board of Directors.



Disregarding the direction given by the Monetary Board on 25 April to the GKCCL Board of Directors that the company shall not pay all inclusive monthly remuneration, excluding payments of employee's provident fund and employee's trust fund of any employee of GKCCL in excess of Rs. 250,000 —Chairman Priyantha Fernando had increased CEO Dinesh Perera's salary to Rs.525,000.

The increase amounts to 40% of the CEO's salary which was previously Rs. 375,000.

Golden Key Depositors' Association President, Dushanthi Hapugoda alleged that during the first Board meeting held recently under the new management, the Chairman had misled the newly appointed Board and had taken their approval to increase CEO's salary disregarding the direction made by the Central Bank and the Monetary Board.

"We want the Central Bank Governor and the Monetary Board to look into this matter in a serious manner and conduct a proper investigation," Hapugoda told the Daily FT.

In order to repay the depositors of the GKCCL under the new Government the Finance Ministry appointed two new directors to the company.

The CEO was appointed on 15 March under a two year contract.

When Hapugoda served on the Board she and four other Directors brought this issue to the notice of the Board and had reduced the CEO's salary from Rs. 525,000 to Rs.375,000.

"With the increase, the company stands to lose millions just to maintain the CEO in a company that is purely running on selling assets of GKCCL and Government's funds. This is a great loss for the depositors, because it is their money. We suggested the Chairman get rid of this CEO by giving him three months salary, but he did not want to listen to us," she claimed.

Hapgoda further asserted that they wish to seek the Supreme Court's recommendation at their next hearing on 18 January 2016.