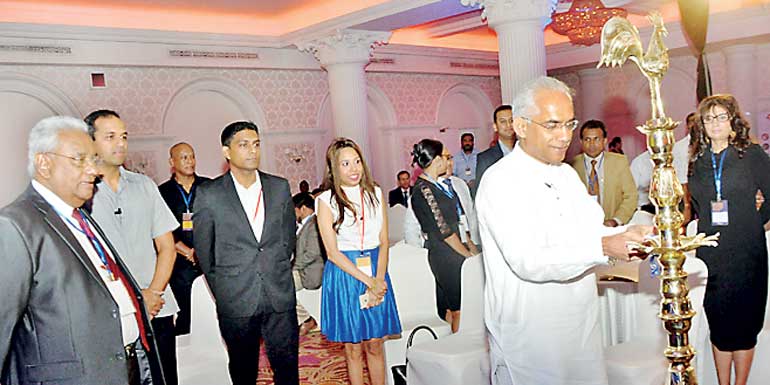 By Madushka Balasuriya

Sri Lanka must focus on securing internationally experienced and qualified professionals in management if they are to achieve its lofty economic goals, a top Government official said yesterday warning political achievements will unravel otherwise.

State Enterprise Development Deputy Minister Eran Wickramaratne, speaking at the WorkInSriLanka (WISL) conference 2015 yesterday, also highlighted the need for capital and technology, but emphasised that it is quality management that is the most important component in reviving Sri Lanka's fortunes.

"We need our professionals and we need the educated. We need people to steer the ship. Following this year's political revolution must be an economic revolution. If the economy does not deliver, the changes we have achieved in the political arena will unravel," he warned.

"This may not be very widely recognised," he acknowledged. "Everywhere I go people are talking about capital and technology, but having had the privilege of working for a multinational corporation, I could see the great need is actually management; management which has been exposed internationally."

Using the oft-used comparison with Singapore, Wickramaratne stated his belief that management was one of the main reasons behind the differing trajectories between the two countries.

"Singapore has a management which is internationally exposed; we do not. There is the gap. One quick way of, not closing the gap, but narrowing it, is to invite Sri Lankans living overseas," he said, addressing an audience of expats, recent returnees and corporates seeking highly skilled individuals.

Approximately 300,000 Sri Lankans emigrate to greener pastures every year; however the new government has made steady strides in welcoming back the diaspora, with the reintroduction of dual citizenship, the promise of reduced political interference in commercial enterprises and the simplification of the tax system, among other measures, he noted.

Wickramaratne believes it is incumbent on the Government of Sri Lanka to do everything necessary to reverse the 'brain-drain' effect felt in the island nation.