Hiru TV has lined up several top movies this weekend.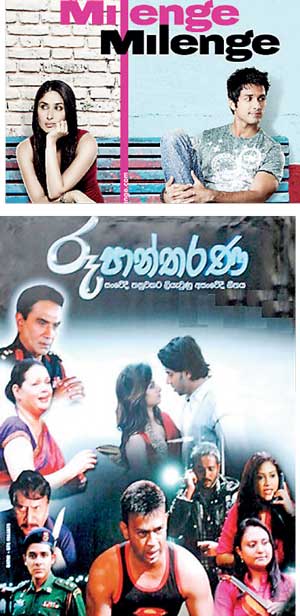 Friday 18th December at At 10.00 pm

Rupantharana - 2014

Sinhala Movie

Film starring Amila Karunanayake, Ranjan Ramanayake, Raveendra Randeniya, Tissa Wijesurendra, Milinda Madugalla, Kalum Kularatne Shaila Nathaneils, Damitha Abeyrathne, Anjela Seneviratne, Nayana Kumari. Directed by Nalaka Vithanage and Produced by Dr. Arosha Fernando.

Story : Army Brigadier's wife who tries to keep the family together which is not an easy task with the stubborn daughter and lot of back stab plans by her own boyfriend who is the Terrorists Organization.

Army Brigadier's daughter is indulged with violence and terror against her but her love wouldn't change the least. She is his bait and the only person who feels this is the Brigadier the father, and with the help of the intelligence he saves the whole country along with his daughter from the terrorists.


Saturday 19th December At 12.00 Noon

Milenge Milenge – Hindi Movie

Milenge Milenge (We Will Meet, We Will Meet) is a romantic drama film directed by Satish Kaushik and stars Shahid Kapoor and Kareena Kapoor, Satish Shah, Aarti Chhabria, and Delnaaz Paul.

Story: College girl, Kareena Kapoor, has just one ambition in life. She wants to settle down in sweet domesticity with a guy who has three basic hobbies: No cigarettes, no booze and no lies. Co-collegiate plus prankster, Shahid Kapoor, gets to know about it and pretends to be her dream guy, despite his penchant for the three vices. Does the romance survive when the lid is blown off the subterfuge? Leave it to destiny..


Sunday 20th December At 12.00 Noon

Raja Horu – 2013

Sinhala Movie

Starring Ranjan Ramanayake, Arjuna Kamalanath, Buddhika Jayaratne, Himali Siriwardena. Directed by Suranga De Alwis and Produced by Evoke Films.