Says no relation with today's strike, insists PM's statement insufficient and calls for public support
By Chamodi Gunawardana

The Joint Opposition yesterday stressed it would take to the street with union leaders to voice its opposition of Budget 2016 on Friday.

MP Gamini Lokuge said all representatives of the Public Service Trade Union Federation and all MPs of the Joint Opposition would protest in front of the Fort railway station on 18 December.

He asserted the federation or the Joint Opposition would not join hands with the trade unions that called off their proposed strike on Monday.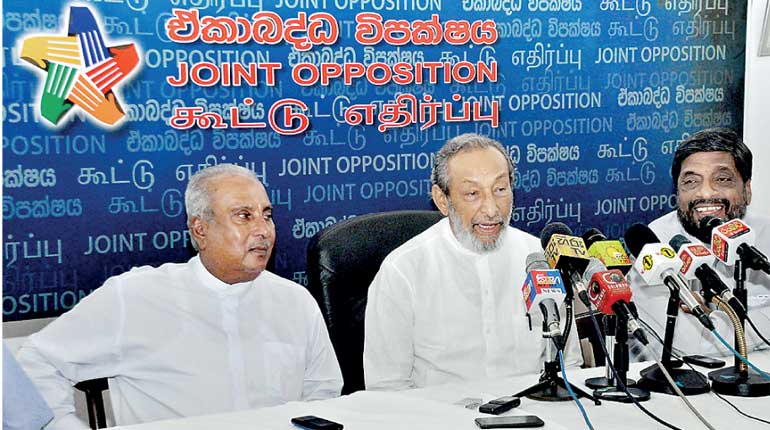 MP Gamini Lokuge, MP Wasudewa Nanayakkara and Somaweera Chandrasiri adressing the Joint Opposition Press briefing yesterday – Pic by Shehan Gunasekara


"The protest will urge the Government to withdraw the suggestions regarding combine EPF ETF to create a general pension fund, salary anomalies of public sector employees and abolishment of the traditional pension scheme," Lokuge noted.

He also said the Joint Opposition would create awareness among the public about the bad impacts of implementing the recent Budget proposals by conducting pocket meetings in Colombo. The awareness program will start from Battaramulla today.

Meanwhile New Left Front Leader, MP Vasudeva Nanayakkara claimed that Prime Minister Ranil Wickremesinghe's special statement was "just words, not reality".

Premier Wickremesinghe yesterday delivered a special speech over issues relating to the budget in Parliament.

Commenting, Nanayakkara stated that the Joint Opposition would not trackback its struggle against the Budget due to "fake promises" made by Wickremesinghe during his statement.

"Wickremesinghe pledged to present amendments for the budget, but we will not be misled by his words. Our opinion will remain the same and will force the Government to make amendments as soon as possible," Nanayakkara asserted.