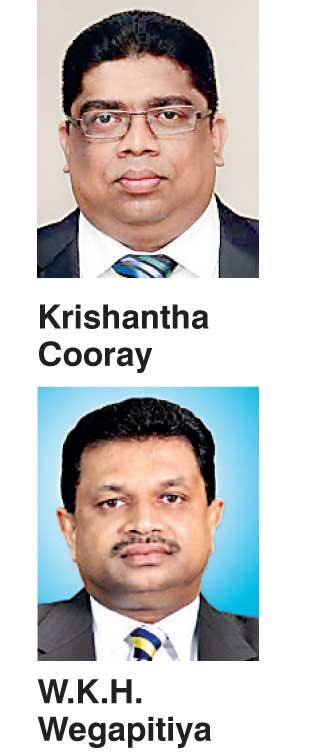 UNP Media Head and Working Committee member Krishantha Cooray has resigned from the Board of Sri Lanka Telecom as an Independent Non-Executive Director with effect from 1 December, the company said in a filing to the CSE last week.Filling the vacancy on the Board is W.K.H. Wegapitiya with effect from 2 December 2015.

Cooray was among three appointed to SLT Board after the change of Government by the then Minister of Telecommunications Mangala Samaraweera. The other two are Firdouse Farook and Nilanthi Pieris.

There was speculation that Farook had also resigned but SLT has not announced it as yet. Cooray holds a BA (Hons) degree in Political Science and Law from the University of Middlesex.

Wegapitiya previously served as a member of the SLT's subsidiary Mobitel Board following the change of Government. In that connection, appointment to SLT Board is an upgrade for Wegapitiya.



He is the Chairman and Group CEO of Laugfs Gas Plc and parent Laugfs Holdings Ltd. He is an Executive Committee member of the Ceylon Chamber of Commerce, National Pay Commission and Council Member of the University of Sri Jayawardenepura. He was the Past Chairman of the Chamber of Young Lankan Entrepreneurs (COYLE) in 2010 and a former Director and Executive Council Member of the Federation of Chambers of Commerce and Industry (FCCISL).

He was adjudged as the Entrepreneur of the Year 2012 at the Asia Pacific Entrepreneurship Awards. He was also conferred National Gold award for Entrepreneurship in 2005 and was adjudged Entrepreneur of the Year in 2006 with the platinum award by the FCCISL.

Wegapitiya holds a Bachelor of Science in Business Administration Special Degree from the Sri Jayawardenepura University. He is also a holder of Master of Business Administration degree from the Post Graduate Institute of Management (PIM). At present he is reading for his PhD - Business Management from the PIM, University of Sri Jayawardenepura.

Following the change, the Board of Directors of SLT comprises P.G. Kumarasinghe Sirisena (Chairman), Chan Chee Beng, Jeffrey Jay Blatt, Lawrence Paratz, Lai Choon Foong, Chandra Ekanayake, Nilanthi Pieris, F. Farook and W.K.H. Wegapitiya.

Secretary to the Treasury owns 49.50% stake in SLT whilst Malaysian-owned Global Telecommunications Holdings NV owns 45% stake.