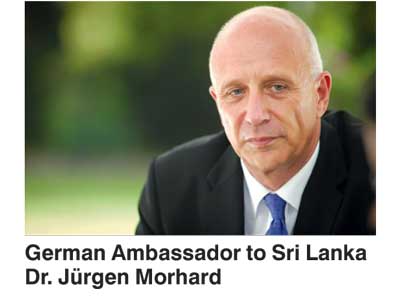 Germany is providing Sri Lanka with support and assistance to deal with its many complex challenges and playing a very active role in the area of reconciliation, the German Ambassador to Sri Lanka Dr. Jürgen Morhard said.

In an interview with a German magazine deutschland.de, the Ambassador Morhard acknowledging that Sri Lanka has made significant progress this year, said Germany is encouraging the Sri Lankan government to follow the path of reconciliation.

"We should acknowledge that the new Sri Lankan Government has made important progress since the beginning of the year in terms of setting an agenda for the future, yet it still faces some very considerable challenges. We are encouraging the government to follow the path of reconciliation and as part of this to make a resolute attempt to investigate alleged crimes committed during the civil war and, where applicable, to punish those responsible."

"However, it is important for Sri Lanka to find its own approach and for us not to apply unrealistic standards here," he added.

The Ambassador pointed out that it is essential not only coming to terms with the past but also to generate future prospects in the former conflict regions for the people.

He said Germany supports the young people and the acquisition of specialist expertise and a vocational training centre funded by German development cooperation aid money will be opened next year in Kilinochchi in the north.

Observing the political transition Sri Lanka underwent this year with the election of President Maithripala Sirisena and the new Government, the Ambassador said the important developments that took place after the new Government came to power have given renewed dynamism to external relations with countries in the West.

The Ambassador noted that relations between Germany and Sri Lanka are characterised by a "very noticeable warmth" between their peoples.

Morhard noted that the tourism also gives rise to close ties. More than 103,000 German tourists visited Sri Lanka last year and the Ambassador expected the number to be significantly higher this year.

"This is hardly surprising given that Sri Lanka offers great cultural diversity, breath-taking natural scenery and fantastic beaches," he commented.

Morhard said Germany and Sri Lanka are also very interested in extending their bilateral trade relations.

"I would like to see our economic relations further expanded, with more German companies showing an interest in Sri Lanka as a business location. Sri Lanka is very well situated geographically and also offers German enterprises key access to the major markets in Asia. What is more, I am convinced that there is considerable potential for greater cooperation in the area of science," he said.