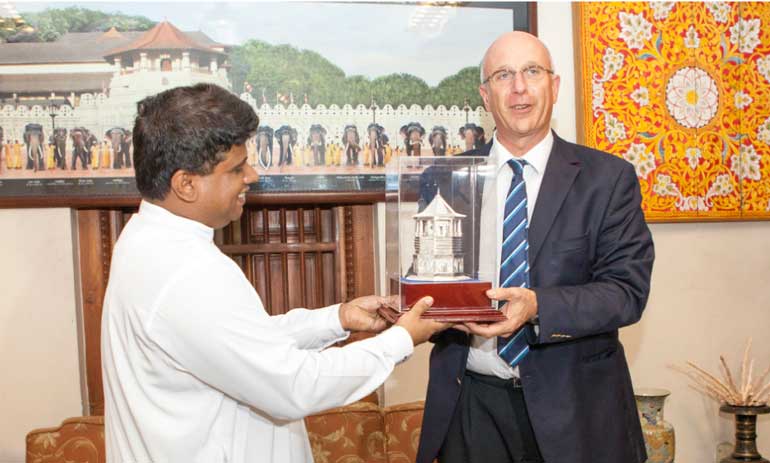 Ambassador Dr. Juergen Morhard met with Diyawadana Nilame Nilanga Dela Bandara to discuss the German Foreign Ministry funded project of 3D mapping of the Dalada Maligawa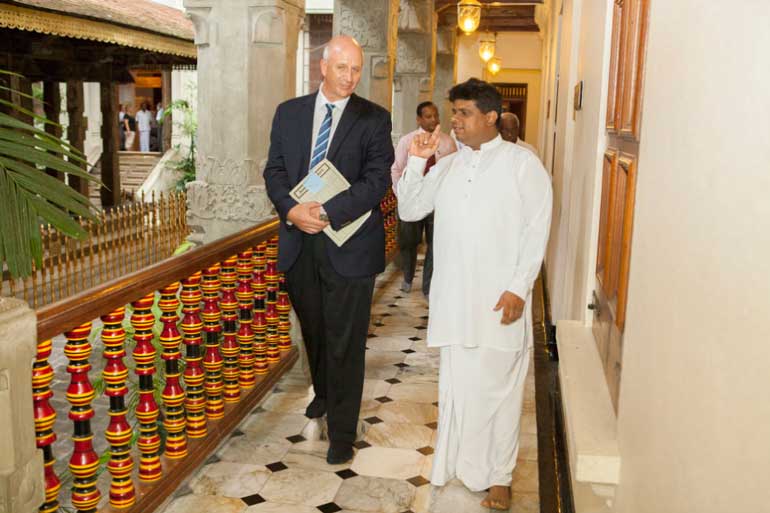 The German Foreign Ministry is funding a joint project of German and Sri Lankan researchers in the 3D-digitalisation of the Temple of the Tooth (Dalada Maligawa) in Kandy. Members of the team from Otto-Friedrich University Bamberg, Germany arrived on 15 November and started to work in collaboration with conservationists of the University of Kelaniya. The team leader scientists from Germany will arrive in Sri Lanka on 2 December.

The German team of heritage conservationists staffed by architects, archaeologists and surveyors were invited by the temple administration in 2014 to survey and make measurements of the temple as the first step in the digitalisation and production of 3D mapping.

Ambassador Dr. Juergen Morhard recently met with the Diyawadana Nilame, Nilanga Dela Bandara to discuss the 3D mapping project. "The Sri Dalada Maligawa is one of the most important Buddhist pilgrimage sites in Sri Lanka. Yet this UNESCO world heritage site is endangered through environmental as well as human factors. Our goal in supporting this project is to preserve its rich heritage for future generations," said Ambassador Morhard in Kandy.

The digitalisation will make it significantly easier to reconstruct the intricate drawings of the temple in the event of damages. Further, the public will have access to areas of the temple usually closed for viewing by way of virtual tours over the Internet.

This joint venture was announced by the German Foreign Minister Dr. Frank-Walter Steinmeier during his visit to Sri Lanka in September 2015 together with Minister of Foreign Affairs Mangala Samaraweera. The preservation of the cultural identity is a key thematic priority in the cultural work of the German Federal Foreign Office.

The University of Bamberg is located in a one thousand year-old town that was added to the UNESCO list of World Cultural Heritage Sites in 1993. The university's Institute of Archaeology, Heritage Conservation and Art History is one of the foremost in cross-disciplinary education and research in Heritage Preservation and Conservation Sciences in Germany. The institute will be enlarged to a Center of Excellence of Heritage Sciences Technologies in the next five years.