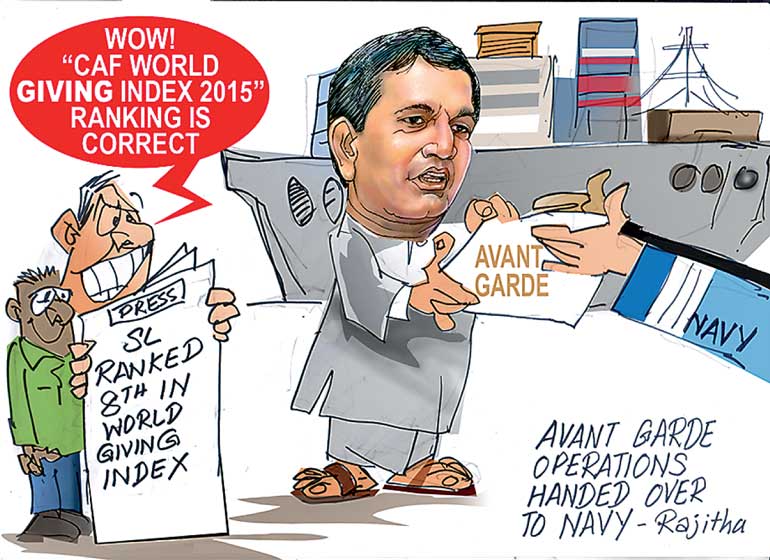 By DecentLanka2015

As reported in the media, on Wednesday (11 November) the President had held talks on the controversial Avant Garde Maritime Services Ltd. (AGMSL) with all heads of State Security Forces, AG's department representatives, relevant ministry heads and parliamentarians. The following day (12) the media quoted Cabinet Spokesman Minister Rajitha Senaratne as having said the President had instructed relevant authorities to revoke all agreements with AGMSL and to hand over all operations back to the Navy.

Not totally contradicting, but allowing for time before such a decision is taken, another Minister who is much in controversy over the AGMSL issue, Wijeyadasa Rajapakshe told media the President only instructed relevant authorities to see the possibility of handing over AGMSL operations to the Navy but no decision was taken to revoke agreements. Despite their verbal bouts, President certainly seems to believe the crisis over the controversial AGMSL can be averted by handing over all its operations to the Navy.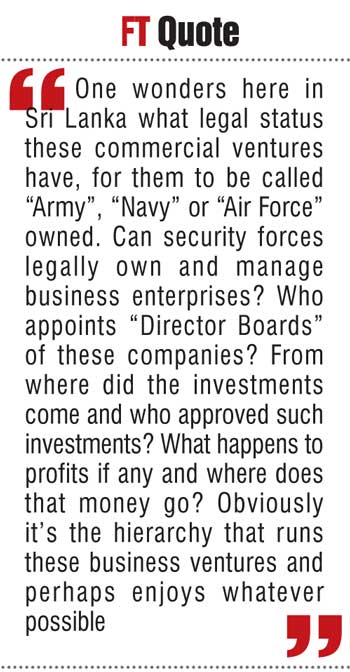 This simply means the Navy will be asked to take over a very lucrative business that according to international opinion is extremely corrupt and dangerous too. It is known to the world that enormous profits involved in illegal arms deals in high seas with numerous terrorist outfits, is one major reason for continued armed conflicts across the globe.

The AGMSL is also now suspected to have heavily profited from such high sea deals. Such cannot be ruled out even if operations are handed over to the Navy. Already some Defence Ministry officials are also accused of complicity in AGMSL operations while Parliamentarians in the previous and present regimes are accused of being beneficiaries in numerous ways.

With long-time politicisation and a decade of arbitrary rule under the previous regime, the State is no more capable of clean and efficient dispensation of responsibilities. During the past decade a widespread complex web seems to have emerged that serves money power with political patronage across all State administrative and enforcement agencies. Where a political will is lacking and the Government is at a loss in drawing up far-reaching reforms, there is absolutely no guarantee, handing over AGMSL operations to the Navy will clean up operations.

That said, let us also stress that security forces are not State agencies that should be allowed to engage in profit making businesses. In established democracies, State armed forces have strictly defined roles that relate to national security and no more. Allowing armed forces to engage in business brings about two serious and dangerous aberrations in daily life. First is the fact, economic activity in a democratic society is defined as civilian activity. Economic space should remain that of citizens to engage in livelihood and entrepreneurial activities. Bringing in security forces into business restricts such space for citizens and deforms competition in markets while also negating employment generation.

Intrusion into the economy by armed forces became very conspicuous after the war was declared over in 2009. Apart from different construction contracts the army undertakes, armed forces are in a big way into the hospitality trade. There are two hotels in Mullaitivu and two in Jaffna including one in the bird sanctuary in Chundikuli. The Air force has two hotels in Trincomalee and in Attidiya, Dehiwala with hotel reservations handled by a private company Lakpura Travels. A hotel chain "Laya" owned by the Army has four hotels functioning with five more said to be in the pipeline. The Army also owns "Laya Travels," a commercial travel service. "Malima" owned by the Navy has seven hotels in its chain, two reception halls and one pilgrim rest in Jaffna. The military is into cafes and eateries as well. In Trincomalee, the Air force owns Sri Lanka's fourth golf course, the Eagle's golf links, complete with all facilities. The Navy runs commercial whale watching cruises. Helitours is the commercial air arm of the Air Force.

AGMSL would definitely be much bigger and heavier than all of these existing businesses put together. The bigger the stake, the more corrupt the whole corporate entity would be and that in the hands of security forces compels them to intervene in decision making too. That is the most dangerous second aspect with much to learn from the Pakistani "Military Inc." – a business empire estimated to be worth around 20 billion US dollars.

In her startling revelations in the book " Military Inc: Inside Pakistan's Military Economy" Dr. Ayesha Siddiqa, a former Director of Research with the Pakistan Navy, says the military manufactures everything from cement to cornflakes and own 12 million acres [4.8 m hectares] of public land. Of the 96 businesses run by the four largest foundations established by the military, only nine businesses file public accounts. What is more important is her assertion that "it feeds directly into the military's political power; it's an expression of their personal and organisational strength".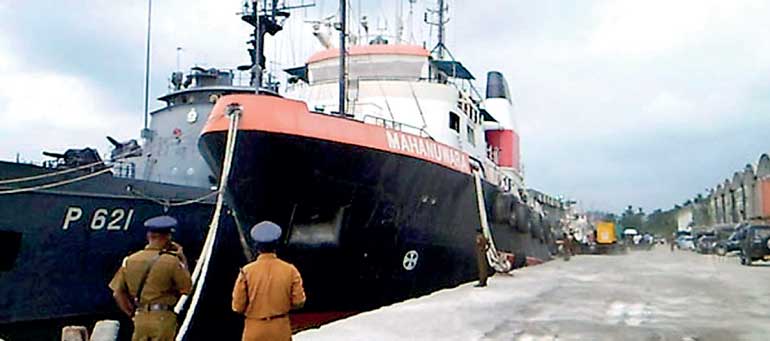 That cannot be anything less than the truth with the Pakistani military controlling almost all political decisions, even when a civilian government is elected to power. In Pakistani history more than half their life had been under military rulers since the "partition" in 1948.

One wonders here in Sri Lanka what legal status these commercial ventures have, for them to be called "Army", "Navy" or "Air Force" owned. Can security forces legally own and manage business enterprises? Who appoints "Director Boards" of these companies? From where did the investments come and who approved such investments? What happens to profits if any and where does that money go? Obviously it's the hierarchy that runs these business ventures and perhaps enjoys whatever possible.

While Pakistani Army Generals ignore calls by the parliament to account for public monies they spend, our Parliament and its oversight bodies like the Public Accounts Committee (PAC) and the COPE is never known to have even questioned the finances involved in these businesses. Though much of the monies are public funds, wonder if the RTI that is said to be ready, includes these business ventures by the armed forces within its ambit.

We don't seem willing to regulate, audit and hold businesses by the security forces accountable to the tax payer as they are still "war heroes" in this society. That seems the hesitancy in probing AGMSL operations linked to State security forces as well. Yet in terms of national security and international obligations, there is obviously a need to seriously and impartially probe AGMSL for any criminal acts on the ground and in high seas including arms deals and money laundering and legally dealt thereafter if required.

What should also be equally stressed is the fact that this complex maritime business needs independent, efficient and a strong regulatory State mechanism in place before the Navy or any State agency takes over from the AGMSL. However profitable the business would be, this is one area Sri Lanka should not get into until this corrupt and inefficient State that still behaves as it was with the previous regime is completely reformed. For now, this hybrid Government lacks a political will to rein in authority to have the house in order. We therefore cannot risk getting into a "Pakistani Syndrome".

Signatories;

Neville Ananda, Attorney-at-Law

Sujeewa Dahanayake, Attorney-

at-Law

Muditha Karunamuni, social

activist

Kusal Perera, journalist

Anton Marcus, trade union leader

Srinath Perera, Attorney-at-Law

Siritunge Jayasuriya, political activist

Srinath Perera, President's Counsel