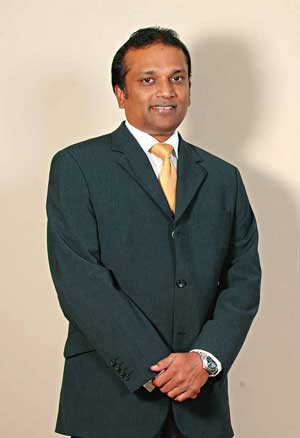 Softlogic Holdings has exhibited strong performance, recording a revenue growth of 57.0% to Rs. 26.2 billion with second quarter consolidated revenues increasing by a 52.2% growth to Rs. 13.2 billion.

The retail sector led the consolidated revenue, post-acquisition of Odel, with a contribution of 33.3% to 1HFY16 followed by ICT, especially its mobile phone items, with 28.7%, Healthcare Services with an impressive 18.0% and Financial Services contributing 16.6%. Consolidated Gross Profit increased 39.5% to reach Rs. 4.4 billion during the second quarter of the financial year with cumulative first-half Gross Profit increasing 43.4% to Rs. 8.7 billion.

Despite the Group's expansion, a significant improvement in operational cost margin was noted during the period, with the quarterly cost margin improving to 23.6% from 30.2% and cumulative operating cost margin also improving from 28.5% to 23.6% following stringent cost discipline and synergies.

Nonetheless, administration and distribution costs naturally increased to 32.7% and 21.7% to Rs. 4.9 billion and Rs. 1.3 billion respectively for the first half of the financial year.

The quarter reported a marginal decline in distribution costs to Rs. 648.3 million while administrative costs increased 25.3% to Rs. 2.5 billion. Operating profit achieved a growth of 90.0% to Rs. 1.5 billion during the quarter, witnessing a strong margin growth to 11.4% from 9.1% in the corresponding quarter. Cumulative operation profit increased 73.7% to Rs. 2.9 billion with margin (OPM) improving from 10.1% last year to 11.2%. The Healthcare and Leisure sectors were adversely affected by the Rupee depreciation due to the foreign currency denominated debt in the books. Nonetheless, the Leisure sector's foreign currency receipts constituting a natural hedge are also encouraging.

A decline of 55.2% in finance income to Rs. 547.7 million was registered during the cumulative period with quarterly finance income also reducing 66.3% to Rs. 264.1 million. This reduction was a reflection of falling market interest rates and volatile stock market performance on the investment portfolio of Asian Alliance Insurance PLC (unrealised fair value gains). As such, change in insurance contract liabilities declined marginally during the cumulative period to 860.5 million (quarterly decline of 16.9% to Rs. 401.3 million).

Finance expenses increased 15.7% to Rs. 771.4 million during the quarter despite a significant increase Group activity levels while a 19.1% increase to Rs. 1.6 billion was noted during the first half of the financial year. Growth of 13.9% in other operating income to Rs. 435.0 million during the first half of the financial year was primarily led by a new source of income at Softlogic Finance PLC as fees received for new loans. For the first six months of FY15/16, Group EBITDA increased by 39.1% to Rs. 3.8 billion against Rs. 2.31 billion made in the corresponding period of FY 14/15. EBITDA margins improved to 14.52% against 13.89% during the comparative periods.

Group PBT stood at Rs. 1.1 billion after witnessing a steady increase of 47.5% for the cumulative period. The quarter, too, registered a growth of 39.1% to Rs, 593.7 million in PBT. Profit for the period during the six months of FY2015/16 improved 18.4% to Rs. 685.4 million, while the 2HFY16 reported Rs.381.2 million (up 7.7%).

A gradual improvement in the performance of the fully-owned subsidiaries of the Company has been evident in the recent months with equity-holders earnings moving upwards.