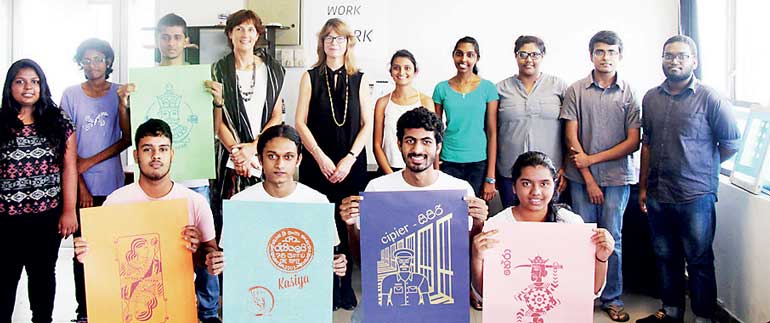 Netherlands Ambassador Joanne Doornewaard with AOD Principal Karen MacLeod, AOD Deputy Head of Graphic Design Pushpi Bagchi and the young graphic designers whose work will be highlighted at Fuse It: Borrowed Words
Design crosses cultures and nations; this universal nature of design is what makes it a great medium for cultural diplomacy to connect people across nations. Exploring this, Sri Lanka's dynamic design campus AOD joined forces with the Netherlands' Embassy of Sri Lanka and the Dutch Burgher Union for a unique design collaboration – Fuse It: Borrowed Words poster competition and exhibition.

Here, the young graphic designers of AOD are researching how Dutch influenced the local language; each designer will select a Sri Lankan word of Dutch origin and design a series of modern, hand-printed posters depicting the word in both languages and an image of its meaning.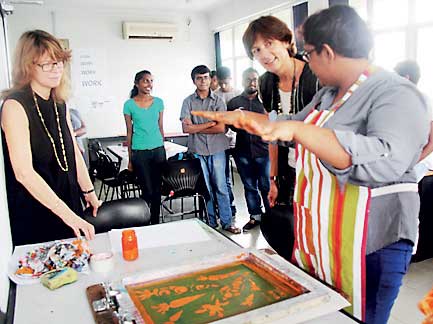 The exhibition will be declared open by Netherlands Ambassador Joanne Doornewaard this evening (13) and will remain open freely to the public at the Dutch Burgher Union on Saturday, 14 November. Fuse It: Borrowed Words is held as part of 2015 Sri Lanka Design Festival.

The phenomenon of borrowed words is known as 'loan words'. When a new concept is introduced to a people and there is no word for it in their native tongue, a word is borrowed from the culture that introduced the concept. Ketalaya (derived from ketel in Dutch), koppaya (derived from kopje) and Artapal (derived from Aardappel) are some of the words that Sri Lankans picked up from the Dutch. Netherlands Embassy of Colombo tied up with AOD to celebrate the two nations' friendship through these borrowed words.

Dutch Ambassador Doornewaard congratulated AOD graphic designers for taking up this challenge and explained the importance of such collaborations to cement international friendships: "The Netherlands and Sri Lanka have a very old friendship which we at the Netherlands' Embassy are very proud to promote and celebrate. It gives me great pleasure to see how young designers from AOD are interested in the linguistic heritage that we share – and we're very thrilled to showcase their talents at FUSE IT 2015. This initiative was led by the Embassy with the support of AOD and the Dutch Burgher Union. Fuse It is actually the first event of the Sri Lanka Design Festival this year, and we will bring famous Dutch designers to Colombo for the festival; you will hear all about it in the next two weeks."

The project was led by AOD's Deputy Programme Head of Graphic Design, Indian designer Pushpi Bagchi and the exhibition opening today will preview a series of posters designed and hand-printed by AOD's young graphic design talent. The competition will be judged by several design industry professionals and the winning posters will be produced by the Netherlands' Embassy as memorabilia celebrating the Dutch-Sri Lanka friendship.

Karen MacLeod, Principal of AOD, stated that projects of this nature prepare AOD students for new challenges while opening up new opportunities for them: "AOD's graphic design education is unique because it goes beyond the norm and trains graphic designers to work in multiple disciplines. We also work closely with the government and diplomatic missions to create new opportunities for our students and this really helps to mould them into diverse professionals. I want to thank the Netherlands' Embassy of Sri Lanka and the Dutch Burgher Union for supporting us in this project and for trusting the power of design to celebrate something as important as the centuries' old friendship between Netherlands' and Sri Lanka."

The outcomes of this colourful project will be freely open to the public at the Dutch Burgher Union Colombo 4, as part of Sri Lanka Design Festival 2015, on 14 November.