Despite vast network three out of ten adults unbanked, losing business to finance companies
By Shehana Dain

Intense competition within the banking sector is undermining the industry and reducing chances to expand the client base and new products, a banking expert said.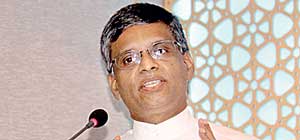 Veteran marketer Deepal Sooriyaarachchi believes Sri Lanka's banking industry will have to change its game to meet emerging needs and attract new clients.

"The time has come for an industry big and important as the banking sector, to think what can be done with their capabilities. I can see the banking sector following the path of the insurance sector, which is now not earning money in the general insurance business as they should. This was mainly due to the competition between the industry players which led to continuous price reduction in the product portfolio without cost reduction," said Sooriyaarachchi, who is a Non-Executive Independent Director of AIA Insurance.
Noting that even though there are roughly about 1,000 banking branches in the country, surpassing the number of supermarkets, the industry is yet to tap its true potential.

"Today three out of 10 adults are unbanked, even with the vast banking network. There is so much business the banking sector is losing due to finance companies – mainly because banks overlook a segment of individuals who they feel are too difficult to deal with. People come to the bank as their last resort when it comes to borrowing. If banks collaborated, a 95% banked society can be an achievable target."

He made these comments at a breakfast forum organised by CSR Sri Lanka at Hilton Colombo Residences.

Sooriyaarachchi later stated that banks have become highly commoditised and added that all banks claimed to be the best but offered almost the same services, causing confusing among customers.

"This will be seen if one downloads all the commercials of the banks and watches them in one go. I think it's far more economical to just change the logo and re-market because they all look alike," Sooriyaarachchi highlighted.

Citing an example, he noted that the entire banking industry prints deposit and withdrawal slips worth Rs. 24 b annually, which subsequently leads to huge amounts of stock because it's the last thing a bank would want to run out of.

"There is no major branding issue or visibility in this regard. If the industry can standardise this slip and have one common supplier to supply just in time for all the banks, the economies of scale will be immense. In this market, if we can't consolidate banks, at least think where we can consolidate in such instances. Samsung and Apple are major rivals but still Apple gets some parts manufactured by Samsung. We are such a small market compared to them so why can't we do it?" he opined.