Sri Lanka Institute of Marketing (SLIM) is on the right track to win the race. With Sri Lanka's racing superstar Dilantha Malagamuwa being selected as Brand Ambassador of SLIM Brand Excellence 2015, the star marketers are now geared to compete and win the race.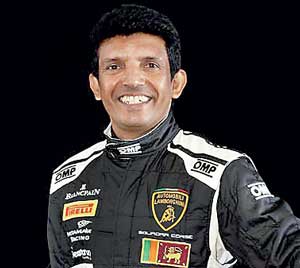 SLIM has scheduled the glamorous final event to be held in great style on Thursday 5 November at Sirimavo Bandaranaike Exhibition Hall, BMICH complex.

With 'Will you race ahead of the rest?' as the theme, the 14th SLIM Brand Excellence sees applicant brands taking up the challenge of racing ahead of the rest and fighting head-on in the business world to become the 'Champion'!

Sri Lanka Institute of Marketing President Ruwan Liyanagamage cited that, "Winning is a matter of attitude. If you love what you do, half the race is won, and if you give it your best shot, all the time, you become an effortless winner. Like Sun Tzu, Chinese General, Military Strategist and author of 'The Art of War' said, "When torrential water tosses boulders, it is because of its momentum. When the strike of a hawk breaks the body of its prey, it is because of timing'. Likewise, if the momentum and timing is present in any activity that we do, we are sure winners."

"Having Dilantha Malagamuwa, who is Sri Lanka's topmost brand in international motor racing on board as the Brand Ambassador at this year's SLIM Brand Excellence Awards, is the best thing that could happen," says Project Chairperson Thilanka Abeywardena.

"This is because this super star has been able to brand Sri Lanka in the global platform of racing, through perseverance and sheer strength of will, as an individual sportsman. This is a great example that could be given to the star marketers of Brand Excellence, to model their future steps in a similar manner. The marketing arena is similar to a racing track. Accurate prediction of hairpin bends and how well you counter those with precision reflexes will decide on your win." Responding to being selected as Brand Ambassador, Dilantha Malgamuwa said he is thrilled to partner with SLIM in its efforts to promote Sri Lankan brands to reach superstar level in their products and in the industry. "I feel honoured at being in partnership with SLIM Brand Excellence 2015 and will give my utmost to make the event a resounding success," he said. "I followed my desire to be a racer, and today, I take great pride in the decisions that I took. Similarly, I urge all brand marketers to follow their passion and race ahead of the rest, and not be fazed by opponents.

Dilantha Malagamuwa hit headlines when he won four races at the Malaysian FIA GT Series Round 1 in 2011. Racing in his Lamborghini for the team Dilango Racing, he won the GT Open and GT3 category events at the Sepan International Circuit in Kuala Lumpur. This year he finished third in the Lamborghini Super Trofeo Championship held in Kuala Lampur. Dilantha Malagamuwa has won five championships in Asia, six first runner up in Championships in Asia and over 150 international podiums being an Asian record and currently 2nd in 2015 championship with four more races to go.

As for this year's Brand Excellence, Sri Lanka Institute of Marketing is extremely satisfied with the response, which displays a record number of new brands getting on to the track. In line with the extremely positive response in brand participation, SLIM expects a rush for tickets for the glamorous presentation night, and request those interested to contact Chrishni – 0727463171 or Dilini 0727266988.

Participants will compete in thirteen categories, including the newly introduced 'Online Brand of the Year. The other categories are; Product Brand of the Year, Service Brand of the Year, Innovative Brand of the Year, Turnaround Brand of the Year, Local Brand of the Year, Best New Entrant of the Year, International Brand of the Year, SME Brand of the Year, CSR Brand of the Year, Export Brand of the Year, B2B Brand of the Year and Regional Brand Recognition Award.

As the national body for Marketing in Sri Lanka, SLIM has been promoting marketing excellence and elevating the status of marketing since 1970. It is a member of the Federation of Chamber of Commerce and Industry of Sri Lanka (FCCISL), and is internationally affiliated with ESOMAR, the Federation of Marketing Research Industries and is a member of the Asia Marketing Federation, which is affiliated to the World Marketing Association.