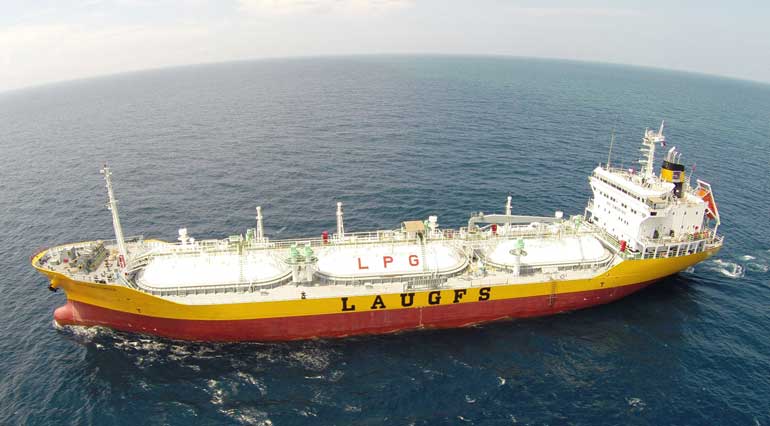 LAUGFS Maritime Services Ltd., the fully owned logistic arm of LAUGFS Gas PLC, announced the acquisition of their second LPG ship to provide logistic support for the growing LPG demand in the country.

This latest acquisition comes as LAUGFS celebrates its 20-year anniversary this year, and will mark another important milestone as it strives to expand its presence further across the region.

LAUGFS's maiden acquisition of LPG ship MT 'Gas Challenger,' with a capacity to carry 3,500 m/tons of LPG, was made one year ago marking its entry into maritime business. This second acquisition with a total expected investment of $ 6 million, is named MT Gas Success and will have a capacity to carry 3,500 M/tons of LPG, which will increase logistic capabilities of the company.
"As a company that embodies a truly Sri Lankan identity, we have always focused on extending our horizons beyond national borders, carrying this identity to a regional and global sphere with our strategic business investments and interests," remarked W.K.H. Wegapitiya, Chairman of LAUGFS Holdings.

He further stated: "Capitalising on the location-specific advantage of being in the center of Indian Ocean, we make our contribution to promote Sri Lanka as the energy logistic hub within the next three years.

Though we are an island nation surrounded with the Indian Ocean, and located in the closest vicinity of the international sea route, very little has been done to make our country a maritime hub. These vessels would not only cater to the domestic requirements of LAUGFS, but also would support regional demands."

LAUGFS recently announced its ambitious plans to build the largest LPG storage facility within Hambantota Port area, which would act as the central LPG storage hub for the entire region, from which the LAUGFS vessels would deliver LPG to other markets in the region of South and South East Asia.

LAUGFS is one of the largest diversified business conglomerates and a trusted name in Sri Lanka. Founded in 1995, LAUGFS Holdings today has expanded across 20 industries, establishing a strong presence as a leader and pioneer in the power and energy, retail, industrial, services, leisure and the real estate sectors in the country. With over 4,000 employees and an annual turnover exceeding Rs. 28 billion, LAUGFS continues to expand, touching the lives of millions as a trusted Sri Lankan brand.