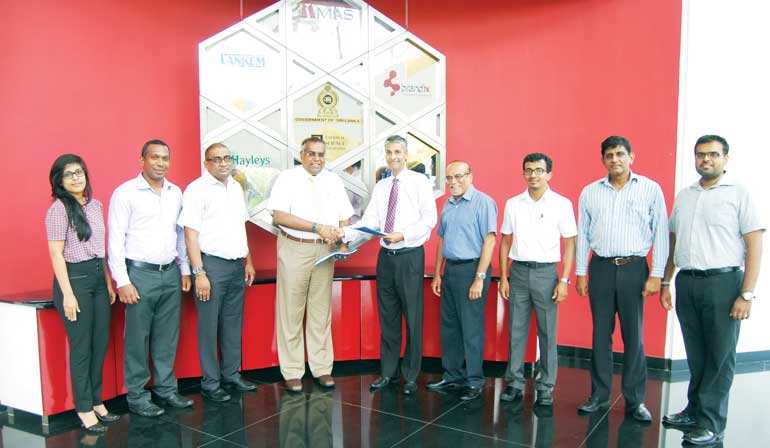 CIC Managing Director Samantha Ranatunga exchanges the signed agreement with SLINTEC Chief Executive Officer Harin de Silva Wijeyeratne on 16 September. Present at the signing of the agreement were CIC Managing Director Samantha Ranatunga, Divisional Director Indika Gunawardhana and Manager Regulatory Ranjith Bandara. Representing SLINTEC were CEO Harin de Silva Wijeyeratne, Chief of Research and Innovation Prof. Gehan Amaratunga, Consultant Manju Gunawardene, Associate Director Prof. Veranja Karunaratne, Research Scientist Anjana Delpe Acharige and representing the Business Development Team was Rashmi Wijekoon. Absent was lead senior scientist on the project Dr. Dinara Gunesekera
The Sri Lanka Institute of Nanotechnology (SLINTEC) signed a research agreement with CIC Holdings to develop a novel herbicide formulation for CIC's crop solutions division. This will be one of the first efforts to locally synthesise and formulate an herbicide in Sri Lanka.

SLINTEC is a public-private partnership between the Government of Sri Lanka and major players in the private sector; namely MAS Holdings, Brandix, Dialog, Hayleys, Loadstar and Lankem. SLINTEC is committed to assist the local industries in improving and developing products to meet the demands of the international markets using nanotechnology and other advanced technology solutions. Synthetic Chemistry is the latest program added to the strategic research portfolio of SLINTEC, and interestingly this is the very first commercial engagement under the above category.

CIC Holdings is a leading conglomerate with a diversified industry portfolio ranging from healthcare, consumer products, crop solutions and services. They were recently ranked by Superbrands, as the 4th strongest conglomerate brand. The crop solutions division works closely with farmers and plantation growers to provide the best crops for Sri Lankan consumers.