MP Dr. Harsha de Silva assumes duties as Deputy Foreign Minister
Pledges to take relations beyond "Geneva"
To forge global links to grow FDI, exports and take local industries global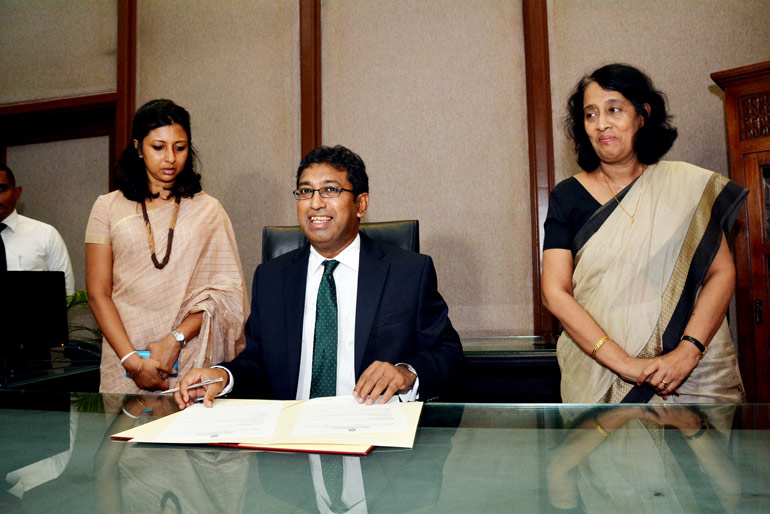 New Deputy Foreign Minister Dr. Harsha de Silva smiles before he signs the first official document to mark the assumption of duties yesterday watched by Foreign Secretary Chitranganee Wagiswara (right) and wife Devyani de Silva – Pic by Upul Abayasekara
By Uditha Jayasinghe

Launching economic diplomacy, MP Dr. Harsha de Silva yesterday began a fresh chapter as the Deputy Foreign Minister, pledging to link Sri Lanka's economy to the global market.

Assuming duties at the Foreign Ministry, Dr. de Silva recalled his days in the Opposition as a National List member when he was the protagonist of debates on the economy. As the main critic, Dr. de Silva welcomed the opportunity to work with the Foreign Ministry to understand the nuances of diplomacy and use it to take Sri Lanka's growth to the next stage.

"The time has come for Sri Lanka's diplomacy to move beyond "Geneva" he told the media in a short statement after ceremoniously taking office.

"As a person who was very vocal about Sri Lanka's exports dropping from 35% as percentage of GDP to just 15% during the last few years I believe it is important to play a pivotal role in linking our economy with the outside world," he added.
Dr. de Silva noted since social market economic policy was introduced by the new Government in January he has worked hard to develop it and integrate it into the understanding of the public. Becoming Deputy Foreign Minister is merely an extension of this role, he insisted, even though many people expected Dr. de Silva to be given a more economy-centric role in the newly-formed National Government.

"This post is completely different from what I have done before but it is more important. The main economic challenge before Sri Lanka is weak trade links with the outside world. Our currency, development and inter-linked sectors are all dependent on the outside world but we haven't taken full use of the advantages before us that is what someone independently evaluating our economy from the outside would think. We have a small economy; we have more than enough opportunity to interact with the international community or the world market."

The Foreign Ministry will focus on four main points when promoting economic diplomacy; these are international trade, FDI, economic development and taking local industries out to the world.

"When I talked with the foreign minister we talked about what more we need to do through this ministry and that is the need to link the economy with an export target. Outside of traditional diplomacy we need to talk about development and prosperity and how to take relations forward for that."

Linking his expertise with economic diplomacy will give him a greater chance to serve the people, Dr. de Silva noted, extending his thanks to President Maithripala Sirisena and Prime Minister Ranil Wickremesinghe for his post. Dr. de Silva also expressed gratitude towards his voters and pledged to work together with other members of the National Government.