Federation of Indian Export Organisations enters Sri Lanka at important time says Bathiudeen
27% YoY surge in Indo-Lanka trade
2015 first-half trade passes $ 2.6 b
India-linked trade via Colombo Port now sizable, FIEO's Vadivel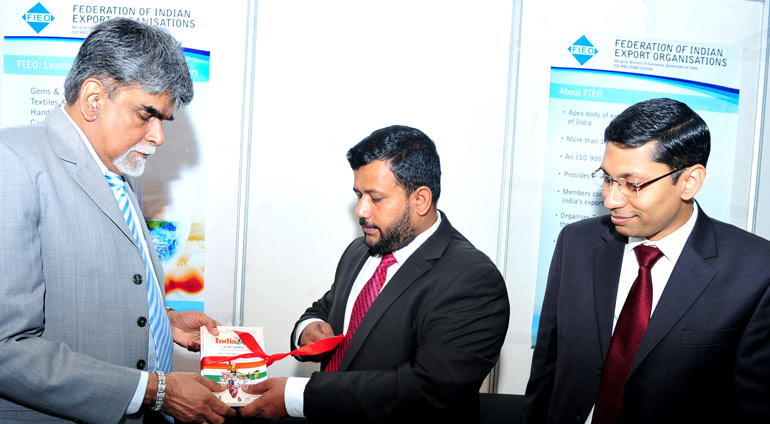 Industry and Commerce Minister Rishad Bathiudeen (centre) unveils the IndiaExpo 2015 catalogue at the IndiaExpo venue at the BMICH with Federation of Indian Export Organisations Southern Regional Chairman A. Sakthivel. Deputy Indian High Commissioner Arindam Bagchi (right) looks on. See more pix on Page 5
With Indo-Lanka YoY annual trade showing a remarkable turnaround, the Federation of Indian Export Organisations (FIEO) made its entry into Sri Lanka yesterday with an Indian exporters fair staged in Colombo.

It is reported that India now accounts for the bulk of the Colombo Port's total container transhipments. "The Federation of Indian Export Organisations is proud to present the first Indian multi-product exhibition in Colombo. Indian-linked cargo now accounts for over three-fourths of the Colombo Port's total container transhipment volume," said FIEO Southern Regional Chairman A. Sakthivel yesterday in Colombo.



FIEO Southern Chairman Sakthivel was speaking about the latest bilateral trade developments in the aftermath of the soft opening of IndiaExpo at the BMICH, which was graced by Industry and Commerce Minister Rishad Bathiudeen. Joining the event was Deputy Indian High Commissioner Arindam Bagchi.

IndiaExpo is the first Indian multi-product exhibition staged in Colombo by FIEO, which is the apex body of Indian trade promotion organisations.

Minister Bathiudeen, having inaugurated the first IndiaExpo event, remarked: "We welcome FIEO to Sri Lanka. I am pleased that FIEO is partnering various Sri Lankan trade and industry chambers in this event and more importantly, FIEO is entering at a time when Sri Lanka, under the leadership of both President Maithripala Sirisena and Prime Minister Ranil Wickremesinghe, is moving to enhance its exports to India and other key markets in a significant way."

According to the Department of Commerce of Sri Lanka, Indo-Sri Lanka total annual bilateral trade, which fell by 11% in 2013 (in comparison to 2012), showed a new turnaround in 2014 with a huge YoY jump of 27% to a total of $ 4.6 b. This is an increase from 2013's $ 3.6 b. In January-June 2015 alone, bilateral trade totalled $2.6 b.

Sakthivel revealed that IndiaExpo sees 50 Indian firms showcasing their capacity to export diverse products to the Lankan market.

"Sri Lanka has been gaining increasing importance for Indian exporters and importers. At a time when traditional Western markets are showing slow recovery from economic crisis, the growing markets in Asia are expected to provide a great opportunity for enhancing Indian exports as well," he said.

IndiaExpo is supported in Sri Lanka by the Ceylon Chamber of Industries, the National Chamber of Commerce and Industry of Sri Lanka and the Sri Lanka Chamber of Small and Medium Industries. FIEO's direct members contribute to more than 72% of India's international trade.