Sri Lanka's leading radio station, Shree FM, marked 15 years of success in a truly stellar way, hosting a number of local celebrities and well-wishers at a high-profile morning celebration, on 11 August 2015.

Featuring dozens of top celebrities, including film stars Jackson Anthony, Ravindra Randeniya and Malini Fonseka music stars Bhathiya and Santhush, national cricketers Lasith Malinga, Sachithra Senanayake and Ajantha Mendis, and former sprint queen Susanthika Jayasinghe, among many others, Shree FM's star-studded anniversary affair was only the latest in a long line of accomplishment in the last few months alone.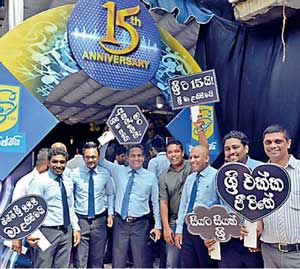 From kicking off the 2015 Avurudu season with a Sri Lankan-first mega promotion, wherein dozens of bus passengers traveling from Colombo to Matara, and from Colombo to Anuradhapura, were delighted when they received the perfect Avurudu gift they asked for, including washing machines, TVs, refrigerators, bikes, etc.; the excitement for the Shree FM audience only grew even more as the year progressed.

Next up, Shree FM whipped up audience frenzy even further with yet another Sri Lankan-first, this time during the 2015 Vesak week, when the local radio leader created the first-ever Siv Maha Dansala, with four mini almsgiving stalls rolled into one.

Conceived to service visitors to the festive Shree FM Vesak Kalapaya (Vesak Zone), located at a highly unique Colombo Port venue, this noble multiple-day Shree FM undertaking led to hundreds of thousands of pilgrims being refreshed, so that they could continue on with their intense spiritual journey.

Most recent of all, the radio station's stellar 15th year saw the launch of the highly popular Shree FM 'Cinema Wasanthaya' free fan screening program, another first by any Sinhala language radio station.

Thanks to this still ongoing program, not only have loyal Shree FM listeners benefited, but also there has been a massive, continuing boost for the struggling local film industry, with huge crowds taking advantage of these free movie screenings to interact with Sri Lankan stars like Jackson Anthony whose film 'Pravegaya' was one of the first popularised thanks to the Shree FM 'Cinema Wasanthaya' free fan screening program.



"Our work over the last few months has centered round the sole purpose of adding even more flair to Sri Lanka's vital and exciting radio industry. Shree FM's sensational new promos, plus our recently revamped line-up of well-received programs, like Pink Avenue for instance, has already begun changing the face of local radio, just like have done periodically since we first launched 15 years ago," said Shree FM Assistant Program Director Chathura Wijerathne.

Adding to this, EBC Radio Chief Operating Officer Chalaka Gajabahu said: "As Sri Lanka's leading radio channel, Shree FM is in the enviable position of creating trends instead of just following others. And our all-new program schedule, and the exciting promos we have carried out to date, and those still in store for our loyal Shree FM listeners, will undoubtedly generate even more disruption in the local radio space in the months and years to come. Just wait and see, the best is yet to come."

Pix by Upul Abayasekara