Incumbent Prime Minister secures over 500,000 votes in Monday's poll to clinch premiership and head next Government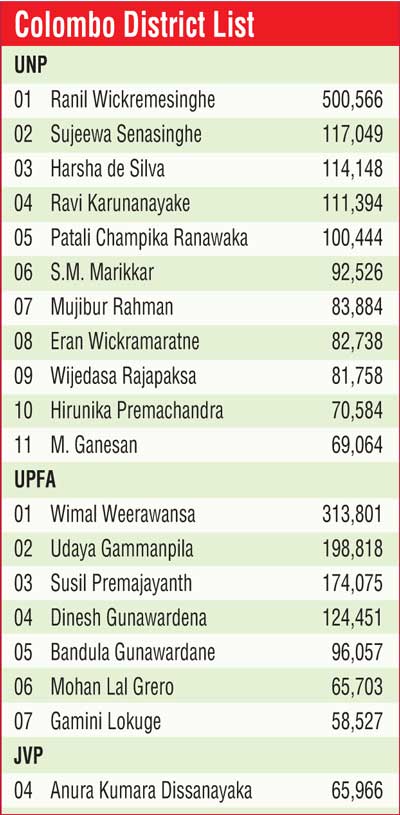 UNP Leader Ranil Wickre-mesinghe, endlessly mocked over seven months for being a Prime Minister without mandate, polled a record-breaking 556,600 preferential votes in the Colombo District race to cement his claim to the premiership and head the country's next Government.

With his vote haul at Monday's poll, Wickre-mesinghe smashed Chandrika Kumaratunga's record of 464,588 preferential votes in the Gampaha District, when she contested as the SLFP's prime ministerial candidate in 1994.



Contesting in the Colombo District with its 1.5 million registered electors, Wickremesinghe also comprehensively defeated his de facto challenger Mahinda Rajapaksa, who was contesting in Kurunegala, a district of 1.2 million registered voters at this week's poll. Rajapaksa garnered 423,529 preferential votes, in the district which the UPFA managed to win by a single seat over the UNP.

The preferential vote battle is a secondary contest within the Parliamentary election, and a test of popularity for individual candidates from political parties.

The 2015 Parliamentary election marked the first time the pair have faced off in a direct contest since 2005. Wickremesinghe was defeated by a mere 180,000 votes in that election, largely due to a LTTE enforced boycott of the vote by Tamils in the north and east, allegedly orchestrated by Rajapaksa.

The UNP Colombo race was particularly tight with many of the party's heavyweights contesting in the district that has traditionally proved favourable to the greens. Analysts predicted ahead of Monday's election that at least one UNP top-runger would be eliminated in the Colombo District as a result.

Rosy Senanayake was defeated in the preferential race for Colombo, polling fewer preference votes than the 11 UNP candidates who made the cut.

Another big loser in the UNP camp was former Speaker Joseph Michael Perera, who was defeated in the Gampaha District.

Actor Ranjan Ramanayake topped the UNP's Gampaha District list, with 216,463 votes, followed by former cricket skipper Arjuna Ranatunga who polled 165,890 votes and UNP Youth Wing Leader and former State Minister of Defence Ruwan Wijewardane, who obtained 157,932 votes.

UPFA strongman and former Western Provincial Chief Minister Prasanna Ranatunga bested all candidates on the UNP list, even though his party was defeated in the district, with 384,448 preferential votes.