LAUGFS Lubricants proudly sponsored the recently concluded International Business Conference 2015 as the main title partner of the event. The conference was organised by the Vehicle Importers Association of Lanka (VIAL), the leading vehicle importing body in the country and was held under the timely theme 'Synchronising the Rising Vehicle Culture with Societal Elegance'.

This year's conference attracted a large participation with the presence of many honorary delegates and industry experts, as well as over 330 VIAL members, private and government sector officials and about 50 members of foreign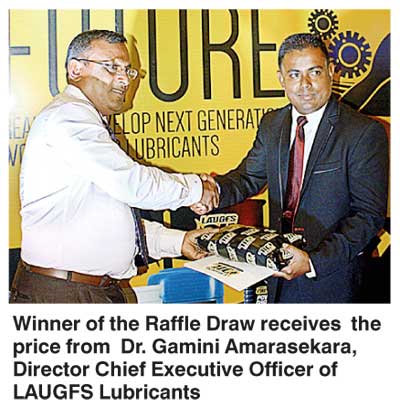 vehicle export sector. LAUGFS Lubricants Director/CEO Dr. Gamini Amarasekara also delivered a speech at the event, relating the theme of the conference to the latest lubricant technology, focusing primarily on the societal impact of modern vehicles and key drivers of lubricant technology.

In addition to LAUGFS Lubricants, LAUGFS Petroleum and LAUGFS Eco Sri also participated at the event. LAUGFS Petroleum introduced its pioneering NFC based fuel card for motorists while LAUGFS Eco Sri, a pioneer in air quality management, also exhibited its impressive service portfolio.

LAUGFS Lubricants markets LAUGFS Oil, a trusted brand offering a range of new generation automobile and industrial lubricant products. It is the only Sri Lankan lubricant company to hold licenses from the American Petroleum Institute (API), which defines global industry standards for motor oils. LAUGFS Lubricants also has Original Equipment Manufacturer (OEM) approvals for Volvo, Renault and Porsche vehicles, testament to its superior quality. It is also the first Sri Lankan company to set up a lubricant manufacturing plant with the research and development facility to develop next generation engine oil required by modern sophisticated vehicles in the country.

LAUGFS Lubricants is a fully owned subsidiary of LAUGFS Holdings, one of the largest diversified business conglomerates and a trusted name in Sri Lanka. With over 4,000 employees and an annual group turnover exceeding Rs. 28 billion, LAUGFS has established a strong presence across the power and energy, retail, industrial, services, leisure and the real estate sectors, touching the lives of millions.