Former Central Bank Governor Nivard Cabraal had yesterday written to his successor, Arjuna Mahendran, levelling various charges against him while defending his own behaviour during his tenure at the head of the financial institution.

The following is the full text of the letter released to the media by Cabraal for what he described as the "interest of transparency and good governance."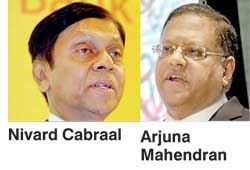 Dear Mr. Mahendran,

I write with reference to several recent news reports which have quoted you stating that my role in certain activities are under "investigation". Some reports also provide alleged accounts and other information including confidential Monetary Board minutes and Cabinet Papers which have obviously been released unlawfully by a person with a vested interest.

In all these stories, an effort is made to convey the impression that I have indulged in some unauthorised or fraudulent activity.

Based upon the stance of such reports as well as your own recent comments in the media, there is now a growing suspicion in the minds of many that you are "planting" such reports in order to damage my credibility, and thereby divert attention from the massive scam perpetrated by you in the issue of Treasury bonds on 27 February 2015. That scam is now well-known with H E President Sirisena himself stating publicly that he had requested the Prime Minister to ask you to resign. Even worse is the fact that the losses arising from the scam have, by 28 July 2015, exceeded Rs. 72 billion, causing irreparable damage to the country's economy and the government's finances.

In the meantime, it is now well-known that my persistent analysis and comments have greatly assisted the people of our country to realise and understand the deviousness of the scam, the magnitude of the losses, and the varied but complementary roles played by several persons including yourself, in this scam.

Furthermore, as reflected in the evidence given by you to COPE which has now been filed in Court, you have also admitted upon prolonged questioning, that you have acted on the instructions of Prime Minister Ranil Wickremesinghe. Hence, it is now seen that important persons have been "exposed", and as a result, it is becoming increasingly clear that the Prime Minister and you seem have developed a major personal hatred and animosity against me and are doing their utmost to extract revenge from me as well as tarnish my reputation.

In addition to the efforts to cause public hatred towards me, you are now also abusing your authority and embarking on an even more sinister effort to silence me by invoking FCID action which is being illegally arranged via the Cabinet SubCommittee chaired by the Prime Minister. This attempt at suppression and instilling fear in me and my family is probably done so that those responsible for the bond scam could escape the punishment prescribed by the law for the largest ever economic loss that has been suffered in the history of our nation.

Nevertheless, I wish to assure you that such endeavours aimed at instilling fear in order to discourage me from highlighting further facts surrounding this terrible scam would not be successful, as I would not be intimidated by such threats aimed at concealing the truth.

Let me further inform you that while you are frantically attempting to construct material to falsely implicate me for some wrongdoing or another during my over 3,100 days in office as Governor, a large quantum of wrongful acts committed by you during the short period you have served as Governor is also surfacing. In that context, I am confident that, in the fullness of time, the steps required to bring the persons responsible for all these white-collar crimes will be taken so that the losses suffered by the State could be recovered.

Yours faithfully,

Ajith Nivard Cabraal

Former Governor

Central Bank of Sri Lanka

PS. Since you have taken it upon yourself to comment on matters publicly, I have also released a copy of this letter to the media in the interest of transparency and good governance.