Mahinda Rajapaksa is the most outstanding candidate in this election and the UPFA can never win without him, noted Deputy Minister of Vocational Training and Skills Development Thilanga Sumathipala. Sumathipala pointed out that once someone gives leadership to a campaign and wins the election, one cannot let a third party come in and become the prime minister.

"Rajapaksa is the Chairman of the UPFA General Election Committee. That means he is going to be the person who is going to be the most popular, the most outstanding leader among the UPFA Parliamentarians. After that obviously he will be the person who will be nominated by the party as the prime minister."

Following are excerpts of the interview: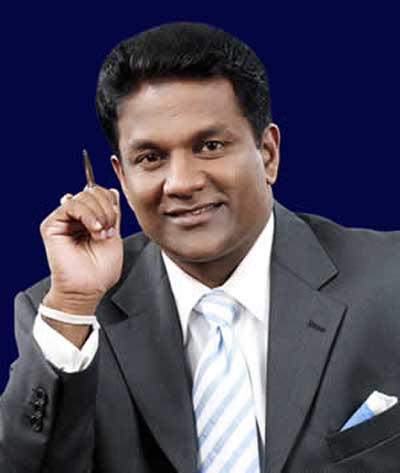 Deputy Minister of Vocational Training and Skills Development

Thilanga Sumathipala
Q: How is your campaign progressing?

A: Today, there is a huge requirement for person of my background to be representing Parliament. Every party is pushing for good governance and people with quality, calibre, education, experience and especially people who feel more towards just and decent society needs to be in Parliament. I strongly believe I will be needed today more than ever before in the UPFA list to represent Parliament. That's the feeling I have with regard to the response I get.


Q: How confident are you about winning the election?

A: I am quite confident due to three main reasons. Firstly, I am a loyal SLFPer. I stood by the party when the party was under tremendous pressure after Mahinda Rajapaksa lost the presidential election. I kept the media going during this difficult time. I kept the SLFP flag flying right throughout without interruption. I managed the entire May Day and all the national issues working closer with Mahinda Rajapaksa and Maithripala Sirisena.

I stand out from the rest because I am a graduate with a Masters Degree in Public Administration in Colombo University. People nowadays desire politicians with good education. Meanwhile, I have the closest approach to the grass root level, because I am a city man. I am at the middle of eight electorates. I am the only SLFP Parliamentarian who is contesting in Colombo North, Colombo Central, Colombo East, Colombo West, Borella, Kolonnawa, Kotte and Dehiwala.

I represent various sectors such as private, corporate, cinema and sports. My mother was the President of Buddhist Congresses and my brother is the President of the All Ceylon Buddhist Congress. I don't think this cross border representation is with anybody as an individual. That is my biggest advantage.

I am a Nalandian and all Nalandians treat me as a true Naladian with a Buddhist background. I have their fullest support. On the other hand I am the only Parliamentarian without a single allegation or any accusations against me. When I put all these factors together, I am confident that I will win the election.


Q: Which group do you belong to, team Rajapaksa or team Sirisena?

A: I am strongly advocating and articulating SLFP. I worked hard for Mahinda Rajapaksa during the presidential election. Soon after Mahinda Rajapaksa handed over his leadership to Maithripala Sirisena, he asked all of us to support Sirisena. As SLFPers we have only one goal, that is to get back into power. The two core issues we had to face were uniting SLFP and UPFA to contest under the 'betel leaf' which we have achieved. Then there was a demand from the SLFP grass root level island-wide that Mahinda Rajapaksa should be allowed to contest. We have represented in between the hard-line SLFPers and others who support Maithripala Sirisena. Sirisena loyalists strongly feel Rajapaksa should not be allowed to contest. But we have managed to bring these two factions together. I am a SLFPer. I am a party man. I will always stand by the leader of the party. We want to protect this party. That is where I belong.


Q: Can you actually survive inside the party when you don't support either group?

A: The SLFP and UPFA have always had various views, ideas and ideologies. That is how the left is functioning. When it comes to a crisis or a challenge, we always fight together. That is our strength. We always stand together when we fight for a common goal. Unfortunately or fortunately Ranil Wickremesinghe doesn't understand how to allow people to democratically walk in different directions when they wish to.


Q: How can you form a government when there is no unity inside the SLFP?

A: When it comes to defeating Ranil Wickremesinghe, there is absolute unity in the SLFP and UPFA. We want a government without Ranil Wickremesinghe heading it. That's our core focus today. If we can defeat Wickremesinghe, then we can achieve everything else; whereas the UNP headed by Premier Ranil Wickremesinghe is up against the country. Wickremesinghe and the UNP cannot fight against Sirisena because he is the head of the country. Wickremesinghe and the UNP cannot fight against Rajapaksa because he is not the only one contesting in this election. I don't think the UNP has identified or structured its political strategy to defeat us. But as far as the UPFA is concerned, we are very clear about our goal. We have found our political opponent and we know exactly how to defeat and win.


Q: How optimistic are you about Mahinda Rajapaksa winning the election?

A: As far as the SLFP is concerned, we cannot win this election and have an advantage nationally as the highest member of seats won by a party without Mahinda Rajapaksa. Rajapaksa is the most popular, attractive and people's man in this campaign when all the parties and all the candidates are put together. There is no dispute about that. Rajapaksa is the most outstanding candidate in this election. The SLFP can never win without him. At the same time we cannot form a government without Maithripala Sirisena.



Q: So you too agree that the UPFA is using Rajapaksa and his vote base to win the upcoming election?

A: No I didn't say that. If Ranil Wickremesinghe can survive after losing 20 elections, why can't Mahinda Rajapaksa contest one more time? Technically speaking the UPFA is ahead of the UNP nationally. We don't see a problem in Rajapaksa contesting. People have never challenged UPFA policies. People have always supported UPFA policies and principles. People had reservations with regard to execution of our policies. They were complaining about transparency, accountability, corruption, nepotism and family rule. We are very mindful; we are taking calculated measures to get back to people. If we have made any mistakes we want to rectify them. We want to get closer to the people, much more than ever before.

However, the strength we see here is people are happy that Maithripala Sirisena who is the President of our party is the Head of State. He is the Head of the Cabinet and Head of the Government and therefore some transparency and accountability will come into play. Minorities are of the view that when the executive is with the UPFA, then there is protection and true representation. So obviously we are at a huge advantage because Sirisena is the head of the party.

When you look at the last election, without the north east if you put all the votes together, Mahinda Rajapaksa has won by 2.5 lakhs. This time the TNA, SLMC, JVP and the Democratic Party are all contesting separately in the north east. In places like Polonnaruwa our votes will not get divided like last time. Technically I don't see a reason why the UPFA will lose. Every aspect is positioned and placed very clearly towards the UPFA winning.


Q: If there is unity between the two groups, why did President Sirisena make a statement claiming he continues to stand against Rajapaksa and that the latter would be defeated again?

A: If we analyse Sirisena's speech, what he said was that he is not in agreement with Rajapaksa's decision to come back to politics by contesting. What the President said was that Rajapaksa's decision was a defeat. He never said the UPFA was going to lose. In his statement the President also said that Prime Minister Ranil Wickremesinghe never removed Arjuna Mahendran although Sirisena several times requested him to do so. What a statement to make by the Head of State to against his Prime Minister.

On the other hand, we cannot expect President Sirisena to come back after six months and say Mahinda Rajapaksa is whiter than white, because Sirisena defeated Rajapaksa saying he is corrupt. How can he come and say Rajapaksa is a good man now? People will never approve of that. Mahinda Rajapaksa, Maithripala Sirisena and Chandrika Kumaratunga have always been this way. There are various viewpoints and affiliation but these are all inside the party.

This election has united all SLFPers. The entire SLFP has got together and decided we will work hard to get back to power. That has given us oxygen. If President Sirisena's speech created any uproar, everything has now settled down. His decision to suspend membership of people who crossed over gives us a signal that as the leader of the party he wants to clean the party and bring discipline into it.


Q: Although you seem to be fond of the former President, he never offered you a ministerial post. But President Sirisena has recognised your work and made you a Deputy Minister. Your comments?

A: Well, I strongly believe that we have to take these political affiliations to the leader away from representative affiliations. President Sirisena is trying to give a better representation to the party and for people like us who are dedicated to the party. There is new hope for the up-and-coming politicians that if we work hard, if we are loyal to the party, if we maintain principals of the party, we have a way up in the party. That is what President Sirisena has established by giving opportunities to us.

My loyalties to the party do not depend on an individual. As far as Mahinda Rajapaksa and Maithripala Sirisena are concerned, they are like elder brothers to me. They are good personal friends of my family and me. But I make sure not to mix that personal relationship when it comes to politics. I am focused on what I want to do and they are all very supportive. The party feels I am strength to them and that it enhances the class and quality of the party by associating me.


Q: Although President didn't grant nominations to several SLFP Parliamentarians in keeping with his pre-election pledges, there are individuals on your nomination list with various allegation charges. Your comments?

A: I don't agree with that. Until you are proven guilty, you are innocent. During the last six months Ranil Wickremesinghe and the UNP has failed to provide any substantial evidence to support those allegations. It is difficult for us to remove someone from the list merely because there are allegations and charges against that person. The party has taken certain decisions and now it is up to the people to decide whom they want to represent the party in Parliament.

The UNP has done nothing to this effect. Palitha Thewarapperuma is contesting the upcoming election. What does Ranil Wickremesinghe have to say about that?


Q: If the UPFA fails to form a government, will you support the United National Front for Good Governance to establish a national government?

A: No, I would rather stay in Opposition than joining Ranil Wickremesinghe.


Q: But you are a Deputy Minister and part of his administration?

A: That was a policy decision taken by our Central Committee. This decision was taken for two main reasons. One is working towards the 19th Amendment; the other reason was to have electoral reforms to the 20th Amendment. Our challenge there was to get together with the President and to go along with the Government together. We didn't join Ranil Wickremesinghe; we joined Maithripala Sirisena.

I will guarantee to you that a minimum of 12 UNP members will join the UPFA after we win the election. They are fed up, they don't want to work with Ranil Wickremesinghe. They have agreed and pledged their support to us. They are holding on to their posts because they want to get elected. These 12 members told us they were side-lined during the last six months and they were not given proper opportunities. I am assuring you the UPFA is going to form the government. We have 12 UNP members who are contesting this election and have been in Parliament before definitely joining us after the election


Q: If you are certain about the UPFA forming a government, who would be your prime minister?

A: I don't think we should discuss that now. In this campaign the Chairman of the UPFA General Election Committee is Mahinda Rajapaksa. That means he is going to be the person who is going to be the most popular, outstanding leader among the UPFA Parliamentarians. After that obviously he will be the person who will be nominated by the party as the prime minister. Once you give leadership to a campaign and win the election, you cannot let a third party come in and become the prime minister.


Q: What's your personal view on who should be the prime minister?

A: I think we should give one more chance to Mahinda Rajapaksa to say goodbye to the people as a leader. I do not want to see Mahinda Rajapaksa leaving as a loser after defeating the LTTE and eradicating terrorism in this country. It is nothing but fair we one day let Mahinda Rajapaksa leave as a hero and as a leader acceptable to the people, not as a leader who has got defeated.