By Chamodi Gunawardana

The United National Party (UNP) yesterday alleged that the previous Government had wasted 350,000 metric tonnes of imported rice through Sathosa.

Attacking the former Minister of Internal Trade and Cooperatives, Johnston Fernando, UNP National Organiser Daya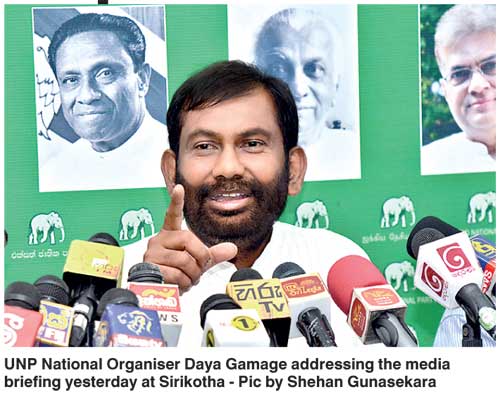 Gamage accused Fernando of importing several metric tonnes of rice while Sri Lankan famers were having their harvest.

"During the last few years local famers cultivated their paddy fields and produced sufficient harvest. However, the past Government wasted the harvest by importing rice. Now the imported rice stocks are being used as animal feed. They indulged in this wastage to increase their personal income," Gamage claimed.

Commenting on the UNP's future economic plans for the Ampara District, Gamage asserted that the party expected to develop the Oluvil Harbour into Sri Lanka's main fishery harbour.

"The previous Government wasted public funds on useless, so-called development projects. However, the UNP Government has a proper idea about which areas should be developed. The Oluvil Fishery Harbour is one such project," Gamage stated. He added that the Government was planning to join the Arugam Bay and Pasikuda surfing areas to the cultural triangle.

"The Arugam Bay and Pasikuda beaches are the most suitable beaches for surfing. The UNP Government hopes to develop those areas as tourism zones and plans to join it to the cultural triangle. We believe that it will produce 7,000-8,000 jobs for youth," Gamage explained.

Talking about the European Union's (EU) Generalised System of Preference Plus (GSP+), Gamage said that Sri Lanka could expand its exports under low taxation by regaining GSP+.

"We are about to regain the GSP+ facility. We are looking for exports with low export taxes," he noted.