First with affordable high-speed internet to all citizens via 13 balloons floating 20 km above the country
In conjunction with ICTA's plans for 10,000 Wi-Fi hotspots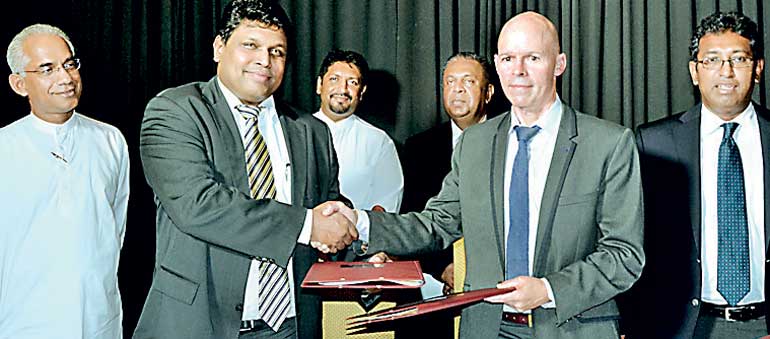 ICT Agency CEO Muhunthan Canagey (second from left) exchanging the MOU with Google Vice President Mike Cassidy. Others from left are Highways and Investment Promotion Deputy Minister Eran Wickramaratne, State Minister of Defence Ruwan Wijewardene, Foreign Affairs and Telecom Minister Mangala Samaraweera and Economic Affairs Deputy Minister Dr. Harsha de Silva - Pic by Upul Abayasekara
By Himal Kotelawala

Sri Lanka is set to be the first country in the world to provide universal internet access, as Google officially launched Project Loon in partnership with the local Information and Communication Technology Agency (ICTA), with the promise of high-speed, affordable internet access to all citizens around the island, using high-altitude balloons placed in the stratosphere.

A Memorandum of Understanding was signed yesterday at Temple Trees between Google and the Government of Sri Lanka, represented by ICTA, to kick off the project that will see up to 13 balloons floating 20 km up in the air, covering every inch of the country with LTE (4G)-speed internet connectivity, using and built on top of existing data networks of domestic telecommunication service providers.

Coupled with ICTA's plans to establish 10,000 WiFi hotspots around the country, an ICTA official told Daily FT, by March 2016, every Sri Lankan citizen should be able to get online, irrespective of their physical location.

Explaining the technology behind the initiative, project leader and Director of Product Management at Google, Mike Cassidy, said that the helium filled balloons will float 20 km above ground with a payload of transmitting equipment, with a single balloon covering an area of 5000 square kilometres. Anyone with a smartphone would be able to access the internet via Project Loon at a rate of up to 10Mbps.

Over time, the helium inside will leak out, and the balloon will be brought down in a controlled descend, after which the payload will be attached to a new balloon, said Cassidy, resulting in seamless connectivity around the clock.

The balloons will be steered using air currents and air traffic control will always be consulted in the operation and flight of the units, he added, even though passenger aircraft don't usually fly above 10-15 km.

The project was made possible following discussions between Sri Lankan-born Silicon Valley-based venture capitalist Chamath Palihapitiya and President Maithripala Siresana, facilitated by State Minister of Defence Ruwan Wijewardena early this year, with the aim of providing affordable internet access to all Sri Lankans.

Palihapitiya's company LotusFlare, together with Google[x] and RAMA Corporation, was instrumental in making this project a reality.

Speaking at the ceremony via video-call, Palihapitiya said it was a historic occasion that sought to bring about what he called a fundamental human right to every citizen of the country of his birth.

"We're on the verge of making history. And with the sponsorship and foresight of the Sri Lankan Government, we have the potential to become the first country in the entire world to bring universal internet access to every citizen," he said.

The billionaire entrepreneur took the opportunity to thank the President and the Government for taking the initiative to get the project off the ground.

Foreign Affairs, Telecommunications and IT Mangala Samaraweera told the gathering, that the Sri Lankan people were at the cusp of reclaiming their heritage of being connected to each other and connected to the world. "In a few months we will truly be able to say Sri Lanka. Covered," he said.

Minister Wijewardena, meanwhile, promised that the project posed no threat to national security.

"This is a solution where the Government will have complete access and thereby will be able to ensure that it is in line with the country's national security framework," he said.

Elaborating on the decision to embark on this mission to get all Sri Lankans connected, Wijewardena said it was with a view to introducing new avenues of education and employment to the country's youth.

"Only 10% of students who pass their A/Ls gain entrance to the national universities, with another 25% entering private universities/institutes. I believe access to the internet will give individuals an international online education from their homes," he said.
---





Lanka Government Network 2.0 to connect over 3,000 govt. buildings


ICTA Chairman Muhunthan Canagey unveiled plans to digitally link up 3,500 government buildings in 25 districts in a project known as the Lanka Government Network 2.0.

This will include a 100Mbps connectivity, with Wi-Fi and broadband internet, with applications in high definition video conferencing, document sharing, big data, secure email platforms and a cloud-based document management system accessible with any device.

"One of the key issues that the Government faces today is sharing documents from one agency to another. And you, as citizens, also face the same issue. We're going to change that," he said.

This will be a secure, cross-government, collaborated platform between government buildings, automated markings of who read what document. There will be no internal servers, he said, as everything would be on the cloud.

Responding to a question by Daily FT regarding any privacy concerns, Canagey said that such concerns would be addressed and that a security operation centre for cybercrime would be established by the end of the year.

As ICTA comes under the Foreign Ministry, the project also seeks to link up all Sri Lankan missions abroad. Commenting on the agency's immediate plans for the future, Canagey said the ICTA was set to introduce a 1 million tab strategy after the upcoming parliamentary elections to ensure that the device was available to all Sri Lankans.