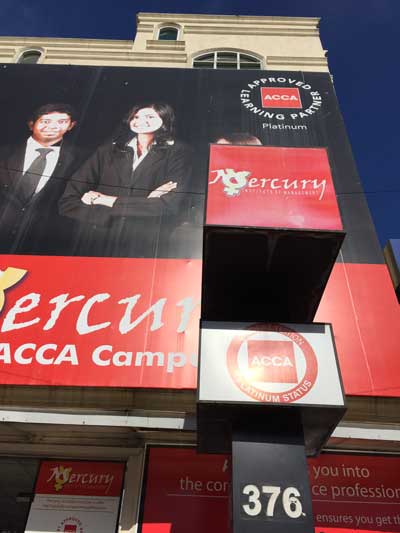 In recognition of individuals holding other relevant professional qualifications, ACCA (the Association of Chartered Certified Accountants, UK), is awarding exemptions for CIMA students and passed finalists and to facilitate this, the exemption fees in respect of those particular subjects would be waived off. CIMA passed finalists can claim exemptions for nine subjects in ACCA, and can get savings up to Rs. 280,460 at Mercury!

CIMA students at varying levels of completion would also be entitled to certain exemptions, and savings on the exemption fees. Mercury helps students to strengthen their qualification portfolio with ACCA as it is a complete finance professional qualification that is globally recognised by employers. Mercury is the only tuition provider to provide original UK-printed Kaplan study texts and revision kits absolutely free of charge for the entirety of the students' ACCA career.


Why CIMA professionals should follow ACCA at Mercury

The advantage to CIMA students and passed finalists in studying ACCA at Mercury is that most of Mercury's lecturers are CIMA and ACCA qualified. Hence, they are able to deliver the course in a manner suited specifically to CIMA students to help ease the transition to ACCA.


Bachelors and Masters Degrees with ACCA

CIMA students and passed finalists also have the opportunity to gain a BSc. (Hons) in Applied Accounting from Oxford Brookes University, UK while saving substantial amounts, by claiming the exemption waiver offer for ACCA subjects F1-F6.

This will not only add more value to their existing qualification but also help them in their careers as multi-qualified accounting and finance professionals.

Furthermore, Mercury offers another opportunity for CIMA students and passed finalists to upgrade their existing qualification by securing a MSc. in Professional Accountancy from the University of London in collaboration with ACCA.

So enhance your career by registering for ACCA with Mercury. Enrolments for the July intake are now on! Call 071 886 4524 or 0711 988988 or e-mail mercury1@sltnet.lk for more details!