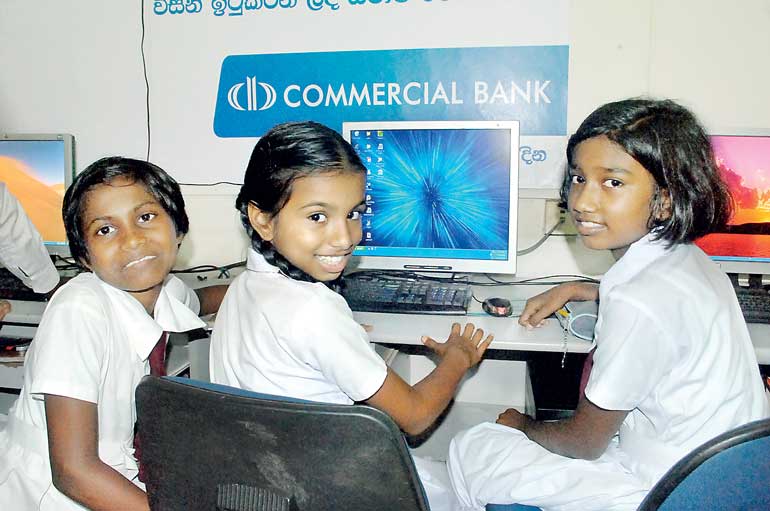 Text and pix by Shanika Sriyananda

The bell rang signalling that it was their mathematics lesson. Unlike previous lessons, that day's lesson was interesting for them as it was a web aided mathematical lesson taught using computers. They rushed into the computer lab which was neatly arranged with rows of the latest desktop computers.

Before their teacher H. Leela, who has 37-years of teaching experience as a Mathematics teacher, the grade six students of the class logged into their computers and got access into the educational website – Sipnana – which is linked with the Chan Academy site to get the online lesson.

Over 30 mischievous girls and boys with even no murmuring were engrossed into computer screens while carefully listening to their teacher. The mathematical solution was explained in an American accent but most of them understood the instructions to solve the problem. They took notes and requested the help of the teacher to clear their doubts.

Kushani Nethmini was happy as she was able to get the correct answer. She explained the work to her friend to help her get the correct answer after quickly completing her work. She browsed through the program pages fast showing her competency in handling the program and also the computer.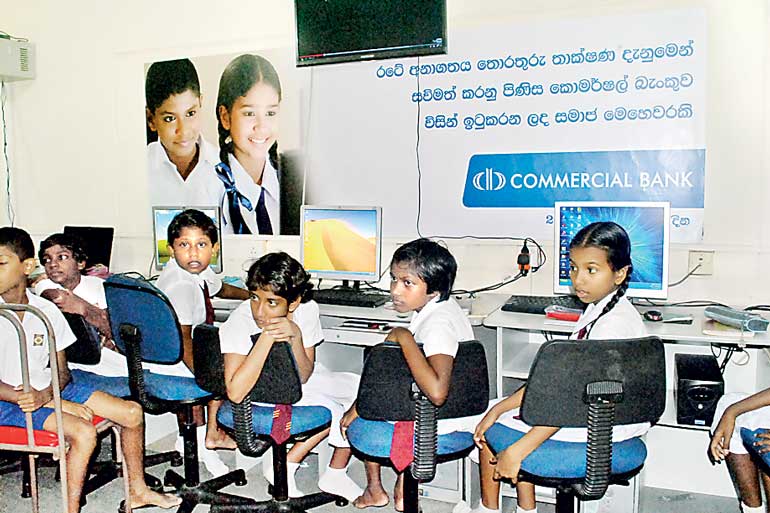 Students at Meewanapalana Maha Vidyalaya, Horana in their computer lab


"I can operate the computer well. I was scared to touch this computer earlier but not now," Nethmini who doesn't have a computer at home, said confidently.

Like Nethmini, students in Meewanapalana Maha Vidyalaya, Horana, 43 km off Colombo are now computer literates on par with students in Colombo schools.



"When we have free periods, we come here to do Google search to get more information which are useful for our lessons," Nethmini, a daughter of a mason, said proudly touching the pleats of her discoloured white uniform.

She said that she loves to use the computer for painting and wanted to learn computer science in future.

Their teacher Leela said that when the lessons are taught using the computer aided program 'Sipnana' no student would miss the class as they wanted to use computers.

"These children are from different socio-economic backgrounds and their level of knowledge is different. But when using computers to teach them they show a great interest. They really gain knowledge fast by handling this program and it is a user friendly program," she said.

According to Leela, most of her students not only grade six but in other classes up to grade 10 get the benefit of the program as the school is equipped with a computer laboratory with latest computers.

"We are using the same computers as these at our Head Office in Fort," Commercial Bank of Ceylon Marketing Manager Irosha Weththasingha was heard saying to a journalist while explaining the 'IT + Online education initiative' of the bank.

"The bank has donated 165 IT laboratories to schools island-wide so far. The educational website was launched by the Commercial Bank of Ceylon as a community initiative that helps Sri Lankan children to improve their IT literacy and online education. Our aim is to bridge the digital division between the village and the town to prepare our future generation to meet global employment markets through enhanced IT skills," she said.


Two main objectives

Weththasinghe said that the two main objectives of the Corporate Social Responsibility agenda of the Commercial Bank of Ceylon are to have a sustained long term program to raise the IT literacy levels of school children in Sri Lanka and to help them to offer the opportunity for online education.

The IT education program of the Commercial Bank donates computers, printers, tables and chairs and other necessary equipment to set up IT labs for needy schools. Over 160,000 students, most of them from rural areas have now access to online education.

"In 2013, the bank launched an innovative online education program, initially for 20,000 students from 20 schools, who were provided the facilities to access carefully selected mathematics and science lessons via a specially created web platform, to supplement their regular lessons in these subjects," Weththasinghe said.

Commercial Bank CSR Unit Junior Executive Officer Jeevan Perera said the bank is closely working with undergraduates of the University of Colombo to provide these online educational programs to students from Year 3 to the GCE Ordinary Level classes, with the active involvement of the IT and subject teachers in the respective schools.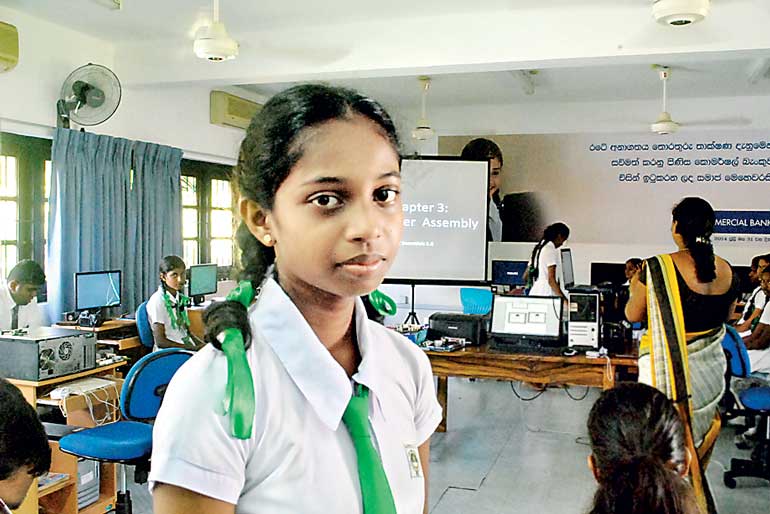 Gayathri Chamika of Agamathi Balika Maha Vidyalaya, Panadura



"Today, more than 60,000 children from 66 schools use this online education resource to supplement their learning. Registered under .com domain, and hosted on the Microsoft Cloud by Microsoft Sri Lanka, the 'Sipnena' website offers students free access to content carefully selected to support their educational needs, in line with local curricula," he explained.

The nine schools chosen for the pilot project of the '
Sipnena' initiative are Meewanapalana Maha Vidyalaya – Horana, Sri Parakrama Maha Vidyalaya – Aruggoda, Denagama Maha Vidyalaya – Hakmana, Beliatta, Nagalakanda Navodya Maha Vidyalaya – Minneriya, St. Thomas' College – Matara, Jaffna College – Jaffna, Rambuka Maha Vidyalaya – Kalawana, Hiriwadunna Maha Vidyalaya – Kegalle and St. Andrew's College – Nawalapitiya.

The computer laboratory at the Thakshila Maha Vidyalaya, Horana has a multi-media projector connected to a desktop to facilitate the entire class with over 40 students who took part in the Mathematic lesson.

The young Mathematics teacher Kasuni Ariyaratne is talkative and also a teacher with fine teaching skills. She explained 'Number patterns' to the grade 8 English medium students using lessons at the Chan Academy which is linked to the 'Sipnana' online educational program.

IT Instructor of the school Wasantha Weerakoon said the fully equipped computer laboratory, which was set up last year, is very useful for students as they are now connected to the world.

Weerakoon said students who were just idling during free periods earlier, are now coming to the laboratory to browse the internet to gather extra information for their lessons and also to search information on various subjects.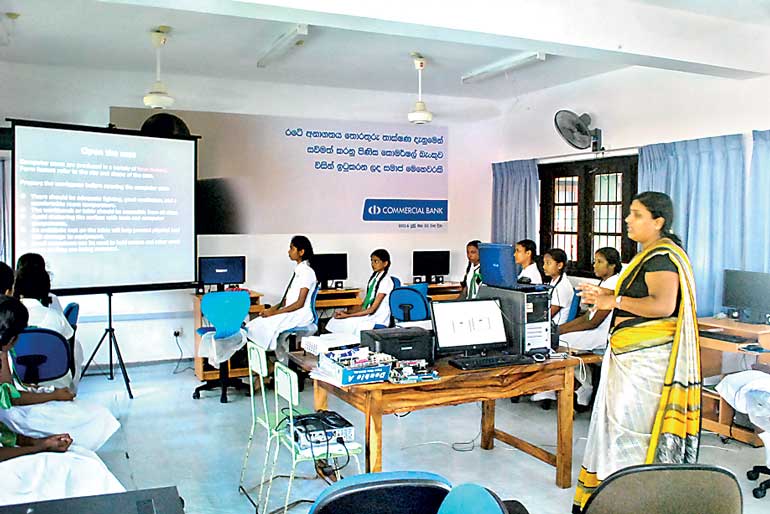 Ganga Priyangani, IT teacher taking a lesson


'IT Essential' course

Being a teacher who has been trained as an IT Essential Instructor under another CSR project of the bank, Weerakoon said 40 students who follow the IT Essential course are using the laboratory for their studies.

The 'IT Essential' is a course launched for teachers and students free of charge by the Commercial Bank of Ceylon together with Cisco Networking Academy is another CSR project comes under the bank's online education program.

A group of 12 teachers from six schools have completed the Cisco 'IT Essentials-Instructor' certificate course at Cisco Networking Centre at the University of Moratuwa.

The teachers were from Agamathi Balika Vidyalaya – Panadura, Thakshila Central College – Horana, Wewita Maithree Vidyalaya – Bandaragama, Kurukkuwa Central College – Madampe, Pallegama Secondary School – Deniyaya and the Computer Centre of St. Anne's Church Wattala.

"There are 4,000 students in our school and more than half of the students have no access to internet or computers. It is very helpful for these students to gain knowledge in IT using this facility. They mostly come to the computer laboratory to search extra information and now they are equally knowledgeable like the children in Colombo schools," he said adding that students are using the computers under the tough monitoring of the instructors as they are prohibited to get into social media sites.

"We are happy to say that our class rooms are no more traditional ones but equipped with modern facilities. We are now connected to the world," Weerakoon noted.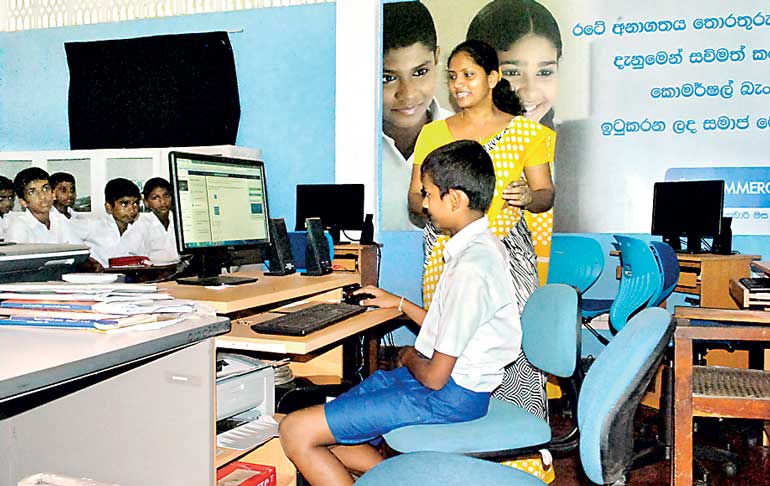 Kasuni Ariyaratne, Mathematics teacher is teaching the lesson using Sipnana online program


Apart from students who learn IT, science students are also benefited as they are given the opportunity to watch science online videos related to their lessons.

Gayathri Chamika, grade 11 student of the Agamathi Balika Maha Vidyalaya, Panadura wanted to do Computer Science for her higher studies.

"We got new computers last year and it is very helpful for us to update our knowledge and do practicals," she said.

IT teacher of the school Ganga Priyangani said they were helpless when the three computers at the laboratory were non-functioning but the brand new computers they got last year under the Sipnana program are immensely benefitted to the students as well as the teachers.

"Most of the students use the computer laboratory for their practices. We do our school work – presentations, speeches, letters and other leaflets here. There are 13 students who follow the Cisco course and now they are in the third chapter," she said explaining that her students who follow the Cisco course will be able to repair their own computers once they completed the course which has 12 chapters including the fundamentals of computer hardware, software and concepts such as IT security, networking and the responsibilities of an IT professional.

"They are taught about all parts of the computer and they will be reassembling the computers at the last stage of the course," Priyangani said.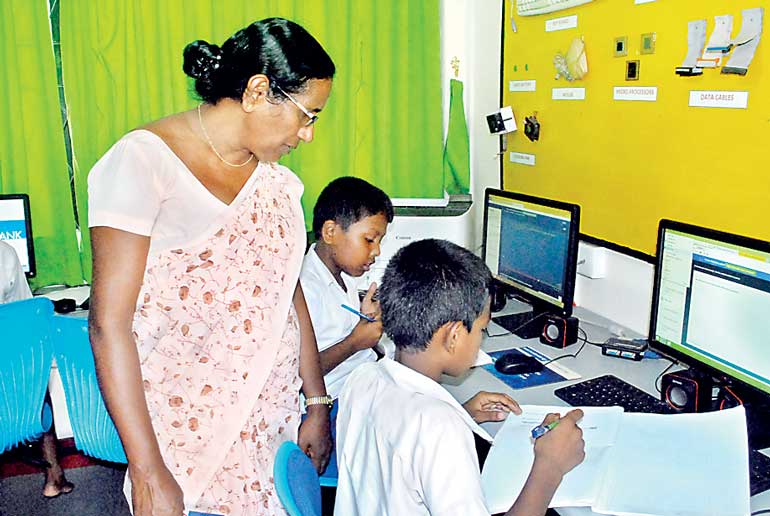 Leela, Mathematics teacher is explaining the lesson


"Under this program video-conferencing in real time allows students and teachers to interact visually, and chat rooms and message boards help build relationships, make it convenient for students to help each other, and improve a teacher's accessibility. And these tools and classroom resources developed through Sipnena are always at a student's fingertips, so that they can view past lectures, pour over message boards, and interact with other students when it's convenient for them," Perera said.

The only Sri Lankan bank to be ranked among the Top 1,000 banks of the world for four consecutive years (2011-2014), Commercial Bank operates a network of 242 branches and 610 ATMs in Sri Lanka.

The bank has won multiple awards as Sri Lanka's best bank over several years and was adjudged one of the country's 10 best corporate citizens by the Ceylon Chamber of Commerce in 2013 and2014. The bank has been rated the Most Respected Bank in Sri Lanka by LMD for the past 10 years, has been the second Most Respected Corporate entity in the country overall for the past four years and been rated No 1 in Sri Lanka for Honesty in 2013 and 2014 by the magazine.