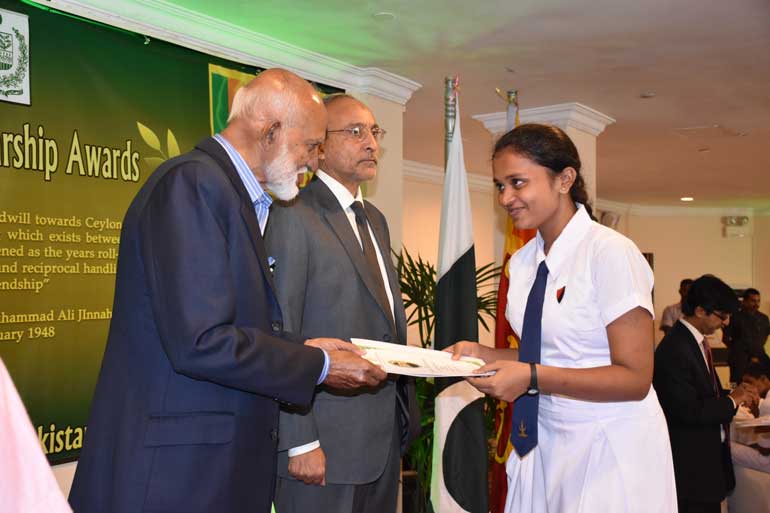 AHM Fauwzi presenting a scholarship certificate to a student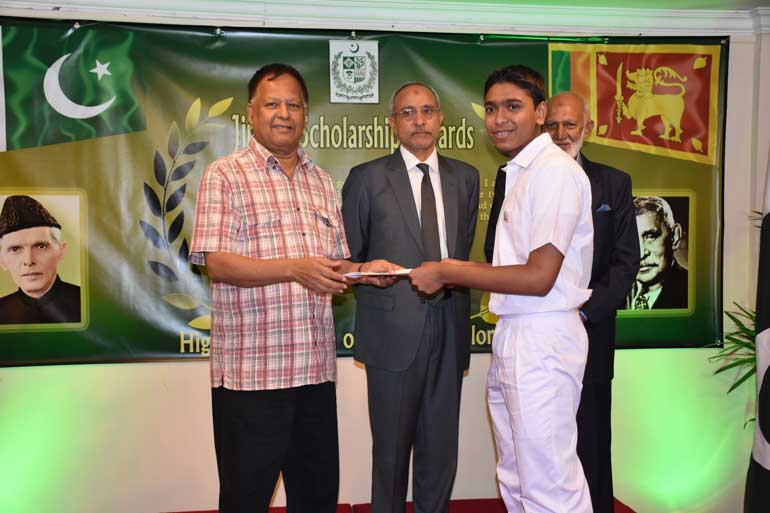 Chief Guest Sarath Amunugama presenting a scholarship certificate to a student in the presence of High Commissioner and A.H.M. Fauwzi
Ven. Prof.Gallelle Sumanasiri Thero, VC Buddhist and Pali University presenting scholarship certificate to a student
The High Commissioner of Pakistan to Sri Lanka, Major General Shakeel Hussain, reiterated Pakistan's intention to continue its support to Sri Lanka to enhance the younger generation's nation-building capacity through better educational opportunities.

He made these comments last evening at a ceremony where scholarships worth Rs. 3.67 million were awarded to 154 Sri Lankan O/L and A/L students under the Jinnah Educational Scholarship Programme of the Pakistani Government.

Minister for Higher Education and Research, Prof. Sarath Amunugama was the event's Chief Guest, while the Guests of Honour included Minister for Disaster Management, A.H.M Fowzie, Former Parliamentarians, members of the Pakistan-Sri Lanka Parliamentary Group, senior government officials and Vice Chancellors of leading universities. Senior officers from the High Commission as well as other dignitaries participated in the ceremony apart from a large number of students and media personnel.

The High Commissioner congratulated the students who gained scholarships this year. He said that people in Pakistan greatly admired Sri Lanka's remarkable progress in the fields of health and education. He underlined that Pakistan sought to expand its cooperation with Sri Lanka in the field of education and hoped that cooperation with Sri Lankan within the education sector would not only help improve the standards of schools but also their curriculums.

He stated that Pakistan had a number of world-class universities, with world-renowned research facilities in the fields of particle physics, industrial chemistry, biotechnology, genetic engineering, information technology and management sciences, etc. "I am sure our universities can accommodate more Sri Lankan students in these diverse fields," he added.

In his address, Amunugama praised the leadership of Quaid-e-Azam, Muhammad Ali Jinnah, which emancipated the people of the subcontinent from colonialism. He said that by supporting the education of needy Sri Lanka students, Pakistan's Government had shown its commitment towards strengthening bilateral cooperation between these two countries.

Amunugama added that Pakistan was a close ally of Sri Lanka and had helped Sri Lanka in times of crisis throughout its history. He said that this scholarship program had benefited students from all communities for the past 10 years, creating better professionals amongst the young citizens for the future benefit of this country. The Pakistani Government has been awarding Jinnah Educational Scholarships since 2005. During the past 10 years, roughly Rs. 40 million worth of scholarships have been awarded to Sri Lankan students.

The scholarships are awarded on the basis of a strict criterion involving merit and the need for financial assistance. Under the program, each successful student will receive a stipend as assistance for one year to continue their studies.

In addition to the Jinnah Educational Scholarships, every year the Government of Pakistan offers fully-funded scholarships in medicine, engineering, pharmacy and dentistry to Sri Lankan students to pursue higher professional education in Pakistan.