Deputy Minister of Policy Planning and Economic Affairs Harsha De Silva last week clarified that the Ministry of Defence would no longer play a role in supervising Non-Governmental Organisations (NGO).

"The facilitation and supervision of NGOs is not a responsibility of the Ministry of Defence any longer. Under the new Government, those functions are now handled by the Ministry of Policy Planning, thus allowing them to serve the public and operate with flexibility and in a transparent manner," De Silva stated.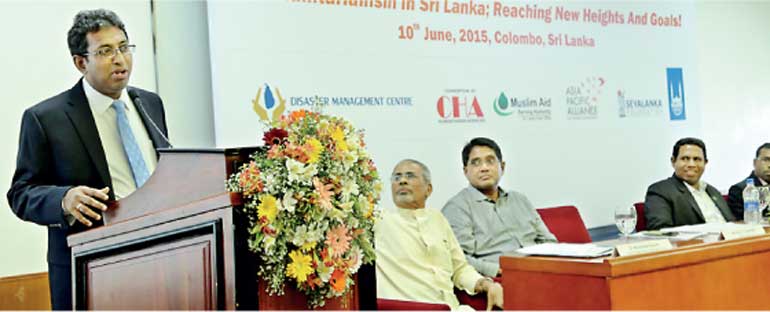 He made the comments during an address at a national consultation on 'Humanitarianism in Sri Lanka – reachingnew heights and goals' recently held at the Bandaranaike Centre for International Studies (BCIS).
The full-day event was organised by the Consortium of Humanitarian Agencies in collaboration with other stakeholders in preparation for the World Humanitarian Summit – 2016to be held in Istanbul, Turkey.

De Silva noted that while NGOs had been established in Sri Lanka in order to serve the public, they had primarily remained under the purview of the Ministry of Defence under the previous regime.

"We have changed this set-up by placing the NGO Secretariat under the Ministry of Policy Planning andcreating an environment for the NGOs to provide their services to the public with freedom and to continuetheir work in a flexible capacity, ensuring transparency and accountability.

"We are happy to see that the Government,NGOs and the private sector are working hand in hand in order to serve the needs of the destitute, which is a win-win partnership among these three sectors," he added.

The full-day event had successful participation of over 75 agencies, with local representatives from districts as far as Kytesin the northern peninsula, Nuwara Eliya and Hambantota.

The Ministry of Disaster Management, Disaster Management Centre,Asia Pacific Alliance for Disaster Management Sri Lanka,Muslim Aid, Islamic Relief,Sarvodaya and Sewalanka worked in concert with local officials and the Consortium of Humanitarian Agencies to organise the event.