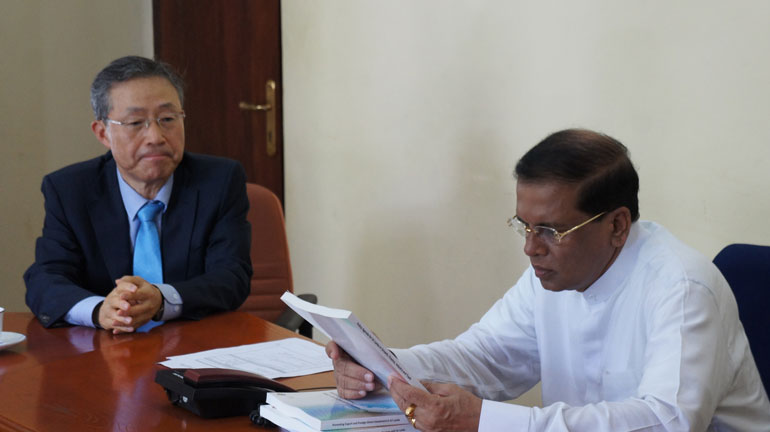 President Sirisena receives the final KSP report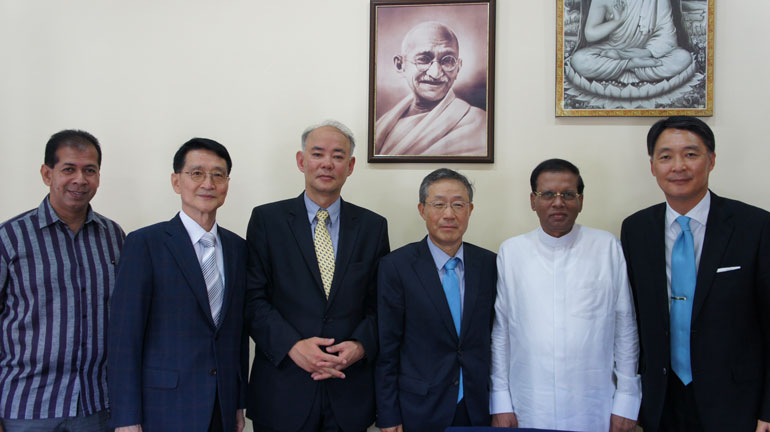 The delegation with President Maithripala Sirisena
The 2014 Knowledge Sharing Program (KSP) with Sri Lanka, conducted by the Korean Government, came to an end with two events held in Colombo last week.

The delegation from Korea, which was headed by Dae-Hee Yoon, former Korean Minister for Policy Coordination, visited Colombo to meet high-ranking officials from the Sri Lankan Government and conduct a seminar where the main results of their consultancy work on the theme of 'Enhancing Technology to improve Export Competitiveness in Sri Lanka' were presented.


The Korean KSP team, which is composed of two consortium members - the Centre for International Economic Studies (CIES) and Korea University (KU) - has conducted the KSP project in Sri Lanka for the past four years (2011-2014) and has come up with a number of meaningful and hands-on recommendations that enhance the country's international competitiveness.

Korea University's Prof. Sunghoon Park, who has led the research team as the Project Manager, highlighted "attracting Joint Venture FDIs, bringing the automotive components industry of Sri Lanka to Global Value Chains (GVC) and effectively utilising the Technology Business Incubator (TBI)" as most the immediate and important policy tasks required for securing the sustainable development of Sri Lanka.


The highlight of the Korean KSP team's activities was their meeting with President Maithripala Sirisena on 6 June. President Sirisena, who spoke to the Korean delegation for half an hour, conveyed his appreciation of the long-lasting policy consultancy provided by the Korean Government and instructed Finance Minister Ravi Karunanayake to discuss the future agenda of the KSP and other cooperation programs in the coming years. Korean Ambassador Won-sam Chang, who accompanied the delegation, reiterated the Korean Government's strong will to provide continuous support, thereby contributing to the upgrade of Sri Lanka's development capacity.


The Knowledge Sharing Program (KSP) was initiated in 2004 in order to share Korea's experiences of economic development with developing countries. The Korean Government provides this type of technical assistance to nearly 30 countries every year. The KSP projects with Sri Lanka started in 2011 and continued for the past four consecutive years, focusing on trade and investment promotion, industrial upgrade, technological advancement, etc. Former Minister Yoon, the delegation head, described the activities of the Korean delegation as "most successful and meaningful" and reaffirmed his strong dedication to "working closely and effectively with the Sri Lankan Government."