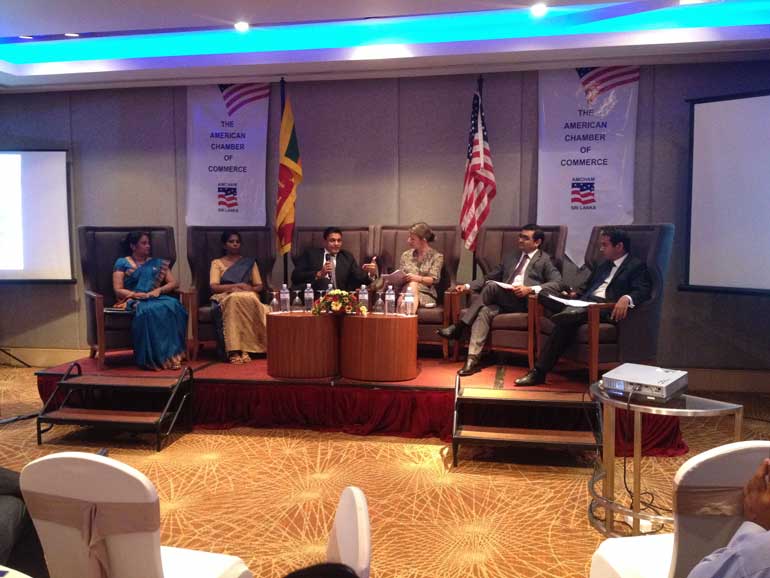 From left: Geethanjali R. Ranawaka, Dr. Kumudini Gunasekare, Sudath Perera, Amice van der Burg-Dissanayake,

Dr. Kusal Senanayake and Ranjan Seneviratne
By Radhi de Silva

The American Chamber of Commerce (AmCham) Sri Lanka recently hosted a panel discussion titled 'Counterfeits and Piracy – the far reaching consequences on our lives and the economy!' The objective of the program was to bring together key public sector officials and private sector representatives of industries affected by the rampant issue of Intellectual Property Rights (IPR) violations, in order to formulate a joint effort to address the challenges facing both sectors.
AmCham will be carrying out a series of similar programs over the coming months in order to create awareness regarding IPR and the need to fight counterfeit and piracy, since there is a strong correlation between IPR and Foreign Direct Investment and it has been further established that IPR protection is a strong determinant of inward investment.
The theft of Intellectual Property (IP) from industries is a serious matter, as it stifles innovation, slows economic growth and weakens the competitiveness of businesses. IP theft has an adverse impact on innovation, commercialisation of new products and overall economic success. However, it has been noted that Small Medium Enterprises are particularly vulnerable because they are at a distinct disadvantage in securing IPR in foreign markets and confronting its theft.
During the panel discussion, the public sector was represented by National Intellectual Property Organisation (NIPO) Director General Gitanjali Ranawake and Coordinating Secretariat for Science, Technology and Innovation (COSTI) Project Scientist Kumudini Gunasekera. Representation for the private sector was made by Glaxo Welcome Head of Sales for Sri Lanka and the Maldives Dr. Kusal Senanayake and Ceylon Tobacco Company Head of Legal Ranjan Seneviratne.

Sudath Perera being an Attorney-at-Law and the Managing Partner of Sudath Perera Associates, formed part of the panellists where Perera gave a valuable insight with regard to the enforcement of IP laws and legal reforms in relation to IPR, in Sri Lanka. The panel discussion was moderated by Amice van der Burg-Dissanayake, a Strategist and Commercial Lawyer, in the Netherlands and also at John Wilson Partners, Attorneys-at-Law and Notaries Public.
The private sector representatives brought to light the impact caused by IPR violations and Dr. Senanayake addressed the necessity of the public to understand the concept of counterfeit and the damage caused by such counterfeit products, for e.g. plenty of counterfeit pharmaceutical drugs are available in the market for a very cheap price but most often the main purpose of a pharmaceutical drug is lost and the desired treatment from such a drug is not achieved and such drugs can be harmful and as a result has caused many deaths.
It was also mentioned that most pharmaceutical drugs that are counterfeit are not properly stored and are channelled through illegal means for trading and therefore products such as vaccines lose its effectiveness and may even cause harmful side effects.

Seneviratne informed that tobacco products need to be properly manufactured subject to quality control. Most tobacco products that are smuggled are not up to standard and are mostly expired but such products are packed using packaging of branded tobacco products to mislead the consumer.


Monetary and non monetary impact

Counterfeit products being sold in the market has a monetary and non monetary impact since allowing counterfeiting to take place damages the goodwill of a brand; as a result most brand owners allocate a large amount from their budget to protect their IPR, which could have been used to invest in research to develop better products as done by most pharmaceutical companies. In terms of monetary losses, the Government is hit the hardest as the Government losses around Rs. 200 million every year as revenue.

In order to protect the IPR in Sri Lanka, Perera informed that the key legal regulatory procedures that IPR owners may rely on are the criminal or civil procedures, and also section 30 and 31 of the Consumer Affairs Authority (CAA) Act No.09 of 2003; where parties are prevented from misleading, deceiving and or falsely representing counterfeit products as originals to consumers and traders.

The criminal procedure is known to be the most cost effective and easiest method to rely on as the IPR owner to make a police complaint; however the IPR needs to be duly registered with NIPO in order to proceed. It was also mentioned that even though it will be time consuming most IPR owners rely on the jurisdiction of the Commercial High Court to prevent further damage being caused by counterfeit items through interim relief such as injunctions.


It was also mentioned that the Commercial Crimes Investigations Unit 2 is a special unit at the Criminal Investigation Department that handles matters concerning the breach of IPR and handles many IPR matters concerning internationally renowned brands.

Perera further added that with the assistance of AmCham, a customs recordation procedure is to be implemented shortly in Sri Lanka where once a trademark is registered at NIPO such also gets registered with the Customs, and the Customs can monitor any parallel imports taking place and take necessary action to prevent IPR violations due to such parallel imports.


The way forward for IPR in Sri Lanka

The question was raised as to what is the way forward for IPR in Sri Lanka and Ranawake explained that the necessary laws are in place but much more needs to be done and most important is to create awareness regarding the importance of protecting IPR and also the registering process of IPR to safeguard IP in Sri Lanka. It was also mentioned that government officials need to be more conversant with regard to IPR especially the government law enforcement agencies, the Customs and the CAA, and the NIPO is currently engaged in educating these officials around the country.


Gunasekera informed that amongst its many objectives, COSTI engages in linking private and public partnerships in order to commercialise and protect IPR in Sri Lanka, and create awareness regarding the importance of patenting inventions which most inventors are not aware of and Sri Lanka is quite behind in terms of innovation as Sri Lanka was ranked at 105th place in the Global Innovation Index for 2014. It was also mentioned by Gunasekera that COSTI along with NIPO and WIPO are in the process of preparing a National Innovation Policy in Sri Lanka to encourage more innovators.

Participants at the panel discussion addressed the importance of a strong IP system in a country and which will be one of the key pre-requisites to bring in FDI and therefore ensuring IPR is well protected is a vital component for a growing economy such as Sri Lanka.
(AmCham hopes to launch a series of IPR initiatives for the year 2015, commencing with this event. For participation at the Chamber's IPR activities, please contact the Secretariat on T: 2300116/7 or E:info@amcham.lk.)