In order to resolve the Wilpattu deforestation matter, the first priority should be to find a proper and suitable area to resettle the people, says JVP Politburo member K.D. Lalkantha, noting that this is a sensitive matter concerning people who have lost everything.

"Politicians may try to say various things to gain political mileage, but these people are innocent and their problems are genuine," he adds, emphasising that the matter needs more attention, especially in the backdrop of claims of discrimination and extremism.

In an interview with the Daily FT, Lalkantha expressed disappointment with the Government's response to the Wilpattu issue, while drawing attention to the fact that some are using this to claim there are communal clashes in the country.

In the course of the wide-ranging interview, Lalkantha also expressed his views on the 20th Amendment, general elections and a new electoral system, noting that the JVP would no longer ally with any other political party in an election.

Following are excerpts:
Says Govt. response to Wilpattu issue disappointing; Wilpattu National Park not under threat, no deforestation taking place
Asserts Sri Lanka needs better electoral system, party is against preferential vote system
States country is currently politically unstable and elections must be held soon
Says only positive thing is breath of democracy; nothing of national importance happening
Notes it is not practical to have the next election under a new system
Accuses President of being more concerned about protecting his position in the party
Pledges JVP will never ally with any other political party in an election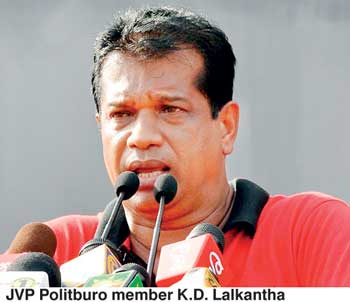 Q: What is the latest regarding the Wilpattu deforestation issue?

A: Although there is an environmental impact, we cannot discuss this matter as we talked about the Mattala Airport or the Port City project. This is a matter concerning people who have lost their houses, properties, basically everything they had. Politicians may try to say various things to gain political mileage, but these people are innocent and their problems are genuine. If we are to resolve this matter, our first priority should be to find a proper and suitable area to resettle these people.

Although these people were brought to live here, they don't have the minimal living conditions. There is a serious issue of water, travelling and medical facilities. If these people are to be given land in this area by the authorities, it has to be according to the law plus they have to make sure the occupants are provided with basic facilities.

On the other hand, we have to keep in mind that when we try to resettle people belonging to one race or one religion in a particular area, there is a threat to the country's communal composition. The area we are talking about borders the coastal belt. This is a very tricky situation. This is exactly why we think this matter needs more attention.

Muslim extremists are trying to make this an opportunity to show the w

orld Muslims are harassed and penalised by the Sinhalese. The Sinhalese extremists too want to make this an opportunity to claim there is racism taking place in the country and as a result the Sinhalese are under threat. These claims are made by politicians and individuals who only think about their personal benefit. They only think about their political survival.

Considering all these factors, the JVP decided we should see what is actually happening in Wilpattu. Our entry into Wilpattu proved one thing. The Wilpattu National Park is not under threat. There is no deforestation taking place inside the park; we assure that. It is in Madhu and Periya Madhu areas that the actual deforestation is taking place. Wilpattu National Park is under the Wildlife Department but the area in which the resettlements are taking place is under the Forest Conservation Department. If we are to resettle people in this area, it cannot take place without causing deforestation. That is a fact. However, most dwellers have still not moved into this area. Since there no facilities, they still live in Puttalam.


Q: Are there both Muslim and Sinhala communities living in this area?

A: Sinhalese people were also given land, but that was in another area. The recent incident is about resettling Muslims. It doesn't matter whether they are Sinhalese, Muslims or Tamils. It is not correct to resettle anyone where there are no facilities. I would say this is illegal encroachment. These people were told to select a plot of land and it was given to them. The people are now happy because now they know they own a plot of land and their future is now safe.

To date no environment impact assessment has been done. It is a must before resettling people in an area belonging to the Forest Conservation Department. Minister Rishad Bathiudeen has openly said there is no requirement to do an environment impact assessment. No official has to date said they have done a proper assessment before resettlement. In a way we shouldn't be surprised because the previous Government always worked in this manner. They always acted as this country and the people were their own property. There was no law and order.



Claiming illegal settlements, they damaged houses and property of innocent people in Colombo. They never followed the proper rules and regulation to remove those houses if they were 'unauthorised structures,' as they claimed. The only methods they used were harassment, threats and abduction of those innocent people when they stood up against this injustice. Everything was done according to the whims and fancies of the former Defence Secretary and his henchmen.

The power they gained through winning the war was used to rule the country according to their own will. In Hambantota, land was distributed among people. In Vavuniya, there is a town called 'Namal Gama' where Sinhalese people were given land and resettled. There is another village called 'Kalebogas Wewa'. People were given land in these areas. But they don't live there since there are no facilities. They just visit the areas once in a while to ensure the land is not encroached by others.

No environment impact assessment was done before these resettlements. The previous Government used its political power to carry out work according to its wishes. But people didn't like that. As a result on 8 January the people changed the Government, hoping these things would not continue under a new administration. But what actually happened? These things are still continuing.

We need to keep one thing in mind. It is the north and east that has the biggest potential for development in the years to come. There is plenty of unutilised land in these areas. Of course Moneragala and Hambantota too have many lands that can be used for resettlement and development. There are many forests and environmentally-important places in these areas. If we are to utilise the land, we need to do it a proper way, such as conducting a comprehensive environment impact assessment. We need to have a national policy, a national program. We need to decide which forests need to be untouched and which areas to utilise for what purposes and so on.

The current President is heading the Ministry of Environment, therefore he has a bigger responsibility to resolve this matter. He needs to get the support of his Cabinet of Ministers and work out a national policy and an effective program to resolve this matter.


Q: You don't seem to be satisfied with the involvement of the Government regarding this issue?

A: We are not satisfied at all. On 9 May we went to Wilpattu on an inspection tour. On the very same day our Leader Anura Kumara Dissanayake met President Maithripala Sirisena and discussed this matter. After the meeting President Sirisena instructed to stop all activities taking place in Wilpattu. Unfortunately this matter has not been discussed in Parliament to date.

This is a very sensitive issue. Some are trying to use this to claim there are communal clashes in the country. Some are shouting that wildlife is under threat. But all these accusations are for mere personal mileage. The Government was too tied up with its '100 day' program; was that the only thing that mattered in this country? The Government didn't pay any attention to other matters in the country other than its 100-day program. Ultimately that too was unsuccessful.

Reportedly, even after the President's instructions, a road has been constructed in Madhu area that comes under the Forest Conservation Department. Then there was another report that said a road was being built in an area belonging to the Wildlife Department. We have still not had the chance to investigate these two incidents.

The Prime Minister has not paid any attention to this matter. Parliament has not done anything about this yet. This is a serious national issue. We need to take immediate action. Other than Minister Rishad Bathiudeen, no Government member has made a statement about this issue. I strongly believe that either the President or the Prime Minister has a responsibility to make a statement and tell the people of the country what the Government's stand is. This is why we say we are not satisfied with the involvement of the Government.


Q: What are your remarks about the allegations against Minister Rishad Bathiudeen?

A: The JVP is not making any accusations against Minister Rishad Bathiudeen. He is a Minister who works closely with the people in those areas. At the age of 18 Minister Bathiudeen had to flee the village along with his people and lived in a refugee camp. Therefore Minister Bathiudeen is sensitive towards this issue. He has somewhat of a social commitment to address the issue of resettlement of his community, but he should not forget that he is a Cabinet Minister. There should be more transparency and he should have acted not responsibly. As the former Minister of Resettlement, he had a responsibility of doing an environment impact assessment before resettling people in these areas and under the new Government he should have acted with more transparency.


Q: What is the JVP's stand on the 20th Amendment?

A: The truth is that no one actually knows what the 20th Amendment is. All these days they have been talking about the 19th Amendment. Since it is done and through, now they have started shouting about the 20th Amendment. There is a discussion about the need of bringing a 20th Amendment. We strongly believe the country needs a better electoral system. We are against the preferential vote system. We support an electoral system where each candidate represents a seat.


Q: Has the JVP submitted any proposals for the 20th Amendment?

A: We have submitted a policy framework.


Q: Do you think there should be an election once the 20th Amendment is passed?

A: Yes, definitely. This country needs an election. We need to make certain changes and once that is through, an election needs to be held. Whether this Government accepts it or not, the country is currently politically unstable. We don't see any foreign investment coming into the country. Government officials are reluctant to carry out any work because they fear another change of government. Private sector investors are not initiating any major projects due to political instability in the country.

Who should be held responsible for this situation? It is this Government. Initially they said the election will be held in late April. Then they said Parliament would be dissolved on 5 May. Now they say there will be a new Parliament in September. The whole country is awaiting the election. No work is being done. This is the sorry state of the country today.

Although the 19th Amendment was passed, the commissions are not active yet. The Constitutional Council has not met. President Maithripala Sirisena is not bothered about these matters. What is his biggest worry? His party is divided into two factions. His main aim is to build up peace in the party, which will be beneficial to him. Until that happens he doesn't want to have the elections. The President should be held responsible for the political instability in the country.


Q: Are you saying this Government is unsuccessful?

A: Yes, this Government has failed. The only positive thing is that there is a breath of democracy. Other than that, nothing of national importance is happening in this country.


Q: Will the next election be held under a new electoral system?

A: It is not clear yet. The possibility of having the election under the same system is very much high. We need plenty of time to study the new system and to put it into practice. Political parties need to be familiar with the system. People need to be educated about this. Therefore, it is not practical to have the next election under a new system.

However, this is a very good opportunity for people who want to delay the election. Now they can. Since the present Government can continue till April next year, there is time to study the new system and have the election in April. President Maithripala Sirisena and the Jathika Hela Urumaya are waiting for that opportunity. All they want to do at this moment is weaken the Mahinda Rajapaksa loyalists. President Sirisena doesn't have a mechanism that talks to the village level SLFPers. Mahinda Rajapaksa is still strong at grass root level.


Q: How would you describe President Maithripala Sirisena?

A: There are pros and cons. Our biggest concern is that President Sirisena is yet to govern the country. We respect him because he has taken some initiatives such as agreeing to cut down certain powers of the executive presidency, but unfortunately at the moment, rather than paying attention to doing things that are nationally important, President Sirisena is more concerned about protecting his position in the party. There is more than enough evidence to question Lalith Weeratunga and Shiranthi Rajapaksa, but no action has been taken yet. The reason is that President Sirisena does not want the rift between his supporters and Rajapaksa supporters to widen further.


Q: Will the JVP contest alone in the next election or support another party?

A: The political situation in the country has now changed. For several years our foremost responsibility was to protect the country. As a result we were compelled to support certain parties and work with them, but now the situation has changed. Now we need to build this country. The JVP strongly believes it is capable of doing that. We can build this country alone. Therefore in future we will never ally with any other political party in an election. In the day-to-day work we will support and work with other parties, but we will stick by our policies.


Q: What do you have to say about the UNP-JVP pact accusations?

A: Yes, we work closely with Prime Minister Ranil Wickremesinghe and the United National Party. That is because we believe it is important for the country. There are no pacts. In anything that is nationally important, we will never hesitate to work with another party or support another political party. These accusations are mudslinging.


Q: How will former Leader Somawasa Amarasinghe's decision to leave the JVP and start a new political party affect you in a future election?

A: We are a strong party. We have come a long way. During this journey at times we have to leave behind certain members. Some decided to leave the party. Somawansa Amarasinghe tried to prove certain ideas that he personally felt were correct. When he failed to prove his ideas and beliefs were right, he had to walk out of the party. Now he is trying to tell the world what he tried to prove inside the JVP. We don't have autocrats in our party. When the Political Bureau meets, everyone is equal. We don't point fingers at anybody. However, we don't think Somawansa Amarasinghe should sling mud at the JVP saying we are supporting the UNP. I feel that all Amarasinghe wants is come to an agreement with President Maithripala Sirisena.