Different ruling necessitates proper interpretation by Supreme Court]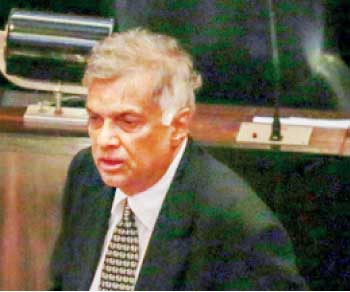 By Ashwin Hemmathagama Our Lobby Correspondent

Prime Minister Ranil Wickremasinghe yesterday stated that the interim order prohibiting arrest of former Defence Secretary Gotabhaya Rajapaksa was a matter that "requires an interpretation from the Supreme Court," having had issued "two different judgements on similar matters" recently.

Responding to questions from Leader of the Opposition Nimal Siripala de Silva raised in the Parliament on Tuesday Wickremasinghe said: "On that day the Chief Justice has given the judges the option to judge the particular matter if they like. There is no issue with two judges passing a judgement as per Article 126 of the Constitution. But the issue here is that relevant parties were not informed before passing the judgement."

"But under Article 132 (2) it is mandatory to have three judges. So, for the first time a legal issue has surfaced, which requires an interpretation under Article 125," he added.

Passing a comment on the judicial system and the power vested in the Parliament over law making, Prime Minister Wickremasinghe said: "Judicial power is vested with the people where they execute it via Parliament. Parliament can decide on our privilege and authority issues. Power to remove a Supreme Court judge is vested upon the Parliament. Neither the Government nor I am interested in bringing no-confidence motions. We don't have the intention to follow the lines how Shirani Bandaranayake's case was handled.

"When MP Tiran Alles's case was taken up in the courts last Tuesday, the judge held that all should be kept informed prior to issuing an interim order. So, this shows the two decisions Supreme Court gave on two occasions. We need to study the next step. We have signed the Commonwealth heads of State agreement in 2013. It was President Mahinda Rajapakse who signed it. Now President Maithripala Sirisena is the Chairman of this organisation and is bound to uphold the agreement. But the Parliament can take the final decision. We are bound to safe guard the rule of law and the Latimer Principle. If you haven't signed this we should have consulted them now," he said.
FCID grills Gota
Former Defence Secretary Gotabaya Rajapaksa yesterday visited the Financial Crimes Investigation Division (FCID) after he was summoned to provide a statement over the controversial MIG deal and a share issuance by Lanka Hospitals.

A complaint was filed recently alleging financial fraud at Lanka Hospitals Corporation Plc when it was under the chairmanship of former Defence Secretary Gotabaya Rajapaksa between 2009 and 2014.

Rajapaksa was appointed as the Lanka Hospitals Chairman after Sri Lanka Insurance reverted to Government ownership after 65.14% shares were acquired by the State.

The complainant claims that the former Secretary of Defence took control of the affairs of the hospital and was responsible for financial fraud amounting to Rs. 600 million which took place after artificially manipulating the price of Lanka Hospital shares in the stock market.