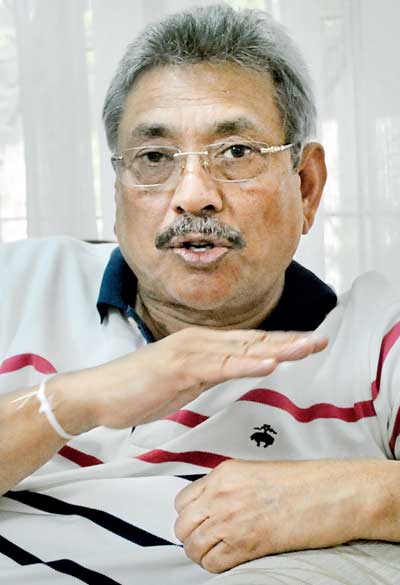 Former Defence Secretary Gotabaya Rajapaksa
By Shanika Sriyananda

Q: Former President Mahinda Rajapaksa has accused the Government of carrying out a political witch-hunt against the pro-Rajapaksa group and his family members. What are your views?


A: Yes, that is true. Not only the Rajapaksa family but even many Government officials who are attached to various ministries and institutions are being subjected to a political witch hunt. Even the officers at the lowest level are being questioned on various allegations. They are being questioned by the CID, Bribery Commission and FCID. This is the first time in the history that Government officials are being harassed to this great extent. This has never happened during the change of any previous governments.


According to information, over 100 Government officials including ministry secretaries have been questioned by these investigation agencies. We support these investigations if the claims are genuine, but most of these allegations are baseless and bogus and the prime aim is to sling mud on those who worked during the previous Government. Basil is remanded. I have been to all these investigation agencies. In this political witch-hunt, even children of the Rajapaksa family have not been spared and have been unduly harassed with no proper allegation.


With no justice, this Government looks like a real police state. When you go through the list of the people whom they have grilled and put into custody during the last four months, it is very clear most of the allegations were petty issues with no proper evidence but made purely to take political revenge.

One of the best examples is the questioning of the officer-in-charge of the vehicle fleet in the President Secretariat. He was grilled and has to appear before courts. Releasing vehicles for different events is a normal procedure at the Secretariat. Recently, I met him and he was crying saying he had to sell his property to pay the lawyers. He was remanded for three weeks and his family is helpless. When he appears before court, he has to pay Rs. 50,000 to lawyers per day and still he has to appear before court. I think it is very unfair to level baseless allegations against innocent people and make their lives a misery.


Some top officials like ministry secretaries and the President's Secretary have been working as administrative officials for over 30 years and have given their whole lives to the administrative service. They have worked under different governments, but today they are under the microscope. I don't know whether this happens with the knowledge of the President and the Prime Minister and if not so, they must intervene and stop taking political revenge unnecessarily.


Q: Mangala Samaraweera has accused the Rajapaksa family of having massive wealth in secret offshore accounts and front companies overseas. As a member of the Rajapaksa family, how rich are you now?


A: I prefer to talk about myself. This is a very wrong allegation levelled against us without any authentic information. It is very unethical for a min

ister to utter such statements without having a solid investigation. When I took over as the Defence Secretary in 2005, I declared my assets and when I came out from the Ministry in 2015, I had nothing new to declare about those assets.


I am saying with responsibility that I have not acquired any land, houses and extra money other than what I had, whatever interest I get from my legitimate accounts, my monthly salary and pension. Other than those, I don't have secret accounts and I have not invested in any companies abroad. If I have a house in the US, anybody can go to the web and have a search. If anyone has doubts, they can do an investigation into my bank accounts. It is very unfair to accuse our family like this and also to put down the former President of this country to this level.


I have done honest, committed work and with all that I have to undergo all these inquires by these investigation agencies. For what? It is for doing an honest job. Whatever I have done so far, I have done with a good motive and in a transparent manner. I have not earned a single cent through corrupt means. These investigators can see this if they go through my accounts. I have no foreign accounts other than the accounts that belonged to my wife when we were living in the US. We sold our house in the US and deposited the money in her account in the US. Then, we sold my house built in Sri Lanka on a loan obtained from the State Mortgage Bank when I was in the Army. We invested that money in Treasury Bills in 2000 and we have never touched it.


I don't have any desire to earn money through corrupt means. I am satisfied with what I have gained up to now. My son became the first in every class in every year throughout his junior high school and high school. He became a valedictorian student, which is given to bright students. He graduated from Duke University, which is among the best five universities. Immediately after his graduation he got a good job at Boeing. He did his Masters at the University of Southern California and graduated on last May. I couldn't go there as my passport was impounded.

Though I am suffering and regretting the way this Government is treating us for committing ourselves to the country's future, I still can stand tall and reject all the accusations as I have done nothing wrong.


People must understand we come from the village. I studied at Ananda College. From the day I was born my father was a Parliamentarian and we valued the humble village life. It is wrong to say that we are having very luxurious lifestyles. I didn't use my post as the Secretary of Defence or my relationship as the President's brother to do illegal things and earn through illegal means. I don't see any difference in my lifestyle and that of others. I am living like a normal person. I don't go to night clubs and I didn't even have time for fun trips. All these allegations are unfair and unfounded. We are not rogues and criminals. We are patriotic and humble villagers.


Q: Some say you were stubborn and misused your powers as a public servant to suppress majority views during your brother's regime. Your comments?


A: I was an official and not a politician. I really don't know what they mean by me being stubborn. During my tenure as the former Defence Secretary, I held many conferences to discuss views and comments related to military operations and also in urban planning. I didn't just give orders. From topmost officials to the lower level workers who worked with me, all are well aware of how I have given them freedom to express their views during discussions.


Nobody had conferences like me. In weekly meetings on urban development I spoke to architects, engineers, directors and even lower ranking officials. I was not giving my orders but listening to their views and progress reports to have a collective approach. During the war, no one coordinated with the security forces like me, especially with the intelligence agencies. For the first time, I got all the intelligence units of the security forces together. I was listening to them all the time and getting their views on ground realities before taking action.


Take Colombo security as an example. I coordinated with the Police, Army, Navy, Air Force and Civil Defence force and had regular meetings with them. I always listened to them and discussed with them before giving my orders. I had so many interactions with my officials and gave freedom to them to carry out their work independently. I only gave them directions based on their views, discussions and their comments. I don't think that any other Government servant handled it like me.


I know it was a wrong impression given to the outsiders that I was stubborn. But what I have to say is that I supervised and gave my policy decisions, I helped the officials to carry out their programs freely. The best example is the Police. I have never put pressure on the IGPs during my tenure as Defence Secretary. I have given them so much freedom and never interfered in Police transfers and promotions. I know some people make such allegations because they don't know me. They talk on hearsay and they believe those allegations.


Do you think that having dedication, commitment

and firmness are signs of stubbornness? I pointed out mistakes to correct them to get better results.


Q: You said you never interfered in Police matters. Are you sure that you didn't interfere in any of the investigations to protect some corrupt politicians in the Rajapaksa Government?


A: No. I can vouch that I never influenced or interfered with Police investigations. But when somebody asks about a complaint, I have to check it with the IGP. I say with responsibility that I never, ever talked to or influenced the Police to protect politicians. I have always instructed the Police to do the right thing, even against certain politicians. I have never protected any corrupt politician. I have given a free hand to the Police. In fact, I instructed the Police to take whatever action they wanted to take against them.


Q: Some accuse the Rajapaksa family of having very luxurious lifestyle, buying more properties and domesticating animals such as exotic birds, baby elephants and a shark. How rich are you now?



A: I would like to say only about me: If somebody accuses me of having had a luxurious life, then all Sri Lankans are living luxurious lives, because I was living a very normal life. Out of all these nine years, the first five years when there was war, how can one say I was living a luxurious life? I was always living under LTTE threat. I had no freedom of going anywhere. During this period I never went on holidays or fun trips. There was nothing for me for relaxation. I went abroad only on official visits. All these nine years I was working from dawn to dusk to achieve what I had to achieve. After sacrificing all my comforts, I achieved what I was striving for. If having birds or a dog is a luxurious lifestyle, how many people have fish tanks in their houses?


Q: This is not about a normal fish tank, but having a big pond for a shark?

A: What is the difference between a shark tank and a gold fish tank? Birds? How many people have birds in their homes? Why are they only concerned about us?


Q: Still, it is about maintaining exotic birds and a shark. Can a Government servant afford to raise these animals with his monthly income?


A: I didn't have exotic birds. Do you think that a public servant can't have a fish tank? (laughs) That was the only relaxation I had those days. Let me tell about how it all started. One day a person known to me met me and offered a fish tank saying, 'Sir, you are not going out and you are inside the house or in office all the time. Having a fish tank is a good relaxation and it will help to reduce your tension.'


Yes, it is a big fish tank and was maintained by that person all those years. But now he has taken out his fish tank from my house. He gave fish tanks to many people. He had even put up a fish tank in my office earlier, but it was removed by him as he couldn't maintain it properly.


Look, when you compared what we underwent to bring stability, peace and development after 30 years, these are petty accusations. Their intention was just to ridicule the hard work done by the Rajapaksa Government during a short period of time.


Various people can say various things but I proudly say that I managed to end the 30-year war. Some people say they ended the war and I didn't contribute to it. Then I ask why they waited till I became the Secretary Defence. They could have ended the war much earlier. These people who get all promotions and perks were there for 30 long years fighting with the LTTE.


Q: Don't you think that it was the good combination of the three main pillars – the President, yourself and General Sarath Fonseka – that crushed LTTE terrorism after three decades?


A: That is a different story, but who made that combination? Why couldn't the previous Government do the same? I could have easily selected somebody else as the Commander of the Army. I coordinated the entire military operations and I gave instructions. Those people who are trying to get the credit for ending the war didn't go to address the troops without me during the first two years.


I initiated addressing troops in the north to motivate them and the then Army Commander accompanied me to the Security Forces Headquarters for meetings. He wanted me to go with him all the time to address the troops. He even sent officers to my house to get my instructions. Now these people are taking the credit. I did lots of things politically, militarily, diplomatically and socially to end the war. Winning the war is winning many areas, but they were not properly identified, coordinated and addressed earlier. That is why it went on for 30 years. When talking, those people should talk with sense.



I always appreciated the contribution of the tri-forces commanders to end the war. At the same time I appreciated the dedication, commitment and hard work put in by the divisional commanders, soldiers in the frontlines, the Navy, Air Force, Civil Security Department and the intelligence agencies. The intelligence officers did a fantastic job.


Colombo's security was at stake as Prabhakaran had positioned his intelligence and suicide cadres, safe houses and weapons in Colombo. The LTTE had a strong network operating from Colombo. Once he said he would fight the war not in the north and the east but in Colombo. However, with our strong intelligence network we were able to break this network by taking the LTTEers in Colombo into custody. We had a well-coordinated and effective intelligence network in Colombo. I coordinated it and we were able to minimise LTTE attacks in Colombo, where the LTTE attacked the Central Bank, hotels, buses and the airport.


Someone tries to claim the credit for ending the war, but it was a huge team effort. The President had a huge leadership in the entire episode and I coordinated it. As person who has made a huge sacrifice, why can't I have pet dog or a fish tank for my relaxation?


Q: Earlier you were accused of an attempted 'election night coup' on 8 January and now you have been accused of misusing public money amounting to Rs. 130 million on a project to renovate bus stands. The JVP has made a complaint with the Bribery Commission in this regard. Do you tag these claims too as attempts of a political witch-hunt and are you planning to take legal action against these allegations?


A: Yes; all these accusations are being levelled against us purely to take political revenge. Accusation of a coup is no longer there now. The Army Commander gave the best explanation and he categorically said that the Sri Lanka Army was a professional army and to accuse that the military of being involved in a coup was very unfair by the dedicated military which sacrificed a lot to end terrorism. So it was proved to be a baseless allegation.


The JVP's accusation is very irresponsible. The Bribery Commissioner must take action against the complainant because it is very wrong to make an obviously wrong allegation, go to the Bribery Commission and give publicity. Normal people who don't know this is a false allegation will tend to believe it. Within a day the Bribery Commissioner can identify the validity of the allegation. Who is to believe that the GA of the Ampara has the authority to carry out a financial transaction through my personal bank account?


What happened in this issue was that the GA wanted some work to be done through the UDA and he couldn't send money directly to the UDA. He sent it through the Ministry of Defence to the UDA. Therefore, money came to the Defence Ministry accountant and he transferred that money to the UDA. It is the normal procedure and it was not deposited in my personal account.


This is why I say that this allegation is a deliberate attempt to take political revenge from me. The Bribery Commission can easily investigate this and take action against them to prevent these people from continuing with wrong and false allegations. The complainant is a lawyer and who can say that he doesn't know the difference between a personal account and a government account? The account now belongs to the present Secretary of Defence. Knowingly and purposely he has made the accusation and it is an offence under the Bribery Act. Therefore, the Bribery Commission should take immediate legal action against this person. Otherwise it is very unfair. I have already taken legal action against the JVP and sent a letter of demand. I will go to courts.


Q: How do you describe your involvement in allowing the private company Avant Guard Maritime Services Ltd. (AGMSL) to run a floating armoury?



A: It is wrong to say that I allowed a private company to run a floating armoury. I never allowed such an activity. It is a long story but I will summarise it. Piracy in the seas of Arabia and the Indian Ocean by the Somali pirates became a huge issue, where most ships were attacked, staffers were killed and many ships and staffers were kidnapped by Somali pirates. Since those governments had to pay massive amount of money as ransom, the UN had decided to take strong action to counter sea piracy. Under the UN's Law of the Sea and also different resolutions, the UN had requested its member states to assist in any possible way to counter piracy.


They deployed a naval task force comprising of big ships representing navies including the UK, USA, Russia, Australia, India, China, etc., to form a task force to patrol in the sea. But as the Somali pirates continued with attacking merchant ships, the ships had decided to employ sea marshals in ships employed by various maritime security companies from all over the world.


With the deployment of sea marshals, they have been able to control piracy to zero level, proving it is a very effective means of controlling sea piracy. The UN designated high risk areas, which end close to Sri Lanka. When these merchant ships passed high risk areas, they didn't want the armed guards on their ships. When they reached the end point of the high risk area that ends near Sri Lanka, and if they wanted to take their armed guards up to the last destination, it costs more. On the other hand, the sea marshals are away from their families for a long time and needed to be given a break. After passing the high risk area, they want to disembark these people.


Again when the ships are going through the high risk area, they wanted the guards to be in the ships. Most of these countries and shipping companies approached Sri Lanka due to its strategically-important location to embark and disembarked these sea marshals. They requested the Ministry of Defence whether we could undertake the task.


As a responsibility to the international request and Sri Lanka being a member state of the UN and a signatory to the Law of the Sea, we have responsibility to assist in this task. It was a novel experience for us and we decided to take on the challenge. We asked the Navy to facilitate disembarking of sea marshals. But they can't just disembark guards in Sri Lankan waters and send their weapons back to the home country since air lifting weapons goes through a long process and is also a costly affair.


When they disembark they have to keep the weapons here before the guards leave for their home countries and after some time they come back to collect the weapons and get into their ships, which are to pass the high risk areas. We accepted the task of handling the operations and instructed the Sri Lanka Navy (SLN) to run an armoury in Galle to handle the operation in which the weapons come from Sri Lanka Customs and are then handed over to the Dakshina Naval Base where they had the armoury.


This operation was going on for some time and over the period we realised that there were certain difficulties in this process. We saw mainly the risk involved in handling an increasing number of weapons coming to the armoury. In some months the number of weapons increased up to 1,000 guns. These weapons are of different calibres and we found taking these weapons in and out of the harbour had a security risk. We have also found that in some of these weapons, the details about the end user were bogus. Due to these issues, we wanted to stop the operation as it was a huge risk for us.


However, we still had a responsibility to abide by, to help the process as a nation. I called Rakna Arakshaka Lanka Ltd. (RALL), the fully Government-owned company and the SLN to find a solution. Then RALL came out with a proposal forwarded by AGMSL to establish a floating armoury in Galle. My main aim was to stop this security risk. Then I considered the proposal and found it was a better arrangement. We approved RALL's proposal to run the floating armoury, which is run by both RALL and AFMSL and supervised by the SLN.


For the earlier armoury the SLN charged money from the ships. There was a misconception that by having a private floating armoury the Government was losing a huge amount of income. This is not true. In fact the SLN was paid more money for supervising the operation than earlier. The money earned by RALL and the SLN together was a significant increase in the income. This affair was a novel experience not only for us but to the entire world. When I inquired from the UN, I found that since it is a new concept, they were still formulating rules and regulations to enhance effectiveness.


The floating armoury at Galle is not the only floating armoury in the region and in the international waters covering this region; there are 30 to 40 floating armouries run by different countries to assist this operation. I must say that we have not done anything wrong and didn't commit a crime. We have done this in good faith following all legal procedures.


Some ask 'why you didn't tender?' This is not buying a car. This is a new thing and we don't have experiences of having a floating armoury. How can we tender on someone else's proposal? The proposal belonged to AGMSL. It is very easy for others to comment now. But when you as an official are faced with an issue, you have to take decisions. After some times others sitting in offices can criticise with various allegations.


On the other hand, what we have done basically was what the Ministry of Defence had been engaged in previously. When a merchant ships comes with weapons, the shipping company writes to the Ministry of Defence declaring the weapons they have. Then the Ministry issues a letter to the Customs to check and seal the weapons stocks in the ship. When they go back, under the supervision of the Customs the weapons are released to the ship. The floating armoury concept is an improved version of that process.


Q: If Customs was handling it for years, why wasn't Customs or the SLN given the handling?


A: In this case the Government hasn't spent a cent. The AGMSL has invested in the ship, which was modified to keep the armoury. The main issue was under the naval rules and regulations, the SLN isn't allowed to handle such operations. Other countries too don't deploy navy sailors to guard the ships. Once you deploy naval people in a ship, it becomes a warship. Naval rules and regulations are different and with other issues like weapons, without clear details of the end user, if the SLN handles this operation, it becomes an illegal affair. This is why I wanted to outsource the operation. Even the navies of other countries don't handle floating armouries. All armouries are run by private companies and nobody supervises them, but ours is supervised by the SLN.


Similar to how other floating armouries are functioning, the AGMSL could have operate a floating armoury in the international waters off Galle without the approval of the Ministry of Defence. When you are in international waters, we have no control. People with various interests come out with these allegations, but I am confident and refute these allegations as I have followed the correct procedure in establishing the armoury.


Q: Contrary to your earlier decision on not entering into politics, recently you have said that various reasons have pushed you to engage in politics. What is your stand now?


A: Still I have not decided because I was basically a military officer and a Government official. My family – my grandfather, father, uncles and brothers – are involved in politics and the Rajapaksas have been in politics for over 80 years. While three generations are involved in politics, I remained out of politics as I didn't have an intention of getting into politics. However, things that have happened in the recent past have pushed me to think about it again.


A lot of people who appreciate my work want me to remain in politics to continue my work. There are critics all over the world and I don't expect all to say good about me. Tell me a leader who was not criticised? Even Anagarika Dharmapala's work has been criticised, so what about me? I like constructive criticism and I am not worried about it. I am happy as the majority of people appreciate my work. According to the 19th Amendment, I can't contest as I have dual citizenship. So until I complete the process of quitting US citizenship, I can't make a firm decision on entering into politics.


Q: You said as an ex-military officer, you don't like to enter into politics; do you think military officers are not suitable to become politicians?


A: If you take history, I don't think there are successful military officers who have turned to be successful politicians. During the election campaigns they show success, but gradually they lose their popularity, so I am still thinking about this seriously. Why have all these military officers failed to be successful in politics? I think it is mainly because they can't change and find it very difficult to adjust to political life, which is heavily involved with ordinary people, after being in the military for so long.


Q: Do you think the Rajapaksas have a future in politics?


A: Why not? Definitely; we are still popular in politics. We have been in politics for over 80 years and now it is time for the younger generation to carry forward that image. If they follow the correct path, the majority of the people want the Rajapaksas to remain in politics to lead the country. Some political leaders want to sweep us from politics but the people of this country have always stood for us and supported us. As long as the younger generation can follow what our previous generations have done, they can learn from the past and succeed in politics in the future.


Q: It is speculated that you are to contest from the new political party to be formed by the Bodu Bala Sena (BBS). Your comments?


A: I don't have anything to do with the BBS. Even the BBS has officially denied that it has links with me. It is not created by me and it is very wrong for people to say that I formed the BBS. I never associated with them or helped them. On many occasions I tried to solve the issues they had with the Muslim community. I had many discussions with leading Buddhist priests and Muslim religious leaders to solve the issue. Some politicians who have better connections with the BBS than me still keep harping on it.


Q: But as the former Defence Secretary, why did you tolerate their behaviour to spread their extremist ideology without taking action against them? Your silence over their acts helped them to have a free hand.


A: That is the mistake; people think I gave them a free hand. It is not true. I took a lot of actions against them when they breached the law. In some incidents, without a complaint, I can't take legal action against anyone. This is the same not only in the case of the BBS but also other extremist religious organisations. There are some allegations against some Muslim religious groups for propagating extremist ideas, but we didn't go behind them.


During the Aluthgama incident, we were able to control the tense situation immediately and took action soon. We didn't allow it to spread like the 1983 riots.


Q: Are you satisfied with what you have done in urban planning?


A: Definitely; I have done a lot of work and I don't think anybody has done as much as I have after a conflict. I was able to turn Colombo City into a modern city. The dilapidated buildings were renovated. I improved the road network and pavements, planted many trees to increase the green cover and also protected its eco-systems.


The eco-park in Baddegana is still not opened and a minister of this Government can open it now. I wanted to have no shanties in Colombo and introduced housing schemes for them. I planned to end shanties in Colombo within the next three years. What I did with the Urban Development Ministry is visible. People here and abroad commended my work; especially the expatriates appreciate my work a lot. I planned to control floods as well as to implement a well-designed system of solid waste management in the city.

My intention was to convert Colombo as a people-friendly city. We followed international standards and trained architects of the UDA and Colombo Municipal Council and got down Singaporean experts to train our officials on how to develop urban cities.


Recently, I heard that Colombo Mayor A.J.M. Muzammil had said that he beautified Colombo City. It is a disgrace for him to talk like this; he was clueless. How can the Mayor do things in Colombo when the World Bank Project comes under me? Most of the work of the Colombo beautification was done by the UDA. I want to know what work he has done and I request him to specify the work he has done. The UDA even did the colour-washing of his building – the Town Hall.


This is the very funny nature of these people. Somebody else does the work and somebody else claims the credit for it. While working I didn't get any assistance from the Mayor. When I received assistance from Commissioner Badrani Jayawardena, he fought with her. I must say Mayor Muzammil is a nice person and a good friend of mine, but it is very unfair of him to make such statements. Those days he never claimed such and he used to say 'the Defence Secretary does everything and you need to relax'. So still I don't believe that Muzammil would utter such an irresponsible statement. I hope my friend Muzammil will implement my plan of solid waste management and then claim credit for it without trying to get credit for what he has not done.


Q: Critics say that the Rajapaksa Government was heavily involved in development projects because of the commissions they received from the projects. Your response?


A: Again, I must say that I can speak only for me. People who have worked under my projects know that I have gone through or followed the correct tender and selection procedures. The best example is people who got contracted to construct these projects. Most of the contracts were won by ICC, of which Dr. Wickrama Weerasuriya was the Chairman. He is an Advisor to President Maithripala Sirisena today. Apart from ICC, most of the reputed construction companies such as Tudawe brothers, MAGA and Access were given projects. Anyone can ask and investigate from these companies whether any corruption was involved. The companies which were involved in building construction told me that they were doing the projects as CSR projects as they didn't have any profits.


According to the calculations of some people, what we have robbed is more than the country's wealth plus the loans we got from the other countries. If these allegations are true, then there shouldn't be any money left for development or any other work. People just utter these things but those people who listen to these stories should listen with a clear idea.


Q: Former President Chandrika Bandaranaike Kumaratunga claimed that the Sirisena Government is facing financial crisis with difficulties in paying salaries due to corruption in projects by the previous Government. Your views?


A: This has happened mainly because of the bad financial management of this Government. How did we carry out all those development projects and pay salaries during the last several years while fighting a deadly war? It is surprising to hear about a sudden financial crisis after this Government came into power. She can easily say that because of her inefficiency, this country suffered a lot. When she was in power, she couldn't finish the war. All the major debacles took place during her tenure. I am not afraid to face any allegation as I have always done my work in a transparent manner.


Q: It was said that minorities voted for President Sirisena because they believed the Rajapaksas, including you, have marginalised them with a racist or nationalist stance. Your comments?


A: When you are analysing the voting pattern, it is true. But it is very unfortunate that the minorities were misled by their own politicians. It is a known fact that the Tamil community voted against the SLFP in every election because we fought the war. It was misinterpreted that it was a fight against Tamils. But it was not against the Tamils in the country but a war against terrorism. Unfortunately, because of the TNA politicians, the Tamils were given a different interpretation. Anyway, we are happy that President Rajapaksa got some Tamil votes at the last election. I hope that in time to come the Tamils will realise what we have done to protect them from terrorism and give them a secure future.


The Muslims basically vote for the UNP, but this time a larger percentage voted for the UNP – again, because of the wrong impression. Again it is politics; some of the Opposition politicians created a link between the Government and those unfortunate incidents against Muslims, saying they happened with the blessings of the Government. They were completely wrong.


Mahinda Rajapaksa is a friend of Muslims and President of the Palestine Friendship Association. He has worked with and has close connections with many Muslim countries. If you take the Eastern Province, see the amount of development we carried out to uplift the lives of the eastern people. Development in the east was overlooked for many years. The Muslim Congress, in both elections in 2005 and 2010, worked against the President, but still he accommodated them in his Cabinet.


Mahinda Rajapaksa and his Government didn't marginalise the minorities in Sri Lanka. No Government has done so much development in the north and the east like the Rajapaksa Government. In Colombo, the majority of the shanty dwellers are Tamils and Muslims, but when providing housing facilities we gave them houses without considering their ethnicity. When we started building the high-rise housing schemes, opportunistic politicians claimed that that we were going to give houses only to Sinhalese people as we wanted to change the demography of Colombo, but it was proved wrong as the majority of the beneficiaries were Tamils and Muslims. We never discriminated. It is a pathetic situation that the real facts don't pass to the ordinary people, who were misled by false information and fabricated stories.


Q: How do you describe life when you don't have power?


A: Whether I am in power or not, there is no big difference for me. It hasn't affected me much. When you have power you work and when you are powerless you just relax. Unfortunately, as I mentioned earlier, I even can't just relax or spend time with my family or read a book peacefully. The false allegations have kept me busy, going from one investigation agency to another.


I must say that I am a very religious person and I believe that the truth will prevail. At the same time, people who are knowingly throw allegations against me should be prepared to suffer karma one day.