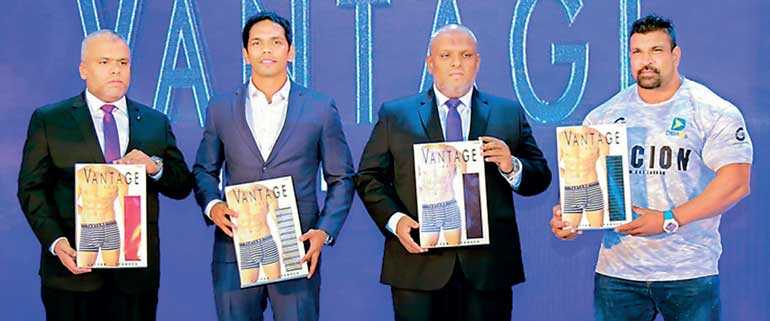 Ebony Holdings Managing Director Raseen Raheem, legendary Sri Lankan rugby player Fazil Marija, Ebony Holdings Chairman Rasmi Raheem and renowned Sri Lankan body builder Lucion Pushparaj with the newly-launched Vantage Innerwear product line
Vantage, one of Sri Lanka's most respected men's fashion labels, launched their brand new range of Vantage Innerwear at a gala launch event held at the Shangri-La, Colombo. The event took place at the Lotus Ballroom at Shangri-La, Colombo recently and witnessed the crème de la crème of Colombo's elite fashion scene in attendance. Vantage is a top quality men's clothing label under the umbrella of Sri Lanka's premier clothing supplier, Ebony Holdings.

Vantage Innerwear reveals a range of top quality undergarments for men, providing varying and exciting designs in the style of trunks. The trunk range of products includes the attractive Vantage stripes range, crafted from the highest quality fabrics which contain a 95% cotton and 5% spandex mix.

Vantage Innerwear Garments are designed for optimum support and to provide free leg movement. They also feature very comfortable and stylish waistbands and are available in many attractive colours.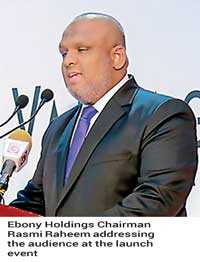 Speaking about the launch of Vantage Innerwear, Ebony Holdings Chairman Rasmi Raheem mentioned: "Good things begin on the inside and with our vision to be a preferred fashion icon for discerning, fashion-conscious customers who demand the best from their attire, we feel that a line of innerwear is something that will be appreciated by our customers and also something that will help to more fully complete our line up. Constantly striving to provide our customers with the best, we are always on the lookout for new ways and innovative ideas to provide high quality products."

Vantage is one of the top-notch labels that come under the umbrella of Ebony Holdings. Their portfolio of high quality men's clothing labels also contains the very popular Ebony and Flash labels, all of which are at the forefront in setting the latest fashion trends in men's wear clothing.

The company's commitment to quality and exceptional service has earned it much respect and esteem from its ever growing, loyal customer base. The company continuously strives to improve their offering and meet the needs of their discerning clientele.

Ebony Holdings Managing Director Raseen Raheem added that: "We have an unwavering commitment to quality. Every step in our manufacturing process is closely monitored to ensure the highest quality end products. They say that charity begins at home and so great attire should begin with the highest quality innerwear and that is what Vantage provides. We also feel that there is a real need for high quality innerwear in the market at affordable prices and we have moved to fulfil this requirement of our customers."

Ebony Holdings is one of Sri Lanka's premier clothing suppliers and boasts a comprehensive distribution network spanning across the island. Vantage, Ebony and Flash products are available at a multitude of retail establishments across Sri Lanka and this accessibility is a core strength for the company, allowing them to reach out to customers all over the country and provide them with the latest fashions at affordable prices.

In the future, the company plans to further establish itself as a dominant player in Sri Lanka's clothing market, through its unwavering commitment to quality and customer satisfaction.