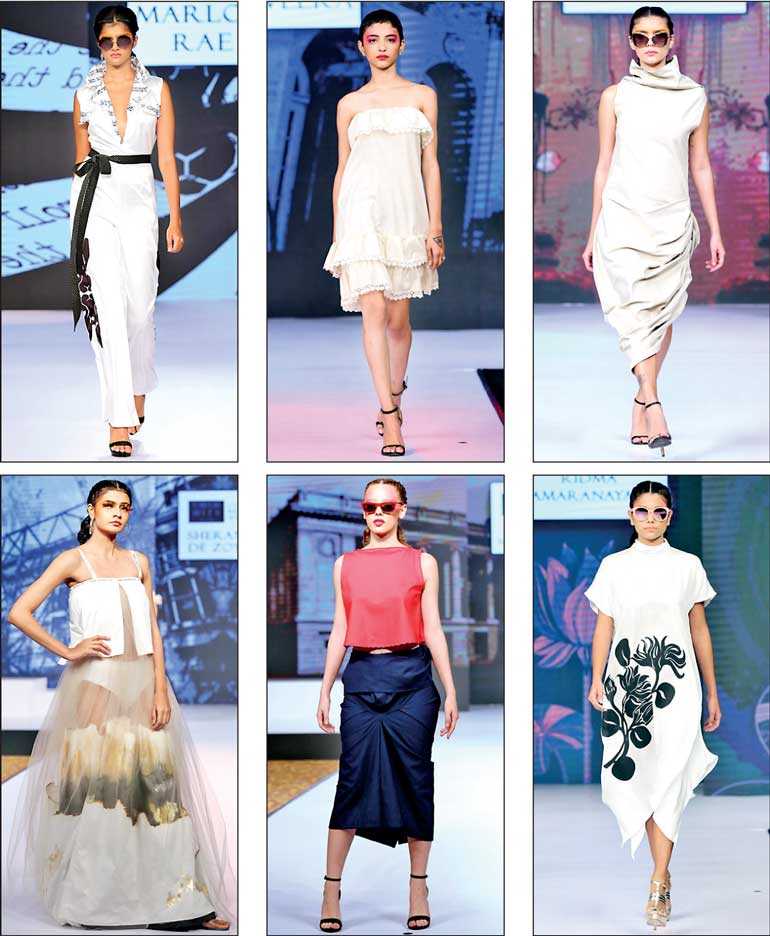 ---
Live presentation shows introduced for the first time
The Emerging Designer segment which has been at the core of the CFW Design Development system since its inception 16 years ago took on an interesting new step forward in presenting the collections of high potential Sri Lankan designers at the fifth edition of OLU Swim Week Colombo.

The Emerging Designer segment of CFW's swim and luxury resort wear edition, Swim Week Colombo, is a pathway to expand these young designers' portfolios towards this high growth category. The young designers who showcased their collections through this new platform are Marlon Rae, Himashi Wijeweera, Nilusha Maddumage, Ayesh Wickramarathne, Nads Ratnayake, Ridma Samaranayake, and Sharanja De Zoysa.

"Design development and especially the development of the next generation of designers is very close to my heart and that is built into the culture of CFW as this focus on development is what fuels the fashion design industry of Sri Lanka. I am excited that this year, our young talent was showcased through a format of live presentations and I hope our guests enjoyed this new take on showcasing fashion," said Colombo Fashion Week Founder and Managing Director Ajai Vir Singh.

OLU Swim Week Colombo was one of the highlights of the week that celebrated the creative industries of Sri Lanka under the theme Celebrate Colombo. CFW Swim Week Colombo brought together four creative industries namely Art, Fashion, Food and Music to host a week-long creative festival titled 'Celebrate Colombo' presented by So Sri Lanka, Sri Lanka Tourism and Promotion Bureau (SLTPB).

'Celebrate Colombo' took place from 3 to 10 August with Swim Week Colombo runway shows held from 8 to 10 August. OLU Swim Week Colombo partnered with three key hotels for the first time this season – Hilton, Colombo, Galle Face Hotel Hotel, and Shangri-La Hotel, Colombo respectively.

OLU Swim Week Colombo is Asia's first fashion week dedicated to swimwear and resort wear, which highlights Colombo as a burgeoning tourist destination. As demonstrated in its previous editions, Swim Week Colombo is the foremost platform for swimwear designers in Sri Lanka as well as the region and brings together some of the leading minds in the fine art of swimwear the world over.

OLU Swim Week Colombo was established in 2015 with the vision of creating a global platform for swimwear and positioning Sri Lanka as the swimwear capital of the world. Sri Lanka is renowned globally for its world-class swimwear manufacturing capabilities, having engineered and produced swimwear for some of the world's finest swimwear brands. This existing knowledge and expertise, along with Sri Lanka's strategic position as an island with world-famous beaches and holiday attractions, lends the country the potential to become a global swimwear hub.

Swim Week Colombo has formed relevant and strategic partnerships with Sri Lanka's leading brands and they all play an important role in pushing the annual event to the international level.

Olu Tropical Water as Title Partner; Nations Trust Bank American Express as the Official Fashion Card; Shangri-La Colombo, Hilton Colombo and Galle Face Hotel as the Official Hospitality Partners; Jaguar Land Rover Sri Lanka as the Official Automobile Partner; Vaseline as the Official Skin Care partner; MAS Linea Aqua as the Official Manufacturing Partner; Wine World as the Official Lifestyle Beverage Partner; Ramani Fernando as the Official Hair and Make-Up Partner; Vision Care as the Official Fashion Eyewear Partner;Coca Cola Sri Lanka (Pvt) Ltd, Turkish Airlines, Taj Samudra Colombo, Park Street Mews and Dutch Hospital Shopping Precinct as Official Food Festival Partners; Scope Cinemas as the Official Fashion Films Partner; The Faculty of Art at the University of Colombo as the Official Art Exhibit Partner; Wijeya Newspapers as the Official Print Media Partner; We Are Designers as the MullenLowe Sri Lanka as the Official PR Partner; and Emerging Media as the Official Outdoor Digital Media Partner.

All of these entities shared and extended their support towards the vision and aspirations of Swim Week Colombo.