Young Sri Lankan fashion star Amesh Wijesekara at Mercedes-Benz Fashion Week Berlin 2019 and the all-new Mercedes-Benz CLS displayed at the Mercedes-Benz Fashion Week Sri Lanka 2018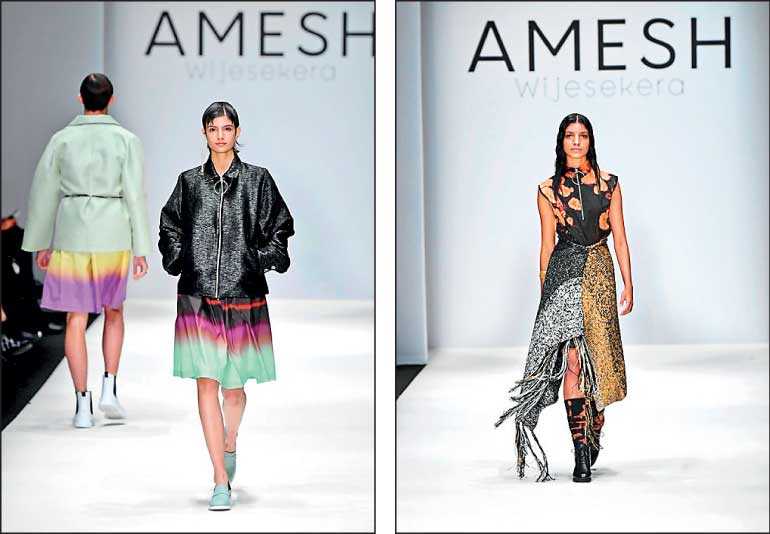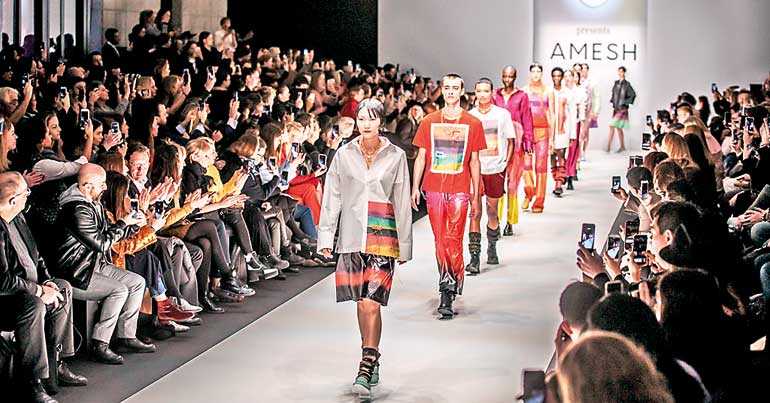 Amesh Wijesekara's collection was inspired by Sri Lanka's sun soaked landscapes and tropical vibrancy
---
Young Sri Lankan fashion star Amesh Wijesekara has reached the international ramps of Mercedes-Benz Fashion Week Berlin, after his breakthrough appearance on the Mercedes-Benz Fashion Week (MBFW) Sri Lanka.

Mercedes-Benz Fashion Runways in Sri Lanka is organised annually by the affiliation of two powerful corporates in their respective fields; Diesel & Motor Engineering PLC (DIMO) the Mercedes-Benz custodians in Sri Lanka, and Academy of Design (AOD).

Amesh's acclaimed talent was hailed by the renowned fashion personalities who were present at the event, fulfilling the Mercedes-Benz Fashion Week Sri Lanka's ultimate aim to elevate Lankan talent to new heights in international fashion, and position Sri Lanka as the South Asian hub for design innovation.

Discussing Amesh's success, DIMO General Manager for Mercedes-Benz General Manager Rajeev Pandithage said: "The ethos behind Mercedes-Benz Fashion Week Sri Lanka was about creating what is really needed to take the Sri Lankan talent and our fashion philosophy to the world. Moreover the initiative was projected to present Sri Lankan fashion with a new link into the global fashion sphere through the acclaimed Mercedes-Benz's international network, bringing in recognition and new business and buying circles that strengthen the country`s Export economy."

He added: "We are proud to partner with this endeavour as one of the responsible companies in Sri Lanka and, we're really proud to see young Sri Lankan talent such as Amesh shining on the ramps of Mercedes-Benz Fashion Week Berlin."
Furthermore, Wijesekara left a remarkable impression at the Mercedes-Benz Fashion Week Berlin with his illustrious collection. The special collection was inspired by Sri Lanka's sun soaked landscapes and tropical vibrancy, and mastered to impart Sri Lanka's exclusivity as a perfect destination for fashion brands and designers from around the world.

DIMO has always recognised the potential of the Sri Lankan fashion industry as an important sector which inspires the International ramps and contribute towards the economic growth of the country. Walking towards this aim, Mercedes-Benz Fashion Week Berlin 2019 is landmarked as the latest major platform opened up to Sri Lankan talent through the partnership of AOD and DIMO.

Mercedes-Benz is a brand that plays a significant role in the development of fashion talent all over the world, while presenting as an icon of style with products such as the new CLS that personify its vision of leadership in innovation and design.

The new CLS pioneers the new design idiom of Mercedes-Benz and combines unique design with a luxurious interior and an extensive technology. This fascinating luxurious car with unparalleled performance is presented synonymous to fashion, which is also the art of applying design, aesthetics and beauty to clothing and its accessories where it has influenced by cultural and social attitudes and has varied over time and place.

As the only authorised general distributor for Mercedes-Benz in Sri Lanka, DIMO expects to extend the same support and international opportunities that were inaccessible before to home-grown talent and brands in the fashion industry.

Mercedes-Benz Fashion Runway was introduced to Sri Lanka in 2015 and due to the level of execution standard maintained, DIMO achieved the approval to use the Mercedes-Benz Fashion Week Sri Lanka title and operate under the global Mercedes-Benz fashion platform. As a result, MBFW was initiated in 2017 as an extension of the vision of taking the local fashion industry to a global stage in terms of reaching new audience and markets for Businesses in Sri Lanka.

This initiative has also created a platform for sharing knowledge and expertise for sustainable growth in the fashion industry.