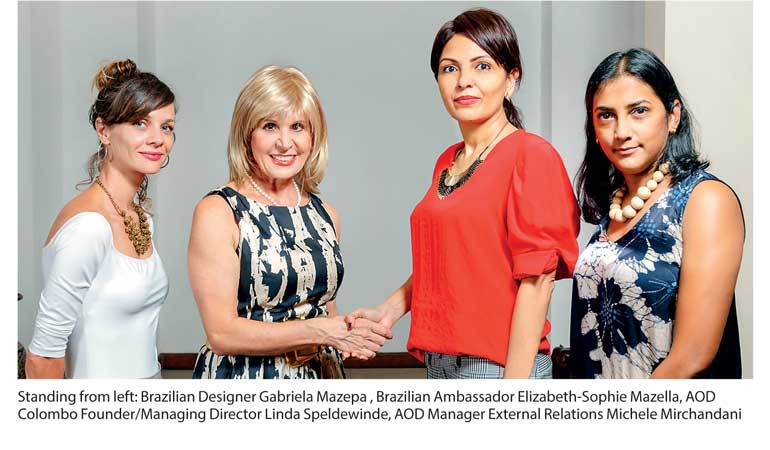 Pilot collaboration for sustainable fashion innovation with AOD and Brazilian design talent hosted by the Brazilian Embassy in Colombo
Initiating yet another promising international collaboration to foster fashion and design innovation, AOD – Sri Lanka's creative powerhouse – recently announced a joint initiative with the Embassy of Brazil at the recently concluded Mercedes-Benz Fashion Week Sri Lanka. The project outlined a series of outcomes such as empowering rural artisanal communities, sharing international design knowledge with creative young people in Sri Lanka, and encouraging the creation of unique designer product ranges that resonate with modern global aesthetics as well as environmental consciousness.

The first part of the collaboration kicked off featuring the award-winning Brazilian fashion designer Gabriela Mazepa. The Embassy of Brazil flew down Mazepa to work with AOD in Sri Lanka for a series of preliminary knowledge-sharing workshops, mini-talks, hands-on studio sessions and fashion runway shows. Gabriela Mazepa was chosen for the project as an award-winning design expert with a strong reputation as a passionate advocate and practitioner of ethical fashion. Mazepa's fashion brand Re-Roupa and initiatives like Conexão and by Mutation have always been centred around creating more conscious fashion that has a lesser impact on nature, and driving social sustainability by working with low-income groups around the world. With AOD's latest international collaboration with the Brazilian Embassy that features Mazepa, all these strengths of the designer were brought together to drive impact across many areas from education young designers, empowering traditional craft SMEs and wiring business to sustainability.

During the first part of the project, Mazepa conducted several mini sessions at AOD and the Mercedes-Benz Fashion Week, for knowledge sharing and transmitting fashion intel to young and upcoming designers. She also met with artisan communities in Northern Sri Lanka's Jaffna and the Mallavi village, to help infuse new skills and trend based knowledge into their traditional weaving crafts. By helping these communities make product ranges that are relevant to the aesthetics of consumer markets abroad, the project aims to bring them higher incomes and more stable livelihoods through design intervention.

The designer also paid special attention to encouraging the artisans in maintaining their ancestral crafts' balance with nature by using environmentally friendly material and dyes and by using low-energy consuming techniques. This initial work will be further developed into a much broader second stage of the collaboration, that aims to set up successful designer-artisan-retailer co-creative work models that were first tried and tested in Brazil by Mazepa.

The outcomes of Mazepa's work in Sri Lanka with AOD will be released as commercial designer products to local and international markets, retailed worldwide online under the 'Urban Island' brand conceptualised by AOD. A preview of what to expect from this work was featured on the runways of recently concluded Mercedes-Benz Fashion Week Sri Lanka. Further, the project is also expected to link up high-tech industries like apparel with low-tech SME's like Palmyra weaving craft, encouraging major manufacturers to experiment with new approaches to sustainability in business, and artisanal communities to look beyond the traditional raw material.

This latest Brazil-Sri Lanka collaboration is another addition to AOD's successful string of initiatives with embassies and cultural missions. AOD has already led several such powerful projects with diplomatic entities linked to several nations that have thriving creative economies like the Netherlands, the UK and Italy. The idea behind all these projects is to create impact through design, and making its benefits accessible to many groups from urban businesses to village economies. The projects also link up creative talent across borders to encourage cross-cultural design led innovation, foster greater connectivity between nations and establish a new and effective mean of cultural diplomacy.

At a larger scale, these projects connect to the long term vision driven by AOD – with major industries like apparel and tourism – to establish Sri Lanka as South Asia's hub for design and innovation.