Seated from left: AOD Head Academic Administration Anupama Nawalage, AOD CEO Ranmal Ekanayake, AOD Founder/Managing Director Linda Speldewinde, Minister of Telecommunication and Digital Infrastructure Harin Fernando, British High Commissioner James Dauris, British Council Deputy Country Director Duncan Mothersill, Northumbria University UK Pro Vice Chancellor (International) Prof. Jon Reast and AOD Principal Karen MacLeod


A decade back, the news of a new group of professionally qualified designers graduating was not the kind that interested the business world or the Government. However, the situation could not be more different today.

Welcoming the latest cohort of AOD's graduating class of 2017 designers, the State and diplomatic entities are gathering to offer their endorsements and congratulations, while major industry players have come forward eager to employ these graduates.

With 'innovation' becoming a dominating element in discussions, forums, strategies and targets of the business world today, it is no surprise that the key driver of innovation—design, attracts equal fascination and demand. However, even beyond this generally positive attitude towards innovation from the government and the business world, the annual occasion where AOD releases a fresh group of designer graduates seems to garner an unusually special interest.

The reason behind this is the longstanding partnership that AOD harbours with the government and the key industries of Sri Lanka to specifically educate designers for innovation-geared roles that benefit the country. Therefore for a vast number of industries, a new cohort of AOD design graduates means a fresh wave of talent that has been especially educated to drive creative innovation, bring in ground-breaking thinking and open up new opportunities for their businesses. It is within this context that AOD's class of 2017 will be welcomed with much enthusiasm by Sri Lanka's industries, State and diplomatic sectors this evening.

AOD's 2017 graduation ceremony was held at the legendary Mount Lavinia Hotel, with Minister of Telecommunication and Digital Infrastructure Harin Fernando as the Chief Guest.

The Minister shared: "Design is among these modern career paths that call for a higher digital engagement and practice. Furthermore, we find that design being a sector that is intrinsically digitally wired, bears great potential to connect Sri Lanka to reap new and greater benefits of futuristic business trends such as e-commerce."

The British High Commissioner to Sri Lanka James Dauris graced the occasion as the Guest of Honour and shared his views: "The indisputable importance of the design sector in today's world is something that is apparent to all of us. In the UK we are proud that our country has long been one of the world's great design centres, home to thriving creative industries from fashion to film, architecture to advertising. The UK has the second-largest design sector in the world and the largest design industry in Europe. This helps us to be as successful as we are at attracting, retaining, training and educating skilled workers."

Country Head British Council Sri Lanka Gill Cadicott was also present. These dignitaries were to represent Britain's commitment to continue supporting the development of Sri Lanka's creative industries, and to honour the significant relationship that SL maintains with the UK for design education, through AOD's partnership with the celebrated British university—Northumbria.

The panel of dignitaries also included Pro Vice Chancellor International of AOD's academic partner Northumbria University UK—Professor Jon Reast as well as AOD's Founder and Managing Director Linda Speldewinde, who shared her thoughts: "When AOD was founded over a decade ago, the world was a different place and the Sri Lankan design industry a blank canvass for us to create – to create what a professional Sri Lankan designer would be, what a design industry would sit in a word at that time that sought out a special kind of designer. Then, today was a future that was still in the making, and it called for a special kind of person to take the lead. It called for the creative ones— the ones who thought radical, out of the box; the free thinkers and now that the tomorrow we envisioned back then is here, it's your time."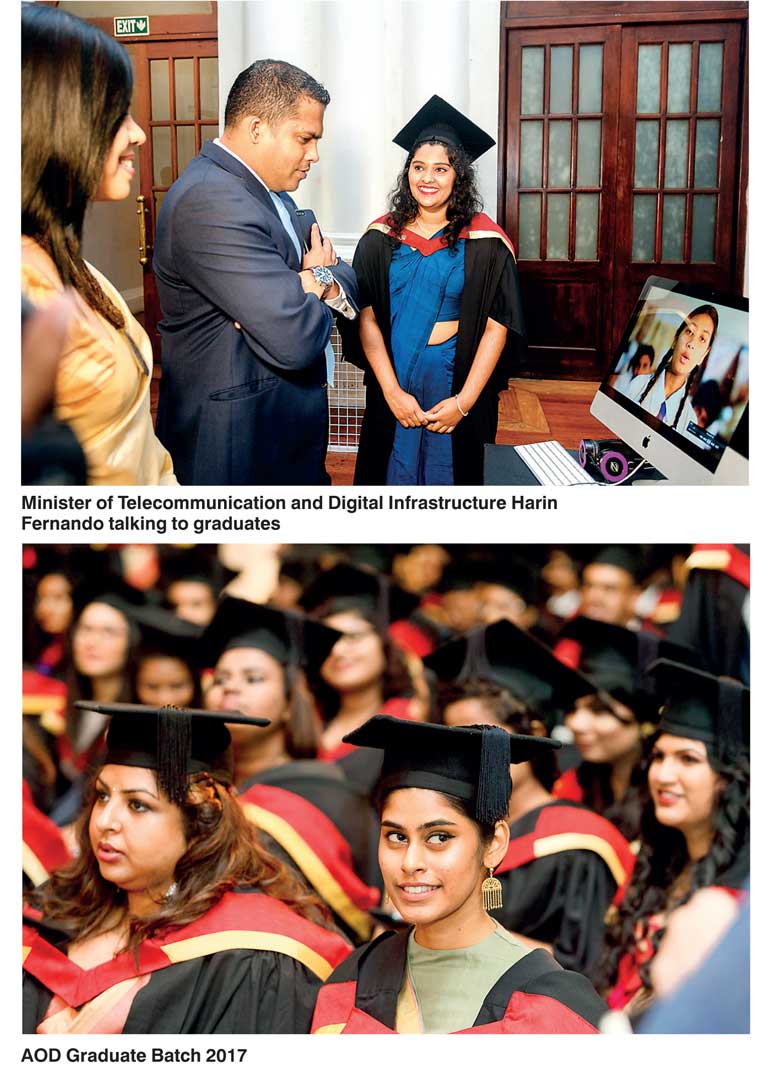 Chief Executive Officer Ranmal Ekanayake and Principal Karen MacLeod, AOD's world-renowned academic advisory chair, Prof. Emerita Central Saint Martins UK, Jane Rapley OBE whose legendary service to British design education won her the Queen's accolades, also shared their congratulations and well wishes for the graduating cohort. This prestigious panel of policy makers, diplomats, educators, business brains and entrepreneurial visionaries welcomed the graduates at the formal ceremony, representing AOD's broad and progressive approach to design education that links design to Sri Lanka's development.

AOD has been championing the vision to use design for the development of Sri Lanka and its industries for over a decade now, through many initiatives that use design for social and economic progress.

Sri Lanka Design Festival (SLDF) founded in 2009, is annually organised by AOD to drive interior architecture, homeware and graphic design further. SLDF is a powerful platform with a global audience of buyers, sourcing specialists, design opinion leaders and media.

AOD's pioneering initiative Island Craft, and its resulting commercial proposition which was presented as the 'Urban Island' designer homeware brand, was a project that connected contemporary AOD designers to traditional craft artisans. Here, the AOD designers' expertise in curating products that are desirable to a global market was linked to the mastery of artisanal communities around the island, to create new livelihoods and incomes for craft based SMEs. The project was acclaimed as a great use of design to elevate traditional industries.

The recently concluded Mercedes-Benz Fashion Week Sri Lanka is another example of how this groundbreaking vision for design extends towards taking the local fashion industry to a global stage. Mercedes-Benz Fashion Week Sri Lanka was presented by AOD in partnership with the apparel and automotive industries to create an internationally viewed platform with enormous power in terms of reaching new audiences and markets for business.

Commercial ventures www.fashionmarket.lk and the soon to be launched www.designmarket.lk spearheaded by AOD demonstrate another facet of the same vision, where technology and new retail tools, such as e-commerce, are used to connect locally designed, made and curated product collections, fashion and lifestyles to audiences across the globe.

While these online ventures provide enormous opportunities for young designers to access international markets, it also demonstrates how the clever fusion of design and technology empowers local brands, businesses and makers of all kinds, to transform their products and services to exports.

Through all these projects, brands and platforms, AOD has successfully worked in collaboration with the State and the private sector to understand their different needs, the type of design led roles they need fulfilled, the nature of their work and the technologies involved, as well as the consumer markets they cater towards.

This knowledge has been the basis of AOD's design education that fuses the world-class Northumbria University UK academic structure for design studies with creative skills, technological know-how and the professional practice needed by the local industries through collaborations, live projects and internships.

Remaining true to this vision, the portfolio of design degrees that AOD offers in partnership with Northumbria UK, includes fashion, interior design, fashion marketing, animation, graphic and visual communication design, in order to complement Sri Lanka's major industries and economic channels.

AOD's 2017 graduation ceremony was held at the Mount Lavinia Hotel and highlighted the outstanding results of a unique vision for design education. The event epitomised how this broad vision for design brings about the best of home-grown creative talent to match the standards of international design in driving creative innovation for Sri Lankan industries.

AOD is currently enrolling for its intake for the Northumbria University UK complete degrees in Fashion, Graphic Design (Visual Communication Design), Interior Design, Fashion Marketing Design and Motion Graphic & Animation Design.

For more information contact AOD (011) 5867772/3 or log on to www.aod.lk, www.facebook.com/aodsrilanka or visit 29, Lauries Road, Colombo 4.