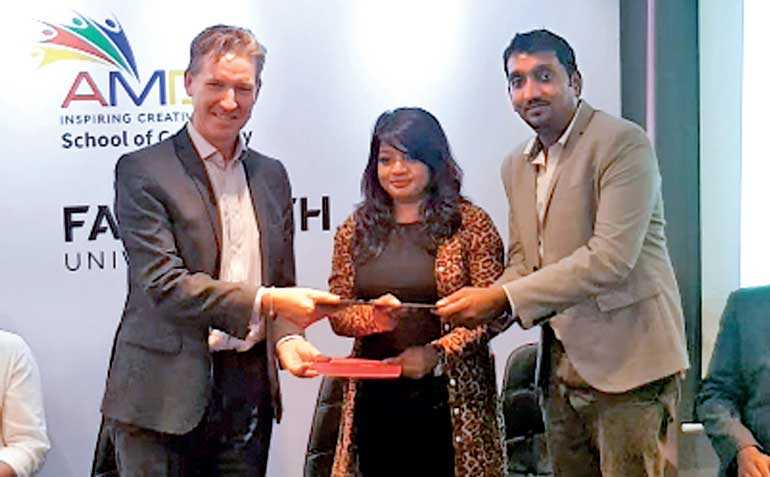 Falmouth University UK Deputy Vice Chancellor Geoff Smith, AMDT, School of Creativity Director – Academic Affairs and Operations Director Vinodi Jayawardane and AMDT School of Creativity Director – Brands and Technology Satheesh Kumar M. exchanging the agreements
---
As a part of its ongoing efforts to build and inspire a creative Sri Lanka, AMDT, School of Creativity announced its new partnership with UK's Falmouth University to offer Creative Degree courses in Sri Lanka. The forging of this new partnership heralds an exciting time for Sri Lanka's creative industries and for students and professionals interested in pursuing a qualification in varied creative disciplines.
As a specialist university for the creative industries, Falmouth University brings over a hundred years of experience and works in partnership with carefully selected institutions around the world to create wider opportunities for students and ensure cutting-edge higher education in the creative sectors.

With this new partnership, students can access global creative resources and obtain degrees in animation and visual effects, fashion design, graphic design, advertising, photography, game development, interior design, web app development and film. This is Falmouth University's first foray into Sri Lanka.

A top-up degree is the equivalent of the final year of an undergraduate degree. It is ideal for students who have completed an advanced diploma or a Pearson HND in a related course and provides a gateway towards achieving a bachelor's degree and an internationally-recognised qualification.

The top-up Degree offered through Falmouth university gives them the ability to improve their academic and practical knowledge on the interested creative field, gain exposure to the local and international creative industry and also to have an unbeatable competitive advantage in the creative industries and to be open to employment opportunities globally with a highly recognised UK qualification. It is a good fit for working professionals interested in acquiring a recognised degree qualification and school leavers after O/L or A/L examinations.

"Both Falmouth University and AMDT, School of Creativity have a shared emphasis on value and adhering to rigorous quality standards and both institutions have worked to nurture the creative industries in numerous ways. We are delighted to announce this global partnership and to pioneer a new chapter within Sri Lanka's creative industry. This is an exciting time for students and working professionals interested in the industry, with new learnings, partnerships and opportunities for growth and expansion on the horizon," said AMDT, School of Creativity Director – Academic Affairs and Operations/Senior Lecturer Vinodi Jayawardane.

Widely recognised as a hub for the arts and creative industries, AMDT, School of Creativity has helped grow a diverse and vibrant community of creatives in Sri Lanka, nurturing the next generation of Sri Lankan talent and equipping them with the skills and mindset to adroitly take on the challenges of a shifting global creative industry.

Students at the AMDT, School of Creativity are now able to gain three qualifications within three years of study: a BTEC HND from Pearson UK and an advanced diploma from AMDT, School of Creativity in the second year, as well as an undergraduate degree from Falmouth University, UK in their third year.

The school offers access to the latest technology in labs, studios and classrooms and has a selected faculty of artists and creative professionals who are at the forefront of Sri Lanka's creative industries. The school's courses are carefully curated and updated to meet the industry demands and trends within Sri Lanka and around the world. An open-door culture and unique learning atmosphere, close industry links and exposure as well as reasonable course fees with easy pay options make AMDT, School of Creativity an ideal institution for learning. The 'AMDT Festival of Creativity' has garnered a name as one of the most anticipated creative festivals in Sri Lanka, celebrating the creative industries and showcasing student work to the public and the industry.