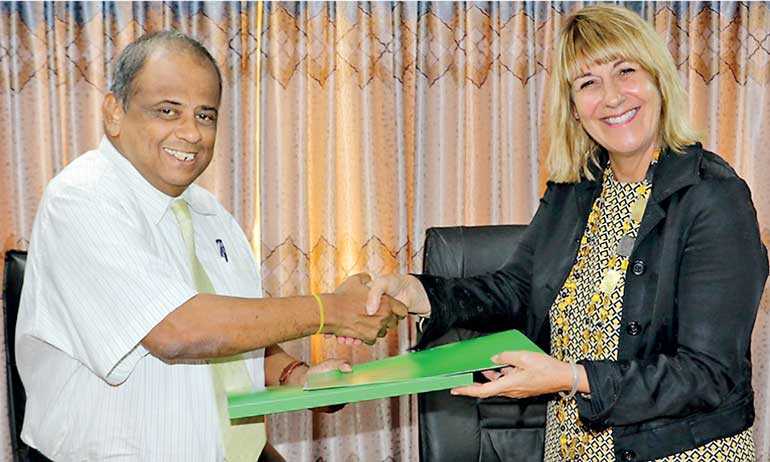 Ministry of National Policies, Economic Affairs, Resettlement and Rehabilitation, Northern Province Development and Youth Affairs Secretary V. Sivagnanasothy exchanges the agreement signed with WFP Representative and Country Director Brenda Barton
---
World Food Programme (WFP) is supporting Sri Lanka through its innovative and sustainable new project – R5. It is designed to target the most vulnerable rural communities to enhance their Resilience against recurrent of natural shocks, reduce and mitigate climate Risk Reduction through the reconstruction of productive assets, and ensure recovery and diversification of livelihoods.
R5 takes a coherent and cohesive food systems approach which multiples positive outcomes for communities and small-scale entrepreneurs, collectively tackling short-term hunger, and leading to food security interventions and sustainable, climate-smart assets and skills, said Ministry of National Policies, Economic Affairs, Resettlement and Rehabilitation, Northern Province Development and Youth Affairs Secretary V. Sivagnanasothy.

Under the direction of Prime Minister Ranil Wickremesinghe as Minister of National Policies, Economic Affairs, Resettlement and Rehabilitation, Northern Province Development and Youth Affairs, the Ministry in Collaboration with WFP the Sri Lanka's Country Strategic Plan (CSP) 2018-2022 makes firm contributions towards Zero Hunger while building resilient, nutrition-secure communities. The CSP is operationalised through an integrated, holistic, and innovative programming approach that strengthens local/national capacities and ensures program sustainability.

The resilience R5 project meets the CSP Strategic Objective 4: Vulnerable communities and smallholder farmers have strengthened livelihoods and resilience to shocks and stresses all year round. R5n is designed under the Activity 6 of the CSP: Support nutrition-sensitive and gender-transformative livelihood diversification and income generation through integrated resilience-building activities.

The R5n project strengthens the capacities, assets and systems of the country's most vulnerable rural households and communities to more effectively prepare for, withstand and recover from frequent climate shocks, thus contributing towards achieving zero hunger.

The primary objective of the R5n project is to increase resilience of smallholder farmers to drought by establishing water harvesting systems, promoting diversified livelihoods and strengthening the capacity of vulnerable farming communities for commercial production.

As part of the implementation of CSP, an MOU was signed on 21 August by V. Sivagnanasothy and WFP Representative and Country Director Brenda Barton to rehabilitate 16 Minor Irrigation Tanks, Agro wells and livelihood support to vulnerable farm families in Thanamalwila in Moneragala, Weligamuwa in Matale, Vavunathivu in Batticaloa, Thunukai in Kilinochchi and Musali in Mannar.

The program is also supported $ 200,000 technical assistance to support small holder farmers in Thanamalwila and Siyambalanduwa in Monaragala district. The main focus of this pilot intervention is to introduce mechanisation in agricultural sector, post-harvest technology and management, production and productivity improvement, value addition, marketing to address youth engagement in the sector and contribute to achieve the SDG Goals 2 on zero hunger and improved nutrition and SDG 13 on Climate resilience agricultural practices, said V. Sivagnanasothy.