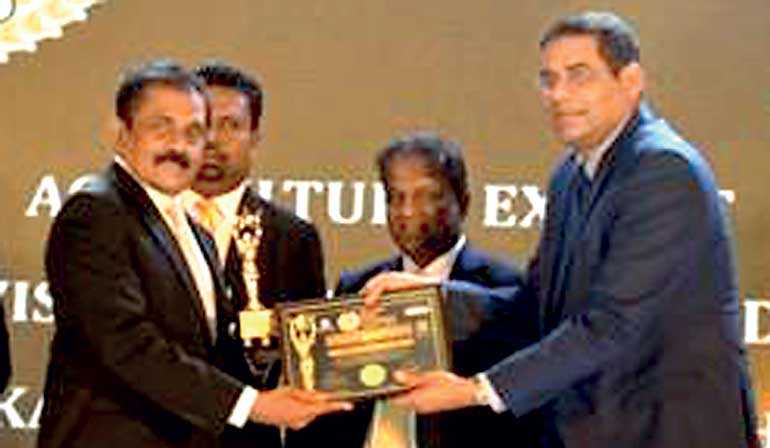 Visma Organic Managing Director Maithree Fonseka receiving the coveted platinum award from officials flanked by Parliamentarian Thilanga Sumathipala and staff of Visma Organic

Visma Organic Ltd., one of the leading coconut shell carbonisation companies located in Sangattikulama Anamaduwa, won the platinum in Agriculture Export at the recently-concluded Business World International Awards held at Taj Hotel Colombo.

Visma Organic was established in 2014 and within a very short period of time the company reached up to this level, according to Maithree Fonseka. The Managing Director of the organisation Maithrie Fonseka is a management consultant. He has worked locally and overseas for a period of 25 years as an accountant, Finance Manager, General Manager and Group CEO in reputed companies.

During this period, he has led many organisations to greater success. Fonseka said for any organisation to achieve success they must have a good culture which will develop healthy human resources. Humans are the precise assets of any organisation. But the majority of businesses in Sri Lanka do not evaluate their precise asset, according to Maithree Fonseka. "Visma Organisation is a very young business in our country which contributed to gain much-needed foreign exchange to our motherland in a very short period of time. The formula for a good culture is 'Trust, Respect and Empathy'. If you culminate these three in your organisation it will develop a good culture resulting in healthy human resources. This is the prime requirement to develop any organisation. Let your employees get the ownership of the organisation. Then your employees are heading towards the strategy," he said.

"We thank all our stakeholders who gave their fullest support for us to uplift our organisation to greater heights," Maithree Fonseka the jubilant Managing Director of Visma Organic said in conclusion.