Digital farming allows farmers to plan and provides accurate information on crop success
With the wildfires that were raging in Australia and in the Amazon, hurricanes sweeping the United States of America and the Sena caterpillar problems in Sri Lanka our way of life is forever changing.
Weather patterns across the world have changed extraordinarily over the last 10 years due to the effects of climate change which has increased the risk to farmers across the world. Due to these problems farmers face great losses due to crop loss or because of a bad harvest, which has resulted in farmers abandoning farming and moving in to other industries.
Deutsche Gesellschaft für Internationale Zusammenarbeit (GIZ) GmbH has invested heavily in research and developing the livelihood and skills levels of the farming communities in Sri Lanka. As the next step of this bi-lateral partnership GIZ are trying to address the problems of SME and MSME in Sri Lanka.
Research conducted by GIZ shows that traditional farming communities are leaving agriculture work and moving to other industries due to weather related issues and lack of access of affordable credit with flexible repayments schemes.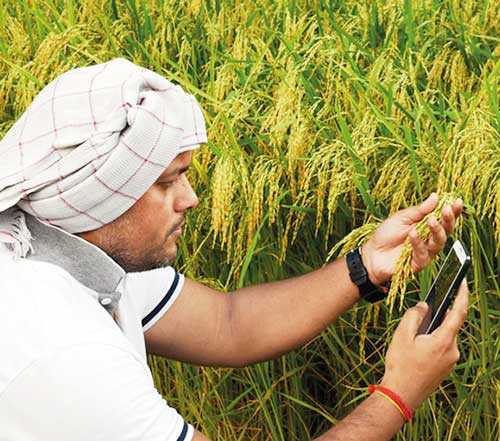 In order to address these problems GIZ started working with local insurance companies to come up with new insurance products that address the problems currently faced by the farming community and are looking ahead to mitigate possible future problems in agriculture. Which includes the introduction of special loan facilities to farmers which they could re-pay during the harvesting time.
Insurance for the farming community is becoming a necessity with the risks of natural disasters due to climate change ever increasing. Between the years of 2001 and 2017 Sri Lanka has experienced over forty (40) natural catastrophes including floods, tropical cyclones and severe drought, as per the Agricultural and Agrarian Insurance Board (AAIB).
With 90% of Sri Lankan farmers being small-scale farmers, insurance enables them to manage the risks be it the weather or other causes. Due to fears of natural disasters damaging their crops, farmers are likely to be risk-averse and not invest sufficiently in their farms. Weather Index-Based Insurance can help provide a safety net and absorb the risks of potential hazards.
Weather Index-Based Insurance, pays out according to a predetermined index for asset and investment losses, such as the loss of crops and livestock. The index, made before the insurance period starts, calculates deviations from the norm from natural causes such as drought, floods and storm. Pay-outs occur when the index falls above or below a pre-specified threshold. Weather Index Insurance is not designed to protect farmers against every possible loss, but instead, support them against climate risk.
Weather Index-Based Insurance is a new type of financial risk transfer product, which could help to overcome some of the problems with traditional insurance schemes.
Unlike indemnity-based crop insurance, where an insured farmer receives compensation for the verifiable loss at the end of the growing season, Weather Index-Based Insurance makes claim payments based on the realisation of an objectively measured weather variable be it rainfall, extensive drought, etc. that is correlated with production losses.
Neither the insured farmer nor the insurer can easily manipulate measurements, which reduces issues of information asymmetry. Moreover, instead of reducing the effort to increase chances of compensation, farmers with Weather Index-Based Insurance have an incentive to make the best farming decisions. In comparison with traditional insurance.
Weather Index-Based Insurance allows insurers lower overheads with less need to dispatch assessors or claims adjuster. Lower costs mean cheaper premiums for smallholder farmers. In Sri Lanka one of the main issues faced by farmers is the access to affordable and reliable insurance products, and understanding how insurance will help them survive and when it will pay-out.
By using Weather Index-Based Insurance technology with apps such as iFarm by SANASA General Insurance, there is intent to automate a parametric insurance product, transforming and simplifying the claims process to the point that the farmer would not need to submit a claim and the insurer would not need to send an agent to the field.
As of 2016, there have been more than 2.1 million farmers and 20.7% of agricultural arable land in Sri Lanka (Central Bank of Sri Lanka, 2017). Having insurance can build financial resilience as it helps farmers to access credit assistance more easily, allowing them to innovate and invest in technologies that boost productivity.
When carefully calibrated to specific circumstances in collaboration with farmers themselves, Weather Index-Based Insurance schemes have succeeded.
They can form an important part of a toolbox of other mechanisms to support farming communities to adapt to greater risks as a result of climate change
GIZ together with SANASA Insurance have created iFarm an app that offers a weather index-based policy which is an insurance approach to managing weather and climate risk because it uses a weather index, such as rainfall, to determine payouts. With the Sanasa iFarm app farmers in more rural areas could access insurance. All farmers need to do to access the app is to download iFarm by Sanasa General Insurance Co. from the Google Play Store. The app will be constantly updated with new information and evolve as the industry innovates, user feedback on the app would also be appreciated to further customise it to the local requirements.